Belgium's federal elections are still more than a year away, but Bart De Wever of the Flemish rightwing separatist N-VA party is getting more insistent to move to a confederal Belgium in 2024. While he stops short of proposing an actual coup this time, he added that an "extra-legal reform" might be necessary.
The only way De Wever's party will join the Federal Government is if it comes with a guarantee of confederalism – a fundamental reform of Belgium's state structure – as he claims that Flemish money will be lost in a continuation of "the status quo."
"For the N-VA, the sovereignty of the Flemish people means that we must free Flanders from the abuses of current Belgian federalism. It is that or see our prosperity disappear," said De Wever on VRT's 'De Zevende Dag' programme, echoing earlier comments stating that Flemish people had the choice "between confederalism or impoverishment" in 2024.
In recent months, De Wever has been pushing his plan to reform Belgium into a confederalist country harder than ever, and even said that considering his views on it, "every sovereignty over Flanders is considered supranational."
Confederalism?
According to the official definition of the confederalism De Wever wants, Flanders and Wallonia would form a federation of independent and autonomous states in a confederal system. By default, the two states would then be given all powers, but they could still decide to cooperate in certain policy areas.
In present-day Belgium – which is not a confederal but a federal system – the distribution of competencies works the other way around: the federal government is initially assigned all powers, after which it can decide which to give to the federated states.
To achieve his confederal dream, De Wever is willing to do a lot. In an interview with De Tijd last weekend, he stated that "the opportunity to reform in legalism is gone," and instead proposed an "extra-legal reform, as happened at various times in our national history."
In concrete terms, De Wever already wants to "break open federal departments in 2024 and only then legalise everything." This is possible for just about any power that the N-VA wants to confederalise later, the party clarified to De Morgen.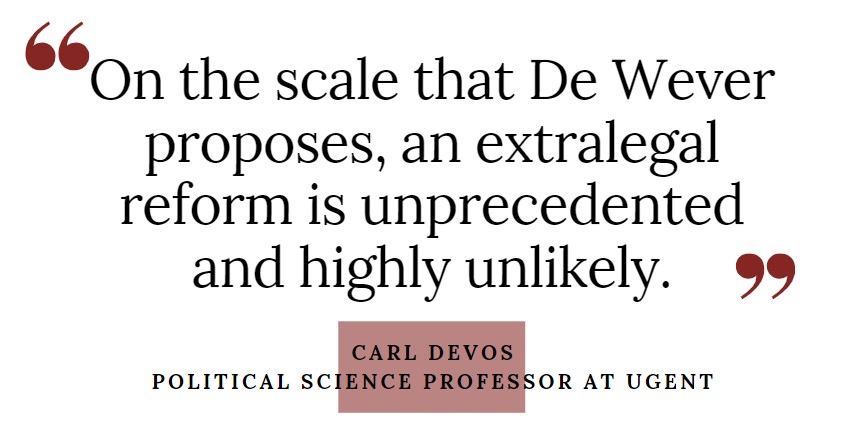 This is not the first time that De Wever sees the way to confederalism outside the constitution. In a 2021 interview with the Krant van West-Vlaanderen, he even said that "we need another coup." Then, he was referring to what happened in the castle of Loppem, a village in the West Flanders province, where the interview took place.
Shortly after the First World War, the Belgian government leaders gathered in the castle and introduced universal single suffrage for men ("one man, one vote") in an attempt to pacify the revolutionary atmosphere of the time. It was not until the next elections that this universal right to vote was written into the constitution.
Now, too, De Wever believes that Belgium is in crisis and an extra-constitutional intervention can be justified.
According to professor and constitutional specialist Stefan Sottiaux (KU Leuven), De Wever's proposal is not illegal in itself. "This is called 'provisional defederalisation' or the asymmetrical exercise of federal powers. Historically there are some examples of this," he told De Morgen.
No majority
A specific example of this is education, Sottiaux said: from the 1960s, the Federal Ministry of "National Education" was officially split into two. Although education remained a national competence, a French-speaking and a Dutch-speaking administration were created, each with its own minister. Only 20 years later, the powers were formally transferred to the federated states.
Still, such an arrangement also entails limitations, Sottiaux stressed. "The intention is really that it serves as a kind of intermediate step that is limited to separate budgets and administrations."
While new legal rules are possible, that is only if they do not harm the principle of equality. "Imagine that a decision is made to limit unemployment in time for Flanders and not for Wallonia, then citizens in the same country are treated differently. That is a problem, unless the regions themselves become responsible for this."
If N-VA really wants to give Flanders full sovereignty, it is important to "let the minds mature as quickly as possible" for a constitutional state reform. The fact that there is no two-thirds majority for this today should not be a problem, the party said: they hope that the provisional defederalisation goes so well that no one will want to return to the situation before.
Related News
For that, however, N-VA must first find a simple majority that is willing to implement this provisional defederalisation. While De Wever said he came to an agreement on this with the leader of the Francophone socialist PS party Paul Magnette during the long-winded government negotiations in 2019 and 2020 (before the latter decided to join the current "Vivaldi" Federal Government), that necessary simple majority was nowhere to be found.
While the Flemish Christian-Democrats (CD&V), liberals (Open VLD) and social democrats (Vooruit) seem more or less open to another possible state reform, it should happen the classic legal way.
Such an extralegal reform is indeed theoretically possible, but political science professor Carl Devos (UGent) has some questions about the feasibility of the plan. "On the scale that De Wever proposes, this is unprecedented and highly unlikely. It is kind of an uncertain adventure that you push on your constituents. And I doubt that all his voters would support such a risk."