Originally a 19th century industrial quarter, the canal zone in Molenbeek commune is becoming a hub for alternative tourism.
The regeneration is helped by Brussels Region's Canal Plan, which aims to bring new life to the unused factories and space strung out along the waterway linking Brussels with Antwerp and Charleroi. You can already see many of the changes when you wander along the old quayside route between the Porte de Ninove and the Tour et Taxis site, including two new hotels, a cool museum of street art, a food market and a co-working café. And that's just the beginning.
MIMA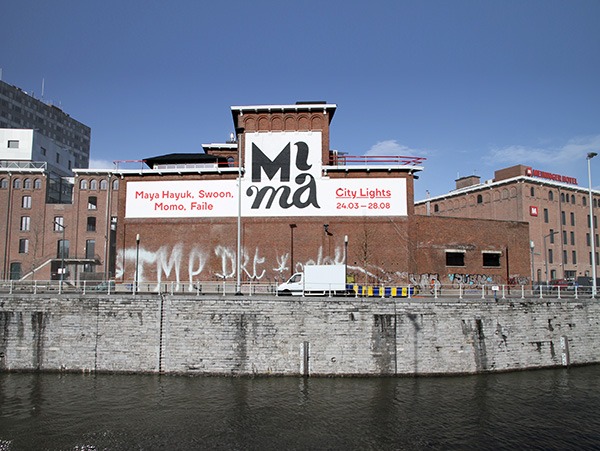 The abandoned Belle Vue Brewery next to the canal has been turned into a massive contemporary art museum on four floors dedicated to street art, graphic art, video, music, skateboarding and tattoos. Gallery owners Alice van den Abeele and Raphael Cruyt of ALICE Gallery joined up with local creatives to create this ambitious private museum ambitiously named the Millennium Iconoclast Museum of Art, or MIMA. "The more museums it has, the sexier a city," Cruyt says.
The permanent collection focuses on artists whose work represents the digital-driven Culture 2.0, including Banksy, Invader, SWOON and Bonom. The museum also has a restaurant, shop and roof terrace.
Quai du Hainaut 33, Molenbeek
www.mimamuseum.eu
LE PHARE DU KANAAL
Hanna Bonnier is a young Parisian woman who has put down roots in Molenbeek's canal district. Her co-working café stands on a corner overlooking the canal. It has an industrial look inside with bare brick walls and white furniture. The first floor is reserved for a young 2.0 crowd, with spaces available to rent for just a few hours. Meanwhile, Hanna keeps everyone fired up with high quality coffee, good food and beer from the nearby Brasserie de la Senne.
Quai des Charbonnages 40, Molenbeek
www.lepharedukanaal.com
PARCKFARM
An abandoned freight railway line has been brilliantly transformed into a temporary city park. The meandering green strip is lined with vegetable gardens, a greenhouse known as La Farmhouse and a café. It also provides a home to grazing sheep, a few chickens and some beehives. The project was developed by locals who have come up with some creative ideas such as a communal oven where they can bake their own bread.
Boulevard du Jubilé, Molenbeek
www.parckfarm.be
BRUSSELS BY WATER
The easy way to find out about what is happening in the canal district is to take a boat tour organised by Brussels by Water (www.brusselsbywater.be). The route takes you on an intriguing route through the industrial heart of the city, past boat locks, loft apartments and former factories. Tour boats set off from the Avenue du Port every Sunday until the end of October.
Quai des Péniches 2, Central Brussels
www.brusselsbywater.be
HOTEL BELVUE
Young tourists are discovering stylish new budget hotels in the canal district such as Belvue. Designed as Brussels' first passive energy hotel, it is located on the site of the former Belvue brewery overlooks the Brussels Canal. Its 29 modern rooms are among the cheapest in town.
Quai du Hainaut 39, Molenbeek
+32 (0)2 832 32 32
www.belvuehotel.com
ABATTOIR
The city is working on a bold plan to bring new life to the 19th century slaughterhouse. Located near the canal, the huge iron and glass hall shelters a weekend food market where you can pick up fruit and vegetables at bargain prices. A new indoor market called Foodmet opened last year, adding a further 50 market stalls selling fish, meat, vegetables, olives and fruit. Modelled on Barcelona's Santa Catarina food market, Foodmet aims optimistically to bring a dash of Mediterranean vitality to rainy Brussels. The final plan includes an urban farm on the rooftop. Open Friday, Saturday and Sunday.
Rue Ropsy Chaudron 24, Anderlecht
www.abattoir.be