For almost 1.5 years, Belgium and its asylum reception agency Fedasil have failed to provide shelter to asylum seekers, resulting in thousands of convictions. The total cost of this was unclear, until now.
The penalty payments hanging over Fedasil's head for failing to grant asylum seekers the shelter they are legally entitled to amount to €278.5 million, State Secretary for Asylum and Migration Nicole de Moor disclosed in response to a question by N-VA MP Tomas Roggeman.
The number of convictions against Fedasil by the Brussels Labour Court increased to 5,991, however, these rulings are regularly being ignored. The European Court of Human Rights (ECHR) has issued at least another 1,132 judgments against the Belgian state for violating the basic fundamental and human rights of asylum seekers and refugees.
"Penalty payments are absolutely not ideal, but they are the result of Fedasil not performing its core role, and right now we see on the ground that there is no solution in sight," Thomas Willekens, policy advisor at Vluchtelingenwerk Vlaanderen told The Brussels Times.
"The only way to avoid these penalty payments is if Fedasil finally starts performing its core task and structurally gives people the shelter they are entitled to."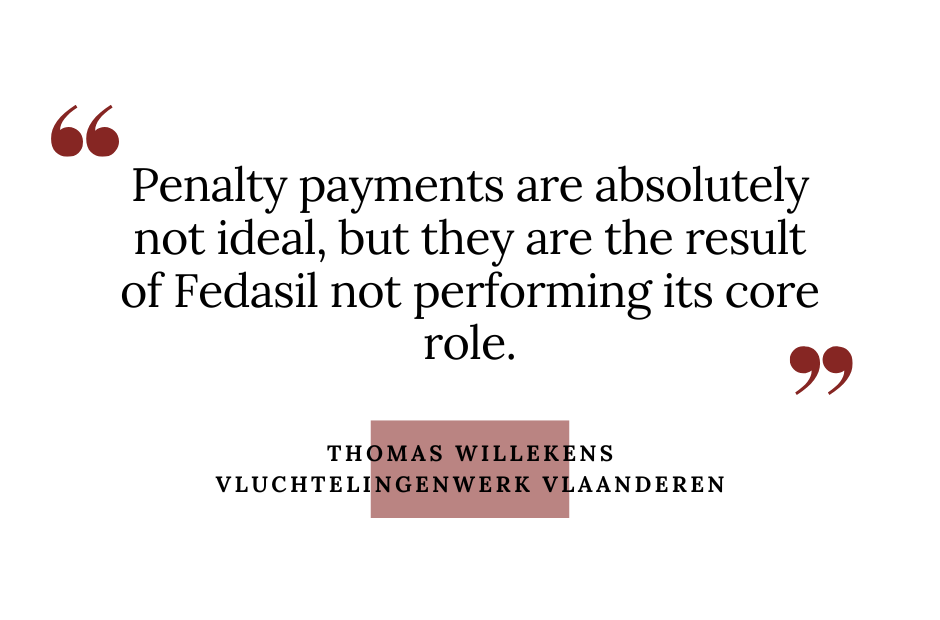 Another claim against Fedasil was filed by the city of Spa, amounting to €890,000 in light of a dispute over the number of asylum seekers in the asylum centre there. A third collective claim was presented by NGOs which amounts to €490,000.
"We are asking ourselves every day how far this matter can be taken and how far the Government will let this issue go, especially when taking into account the total disrespect for the Rule of Law," Willekens concluded.
Millions unclaimed
So far, just €1,876,000 in penalty payments have been effectively been paid out, as the claimants have to go through the attachment court to receive the payments.
In January, the French-speaking court of first instance in Brussels authorised the seizure and sale of a series of Fedasil's non-essential assets for three out of the almost 6,000 convictions, but this is expected to raise just €240,000.
"The amount from the sale will not be enough to cover the claimed amount," De Moor said in parliament.
Due to the lack of money raised here to pay the penalties, items were also seized from de Moor's cabinet which could result in it being soon publicly sold, but the Belgian state is appealing.
The total bill is increasing by €240,000 every day, and will likely continue to do so because thousands of asylum seekers are still not receiving the reception they are entitled to, and will therefore continue to take Fedasil to court.
Related News
Meanwhile, de Moor refuses to pay the penalty payments, arguing that it will not provide reception places and instead risks becoming a so-called Pull Factor — factors that attract migrants to a specific area — but these claims have not been factually backed.
Instead, she is focusing on expanding the reception network — "currently, we have the largest reception network ever," her cabinet told The Brussels Times — and calling on structural reforms for better migration management on the EU level.