It's an old argument. Should French fries be called Belgian fries? Some argue that the fried potato was invented in Wallonia in the 18th century. They became known as French fries during the First World War when British troops based in Wallonia discovered the cooked delicacy.
French or not, fries occupy a special place in Belgian culture. The country has thousands of distinctive fries stands, fondly referred to as a frietkot in the Dutch-speaking north, or a baraque à frites down south in French-speaking Belgium.
The ultimate street food, fries are normally eaten at stands on the main square, or at a roadside stop on the main route out of town. Wherever the location, the fritkot/baraque serves as a gathering place for the local population, in the same way as a British pub, or a French bistro or a Dutch herring stand. It's a place to find comfort on a winter day when the rain is blowing in from the North Sea. "It's a ritual, a form of nostalgia," explains Bernard Lefèvre of the Belgian Union of Fritkot Owners.
"The fritkot is where you end up as a student after a night of drinking," Lefèvre says. "It's where you go on a date. The fritkot promises a warm and welcoming atmosphere. It's the most social place in Belgium."
In 2012, the country launched the first Fritkot Festival in Brussels. Two years later, Lefèvre assembled a petition to get Belgian fries added to the Unesco list of intangible world heritage.
It takes a lot of skill to make fries the Belgian way. The TV chef Jeroen Meus says that the best fries are made using Bintje potatoes cut into 13 millimetre slices. They should be fried once in beef dripping at a temperature of 140 degrees, but removed before they turn brown. Then they are left to cool down before being fried a second time at 180 degrees.
The fries should be served in cardboard cartons or paper cones, topped with a dollop of sauce, and eaten with a plastic or wooden fork. There are dozens of sauces available, but Belgian's favourite topping is mayonnaise, followed by warm stew. But Belgians are also fond of sauce andalouse, a local speciality made from mayonnaise, tomato paste and peppers.
The country has over 5,000 fries stands with an annual turnover of €850 million. About one quarter of Belgian visit their local fries stand at least once a week and just five percent say they never buy fries. It's a national obsession that unites everyone in this country.
Here are eight places in Brussels that are worth checking out.
FRITKOT BOMPA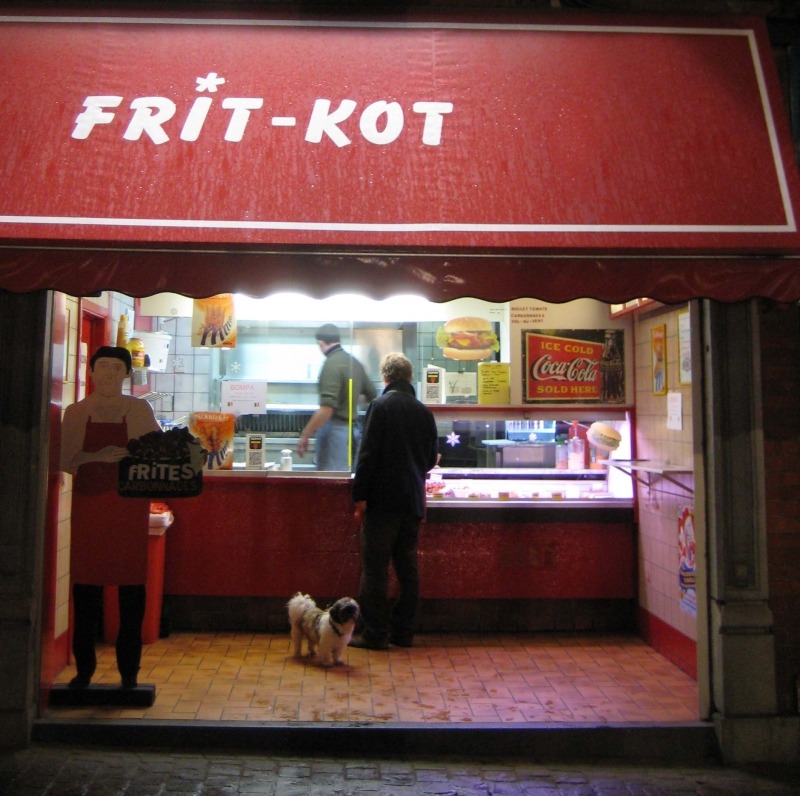 It's not much more than a hole in the wall. But that's how Belgians like their fries to be served. Established back in 1971, this simple outlet stands on a noisy crossroads in Ixelles. The fries are cooked on the spot in pure beef dripping. They emerge from the spitting fat looking golden on the outside and fluffy on the inside. Bompa is popular with local school students who order the notorious mitraillette (machine gun), a half baguette filled with salad, hamburgers, a large helping of fries and a generous dollop of sauce. You can stand inside at a tiny wooden counter or squeeze onto a wooden picnic table on the pavement outside.
Avenue de la Couronne 71, Ixelles
FRIT'FLAGEY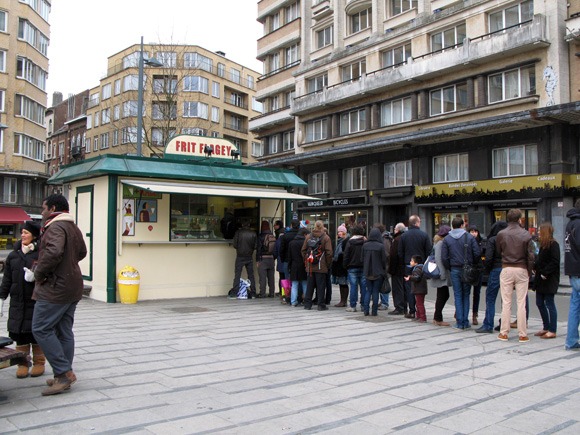 It nearly vanished in early 2011, but a Facebook campaign saved this popular Ixelles frites stall. The owner had to abandon his old shack and move to a shiny new stall in a corner of the renovated square. But he still produces perfectly-fried frites which he serves in paper cones. It takes time. This is slow fast food. Be prepared to wait in a long line of customers, ranging from mothers with small children to hip journalists from the TV Brussel studio.
Place Flagey, Ixelles
FRITERIE SAINT-JOSSE
Back in 2009, after Monsieur Martin retired, it looked as if his legendary friterie on Place Saint-Josse would vanish. But the place has been kept in business by Zoila Palma from Ecuador. She prepares the frites with as much care as her predecessor and serves them with a generous helping of mayonnaise perilously balanced at the top of the paper cone. It's just a pity that there's nowhere to sit down on the square.
Place Saint Josse, Saint Josse
MAISON ANTOINE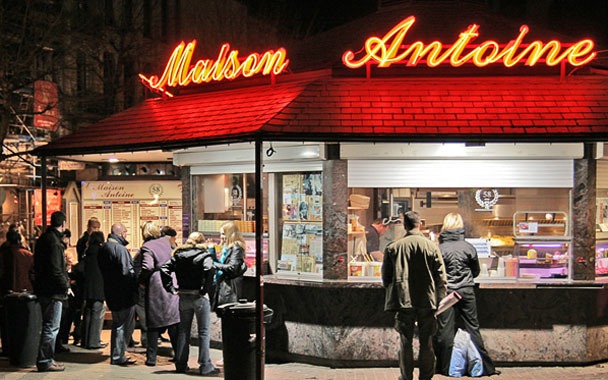 Some people say this is the best fries stand in Brussels. It's definitely the oldest – it was founded by Antoine Desmet back in 1948 in a hut left behind by the German army. It's also the most popular, which means you can easily wait in line for 30 minutes. German Chancellor Angela Markel caused a media storm earlier this year when she broke from a tedious Brexit summit to pick up 45 portions of fries at one of Maison Antoine's hatches. She even paid for them out of her own pocket. Antoine serves its fries in paper cones which makes it easy to eat a portion sitting on one of the benches on the square. Sometimes all four benches are all occupied, but several local cafés, including Chez Bernard and The First, are happy for people to eat their fries on the café terrace as long as they buy a drink. Look for the sign Partenaire de la Maison Antoine.
Place Jourdan 1, European Quarter
www.maisonantoine.be
CHEZ EUGENE
No website. No Facebook. No nothing. But the fries served here are exceptional. It's a bit out of the way on the clogged commuter artery that runs out to Waterloo. But worth a stop if you are driving or cycling down this way. The owner creates golden fries which are served in a cardboard box. You can eat them sitting on a plastic chair next to the suburban railway line.
Vivier d'Oie, Uccle
FRITUUR DE LA CHAPELLE
A simple fritkot with two serving hatches next to the lovely Eglise de la Chapelle. The customers range from local school students to smart-suited antique dealers from the Sablon. No one claims these are the best fries in town, but there's a certain charm in eating your fries on a bench facing the church where the artist Pieter Bruegel is buried.
Place de la Chapelle, Marolles
LE TRAM DE BOITSFORT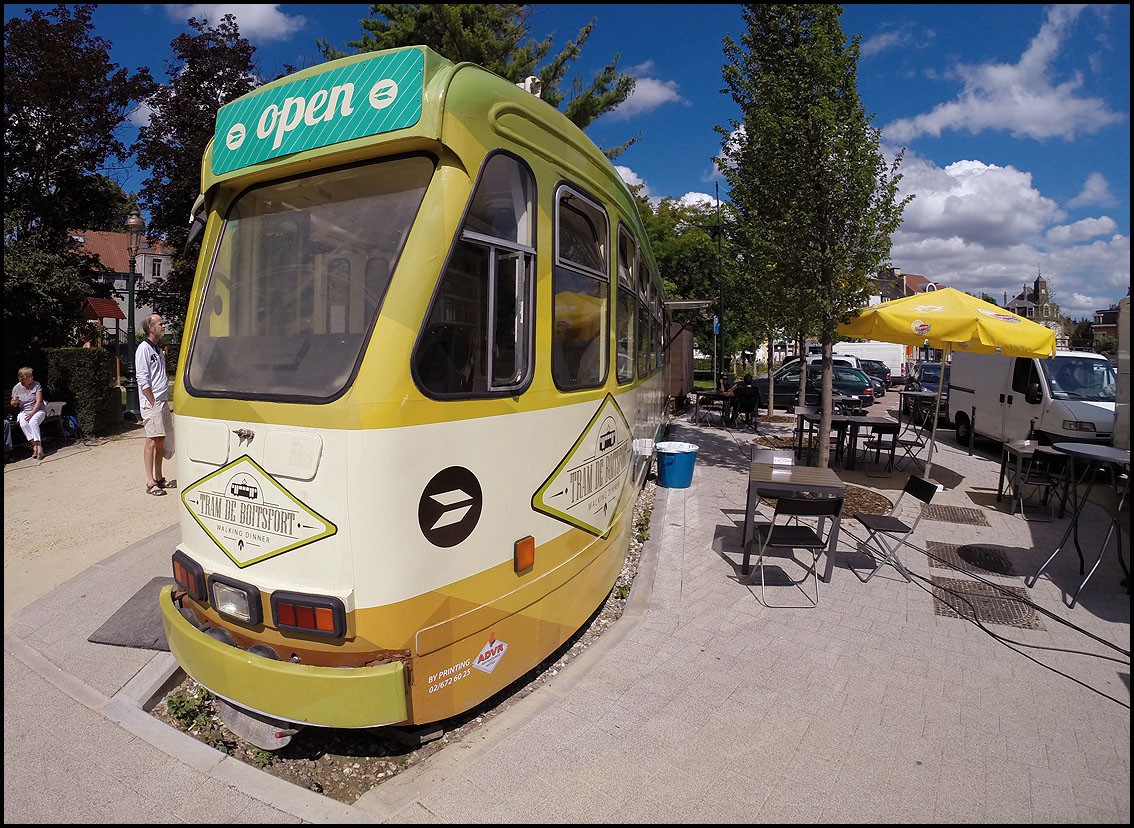 Here is a new concept that combines the city's love of old trams and fries. A retired 1950s tram has been converted into a stylish diner with a few seats inside and a small kitchen. The friendly staff serve interesting gourmet burgers along with paper cones of authentic Belgian fries.
Place Payfa, Boitsfort
+32 (0)2 675 82 91, www.letramdeboitsfort.be