If there is one thing Brussels has no shortage of, it's bars. Everyone has their local but the abundance of spots where you can chill with a glass of wine or one of the country's famous beers can sometimes be overwhelming.
There's plenty to choose from, too much some might say. And as everyone has their own preference, must you stumble from every establishment in the hope of finding the bar that beats them all? Do you ever wonder which are the city's most iconic pubs? Well, you've come to the right place.
Though they may not all serve the fanciest drinks or have the highest Tripadvisor ratings, the following selection is loved by locals of all generations. Cheers.
Goupil Le Fol
Just a stone's throw from the Grand Place, you'd be surprised to find that Goupil Le Fol is not a tourist trap like many other bars nearby. This might have something to do with its being a touch secluded. But this unique bar truly defines Brussels atmosphere.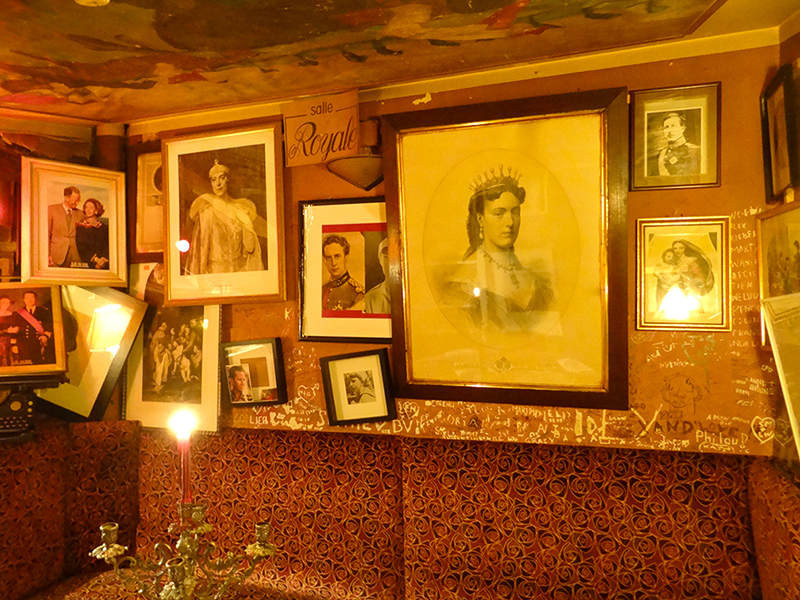 This former brothel that was turned into a bar is famed for many things, from the jukebox playing French chansons and its delicious home-made fruit wines (its cherry and raspberry wine is a classic) to the unexpected sofa seating.
Get lost for hours looking at the artworks and old pictures.
Address: Rue de la Violette 22, City of Brussels. More information here.
Bar Théâtre Royal de Toone
This is one of the oldest so-called Estaminets (an old Belgian word for a bar) in the city, as can be seen in the decor, complete with peeling walls adorned with newspaper clippings and original theatre benches.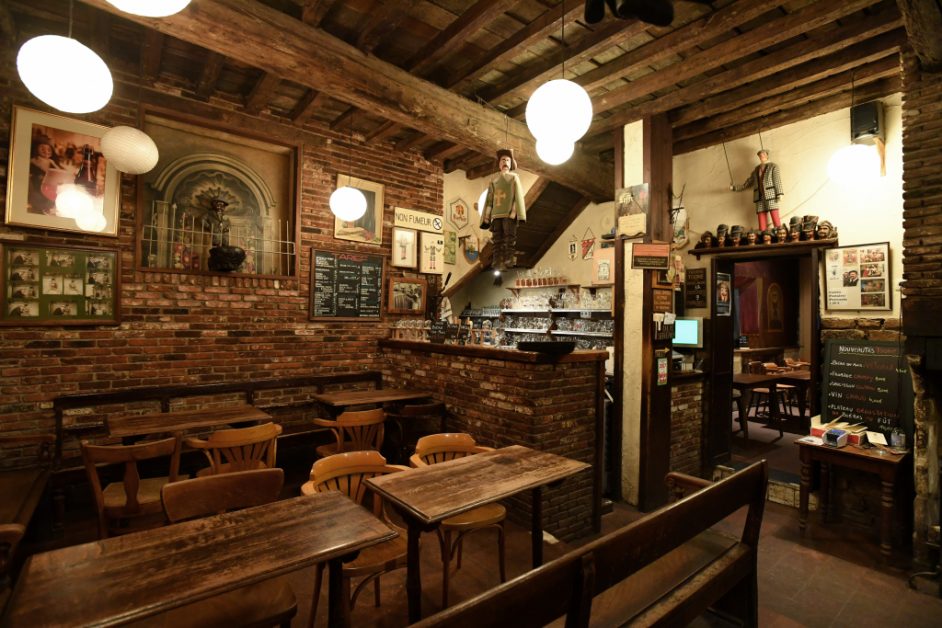 The joint is located on the ground floor of the famous Toone Puppet Theatre and features puppets and a miniature stage. On the menu are carefully selected Belgian beers, including the famous Kwak on tap. In summertime, this can be sipped on the terrace – one of the quietest in the city centre. For company you might be visited by the pub's cat.
Address: Impasse Sainte Pétronille 66, City of Brussels. More information here.
Le Falstaff
A true feast for the eyes with an iconic interior. The building was constructed in 1886 and welcomes locals and visitors alike to this oasis of Brussels history. The Art Nouveau facade is unique for its combination with the Art Deco style, finished with stained glass windows.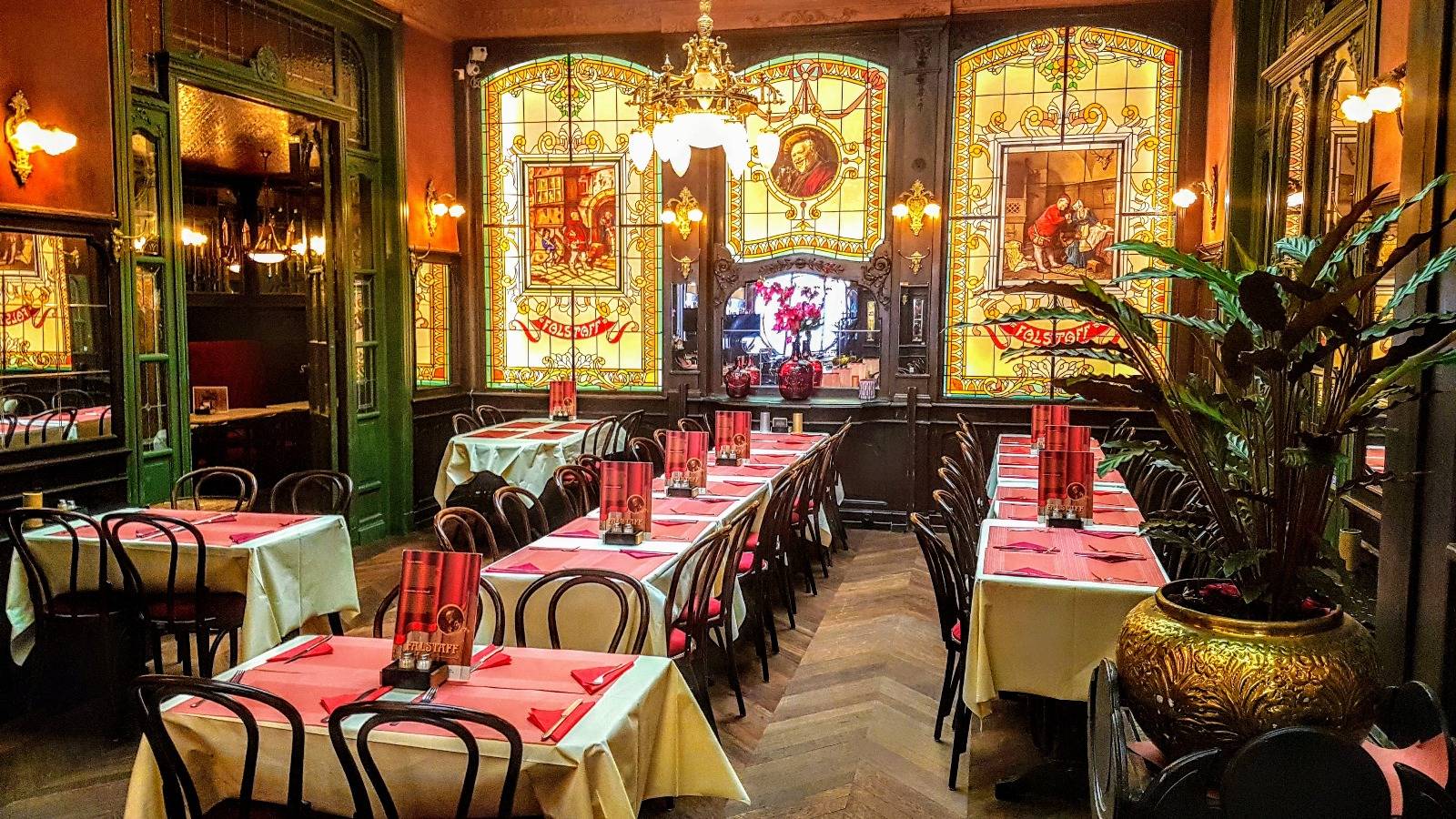 Its interior was designed by carpenter Emile Houbion, who worked with Belgian architect Victor Horta to explore the limits of Art Nouveau and eclecticism. Cosying up inside on a cold day, or in summer enjoy the terrace that faces Place de la Bourse – an ideal people-watching spot.
Address: Rue Henri Maus 19, City of Brussels. More information here.
L'Archiduc
Located in the stylish Antoine Dansaert district, this art deco-style cocktail bar is known beyond Belgium since legendary pianist Stan Brenders and his wife took over the venue in 1953. Under their management, the venue saw jazz legends such as Nat King Cole and Miles Davis play there.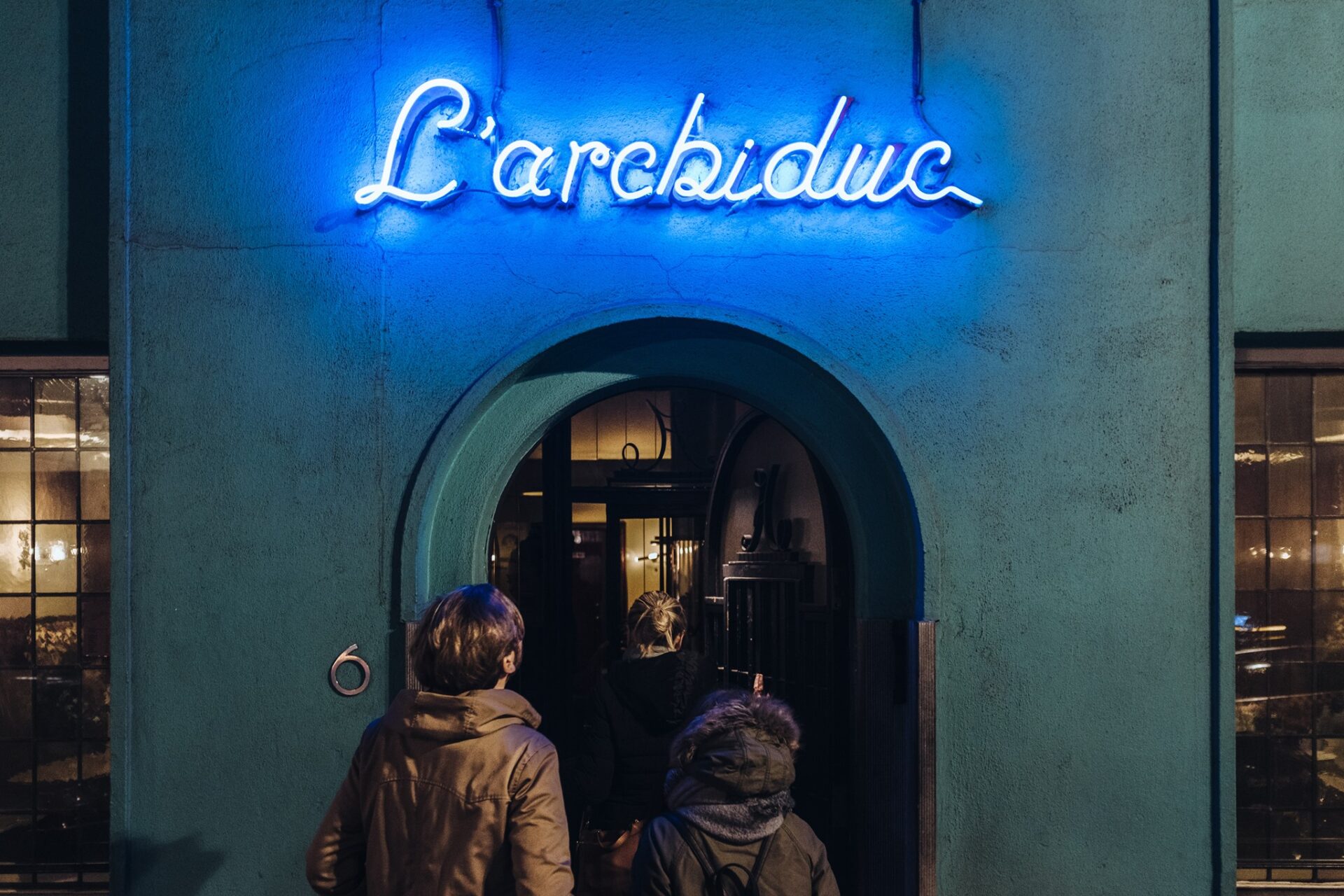 This Brussels monument is still loved for its live music – a stage today for the stars of tomorrow. The original benches along the walls and cast iron main door are reminders of the bar's rich history.
Address: Rue Antoine Dansaert 6, City of Brussels
Ultime Atome
If Le Falstaff is a must-visit for its design, this bar is a hit for its location and the cosy setting, especially on nights when it is warm enough to stay on the terrace in the shadow of Saint-Boniface's church.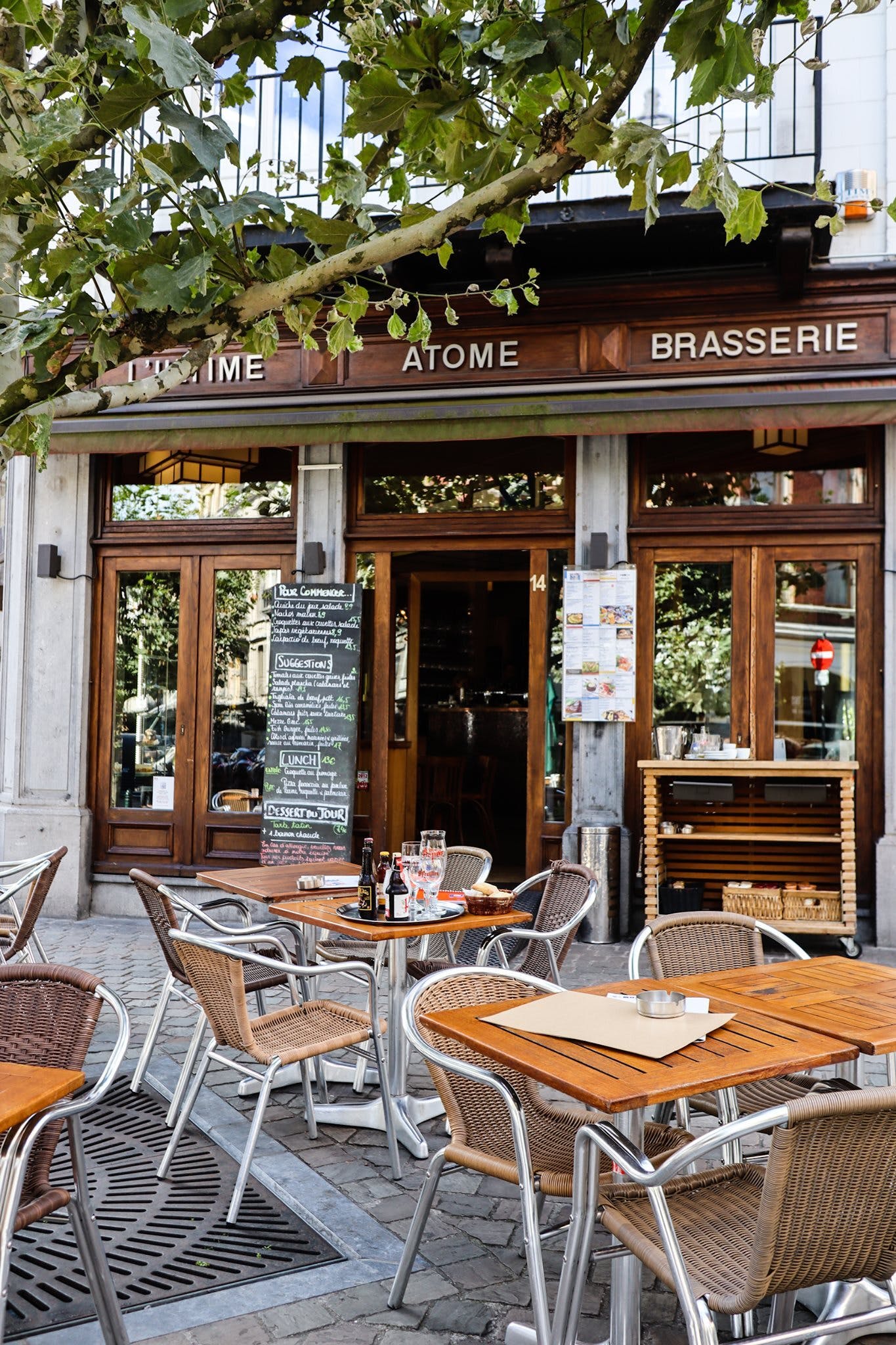 Located in the heart of Brussels' Matongé district, Ultime Atome is a prime example of a Belgian brown café with an edge. This is the place to be for tourists looking to live like a local for a day.
Address: Rue Saint-Boniface 14, Ixelles. More information here.
Le Cirio
Le Cirio, which regulars will tell you has remained largely unchanged for decades, takes visitors back in time. The interior, boasting a Fin de Siècle decor, is a classic Belgian brasserie. It's one of the few places that still serves the once-typical Brussels "half en half" (a mixture of sparkling and white wine).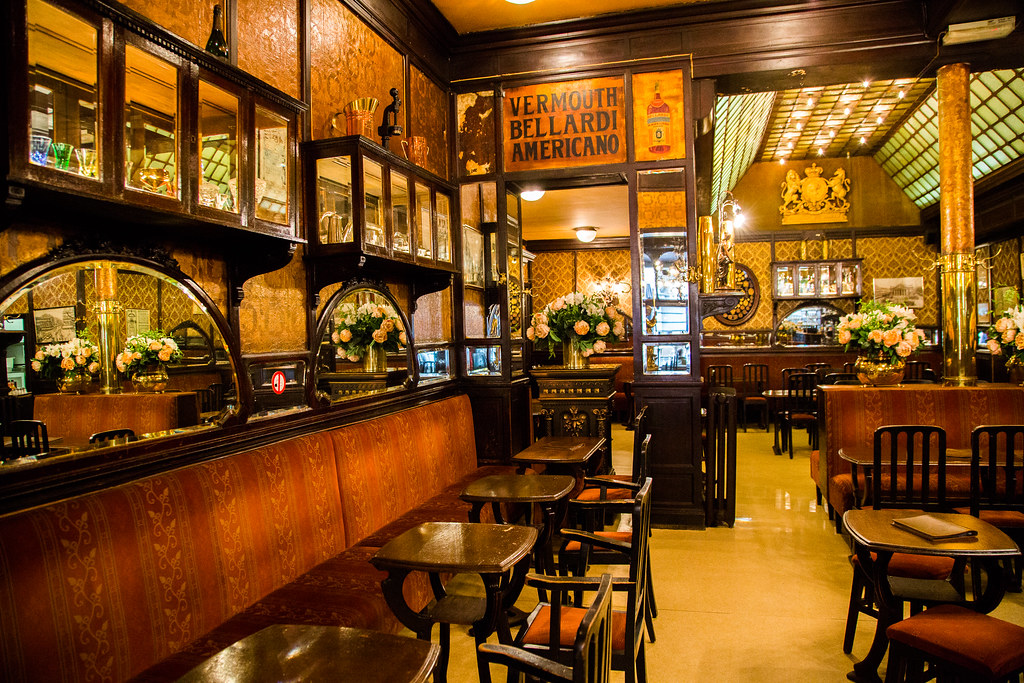 Originally a retail shop and Italian restaurant, Le Cirio still boasts the original décor dating back as far as 1886. Make sure to say hi to the bar's fat ginger cat before you leave.
Address: Rue de la Bourse 18, City of Brussels. More information here.
Café A la Mort Subite
Another local favourite (including for Brussels legend Jacques Brel), this bar has been a cornerstone of the capital's nightlife since 1902. At the time, the pub had its own distillery, where lambic beers were mixed into "gueuze" beer, also given the name Mort Subite.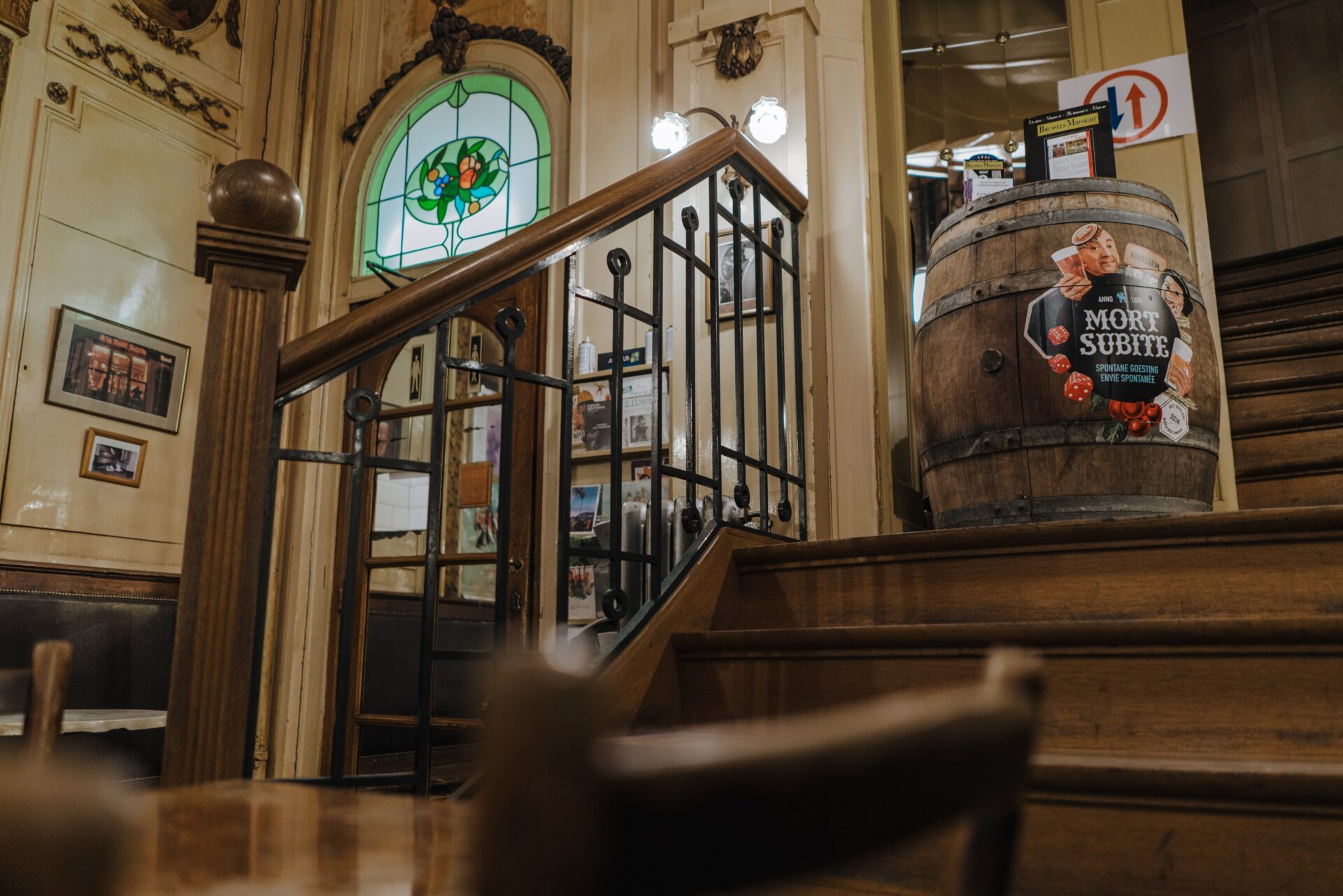 The bar's original name was La Cour Royale, but it was renamed Mort Subite (meaning "Sudden Death") taking its name from the very last throw in the popular dice game pietjesbak.
Address: Rue Montagne aux Herbes Potagères 7, City of Brussels. More information here.