Inflation in Belgium fell for the fourth month in a row in February, despite the fact that the rate of price rises in neighbouring countries continued to increase, a recent report has found.
According to data published on Wednesday by Statbel, Belgium's official statistics office, Belgium's inflation rate declined to 5.4% last month, down from 7.4% in January. Over the same period, inflation increased in the Netherlands (to 8.9% from 8.4%), France (to 7.2% from 7.0%), and Germany (to 9.3% from 9.2%).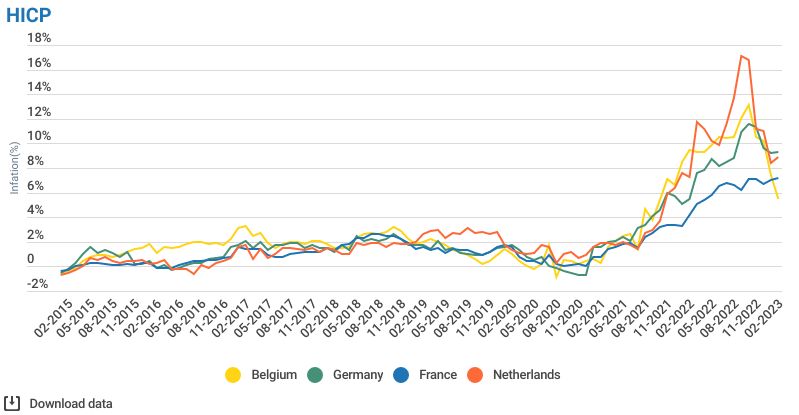 Statbel further noted that the reduction in inflation was largely caused by falling gas and electricity prices, which in turn were precipitated by this year's unseasonably warm winter weather.
Conversely, the agency found that Belgium's greatest inflationary pressures arose from steeply rising food prices: indeed, it reported that food inflation actually increased over the period from January to February (from 18.8% to 19.4%).
An ominous trend
Despite headline inflation in Belgium having steadily fallen since October (when it peaked at 13.1%), Statbel noted that Belgium's core inflation rate — which strips out the impact of energy and unprocessed food items — continued to increase, reaching 8.5% in February, up from 8.2% in January. Core inflation in Belgium has steadily risen since March last year.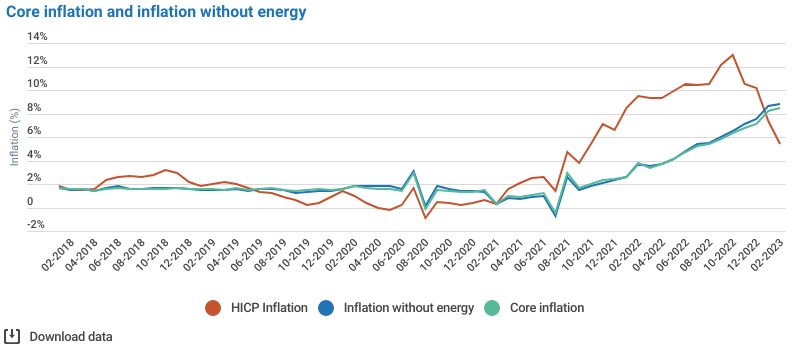 In an interview with Spanish media group Vocento earlier this month, European Central Bank (ECB) President Christine Lagarde suggested that stubbornly high core eurozone inflation implied that the ECB will continue to maintain high interest rates for the foreseeable future.
Related News
"In the short term, core inflation is going to be high," Lagarde said, adding: "We must continue to take whatever measures are necessary to bring inflation back to 2%. And we will do so."