What are the most delicious foods, refreshing drinks, coolest cafés and swankiest restaurants in Brussels at the moment? Here are some of the best.
Café Joyeux
This cafe-with-a-twist is the place to go if you need to believe in humanity again. "Don't come here if you're not open," warns Nathan, the young manager of this strange team. By this he means, "Don't come here if you're in a hurry."
Two-thirds of Café Joyeux's employees are mentally disabled: Down's syndrome, autistic spectrum, schizophrenia, dys-somethings and so on. They are "plugged in" though, says Nathan, which means they do their job, but…differently. For example, it takes them much longer to learn, and each employee needs a tailored approach to shine.
Café Joyeux, founded in France in 2017, trains and employs mentally-disabled young people across Europe, giving them real jobs in real-world conditions to help them integrate into society. But you don't – and shouldn't – come here just for a good deed. You come here for the unique atmosphere. And for the food.
The décor is different to your typical café. All Cafés Joyeux are standardised: same yellow-black-white decor, black uniforms with first names discreetly printed on the hat, yellow-black-white running shoes, mosaic tile floors and templated fonts. You feel like you are in a bright beehive, with smiles and hugs everywhere. What you don't see is that everything has been carefully adapted by occupational therapists for the staff.
As for the food, there is a soup of the day, made of all the leftover veggies ("no waste here"), while the other dishes come with a salad: quiche; a savoury waffle with topping; a croque monsieur; and a cocotte (a more filling oven dish). The flavours change every week. And in addition to the salad, you can accompany your dish with fries, and cheese or shrimp croquettes.
To end on a sweet note, you can choose between three desserts: one vegan, the moelleux au chocolat, plus a cheesecake. Everything is delicious and homemade by a seasoned chef. If you leave a tip, you will immediately hear a bell tinkle and all the staff shout "Merciiiii!" It's family-friendly here and you will quickly find yourself adopted by members of staff if you come often. "They have no filter," Nathan explains; they are hypersensitive and wear their hearts on their sleeves. Come and meet super-efficient Cécile, discrete Lauranne, witty Dimitri and inquiring Augustin and experience of what a café should deliver: care for the customer as well as for the staff.
Café Joyeux Rue Voot 32, 1200 Woluwe-Saint-Lambert
En face de l'île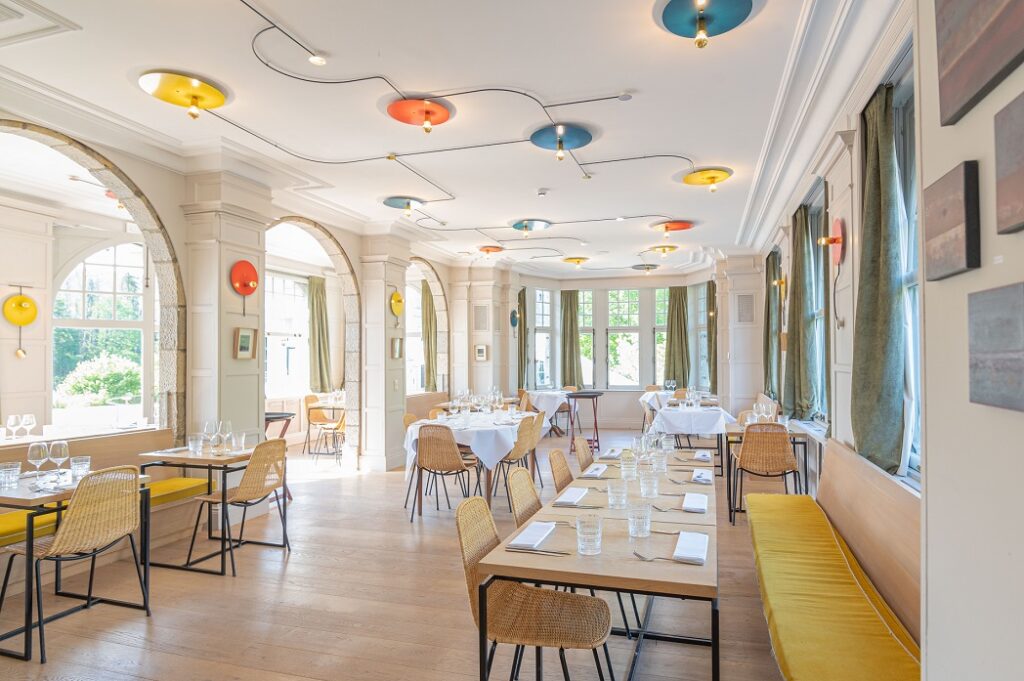 For once, let's go far, far away from Brussels and treat ourselves not only to a great restaurant but also a wonderful place to stay: Hôtel Les Sorbiers.
Hidden in a forest near the Meuse River south of Dinant, 1.5 hours by car from Brussels, it is worth a weekend stay or, at least, a night there. The hotel offers many types of rooms, including some separated with only a door to the next one, if you travel with your kids and want some privacy. No TV here but a free book (in French) on each bedside table. You may be lost in the countryside but there are plenty of opportunities to walk around or even canoe on the Meuse River. You are not allowed onto the small island opposite the restaurant (hence its name), though.
The hotel's restaurant has indeed a great view of the island, but when the days are sunny, get a closer look by eating at its terrace (and come back for afternoon tea). The restaurant's mantra is "Cuisine d'artisan", which means farm-to-fork dishes carefully crafted with a whole bunch of local products, from dairy and vegetables to meat, including poultry, to local specialists for spices, coffee and chocolate. Of course, you can drink some Belgian wine here, from Château de Bioul and Domaine du chapitre.
The French-style cuisine is not only excellent but also beautifully dressed on the plates. Not too sophisticated but creative though, it enhances the taste of its genuine ingredients. For the aperitif or digestif, there is an incredible range of Belgian products, from beers and soft drinks to gin, rum, whisky and most common spirits. "We always choose a Belgian brand over a foreign one if it is available", the barman told me. Hence cocktail list is titled cocktails.be.
The success of Les Sorbiers is mostly due to word-of-mouth. Book well in advance to combine hotel and, at least, dinner at the restaurant. The domain also hosts seminars, meetings and events.
Hôtel Les Sorbiers 241, rue des Sorbiers 5543 Heer (Hastière)
Petits-Gris de Namur snails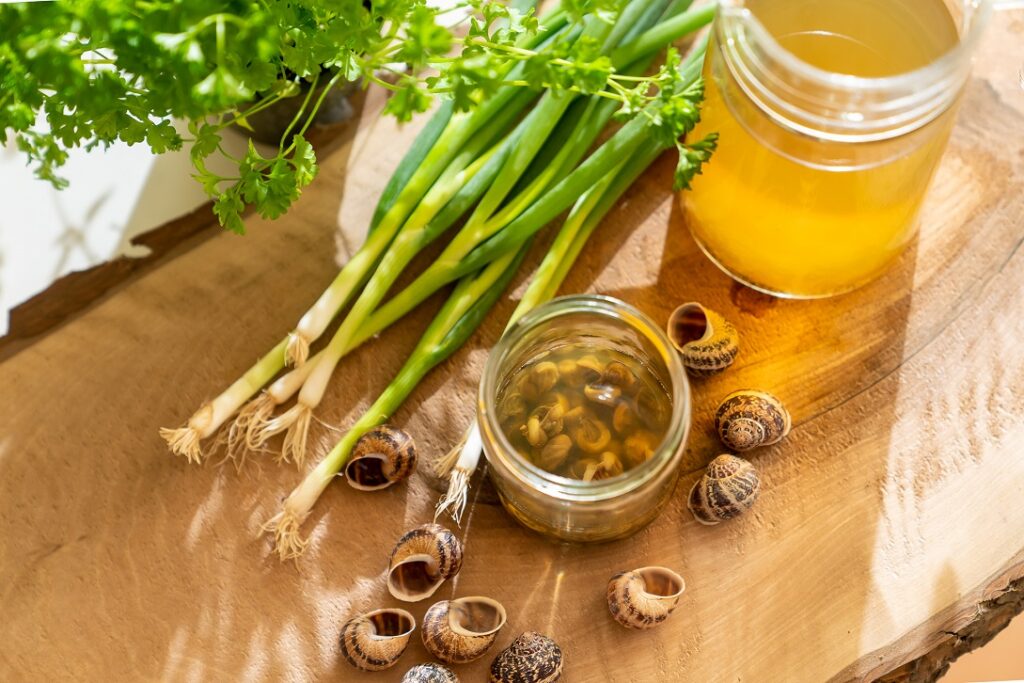 When Corinne Flamand registered her petits-gris de Namur trademark 35 years ago, she never expected geographical indications (GIs) to become so successful around the world. This is not a GI, but a GI-like brand that has still become one of the most famous in Belgium.
The snails are exclusively prepared by the Ferme du Vieux Tilleul in Bierwart, and over time, dozens of chefs in Belgium have endorsed them as a basic ingredient for innovative dishes, including Lionel Rigolet (Comme chez soi*), Yves Mattagne (La Villa Lorraine**), Sang-Hoon Degeimbre (L'Air du temps**) and Peter Goossens (Hof van Cleve***).
Grown on-site or in selected snail farms, they are prepared at the farm, which means they are cleaned and taken out of their shell before being cooked in a vegetable broth, which remains secret. Sealed jars are then sterilised to ensure long conservation at room temperature without additives or preservatives. They are also sold in vacuum bags pre-cooked with a butter or cheese filling in shells or dough, oven-ready.
The classic way to prepare snails is à la bourguignonne (with a filling of salted butter, garlic and parsley), but there is no need to follow the crowd! The sealed jars mean snails can be prepared in infinite ways: with tomatoes and onions, with bone marrow, in a risotto, in a vol-au-vent, with a creamy brunoise, etc. Some recipes are even more local, such as Petit gris à l'Entre Sambre et Meuse with tomato and tarragon or flambés au peket (flamed with the local juniper spirit). They also thrive in green herbs like cress, sorrel, chervil or bear's garlic.
Their most particular characteristic is to be glutinous, but snails are like any shellfish, tasting more of their feed (greens and aromatic plants) than fishy, though. In Brussels, they are available at Rob (East), La Grande épicerie (Uccle) and Champigros (Centre). Do you dare to eat like a Belgian?
Petits-Gris de Namur
Gin & Tonic Bertinchamps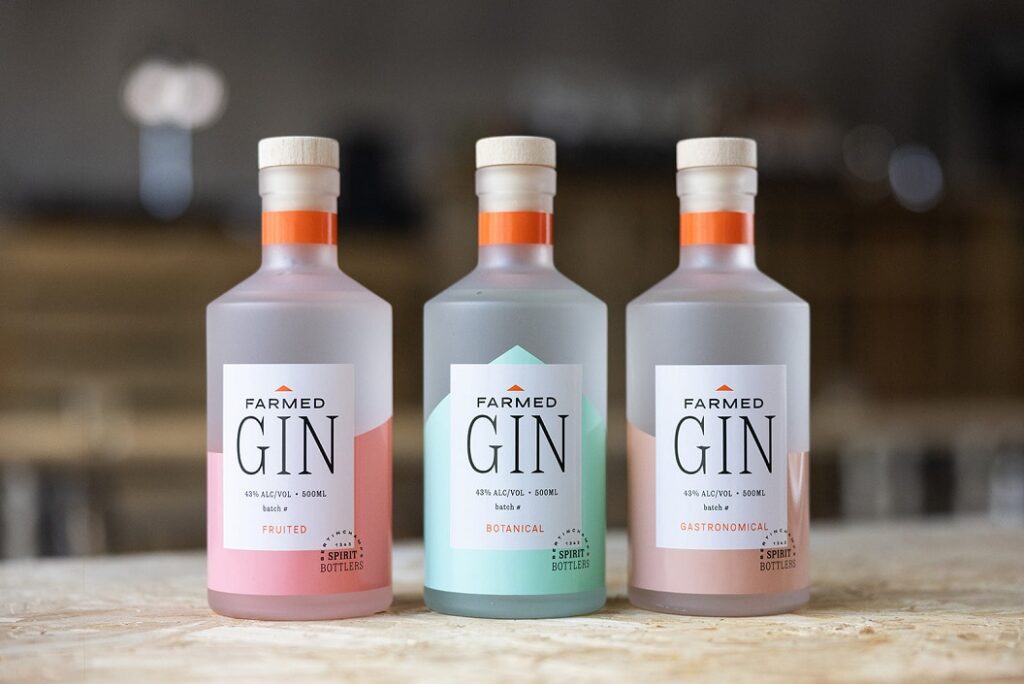 This story is paradoxical. It started with the pandemic in 2020, when the Bertinchamps brewery had 8,000 litres of returned beer from bars and restaurants that suddenly had to close. Marc-Edouard Humblet, the brewer's son, decided to distillate the unsold beer and make gin with the alcohol.
Another gin on top of the 200 existing Belgian ones? Not quite, because he wanted something different. He would create a series of gins and the tonics to pair with them. But for that, he needed a master in pairing flavours. He went to his friend Sang-Hoon Degeimbre, the renowned chef from L'Air du Temps**. Degeimbre had plenty of time since he had to close his restaurants. The result of this collaboration is astonishing. You will drink G&Ts you've never tasted before.
The three farmed gins from Bertinchamps are London dry gins, i.e. all spices and herbs macerated in a juniper-based spirit before its second distillation, and no added sugar. They have an alcohol content of 43 percent, which is higher than usual gins "to enhance flavours and leave a longer finish," Humblet says. They must be paired with their matching tonic but can also be drunk on the rocks.
The botanical gin is dry and fresh, thanks to its coriander and hop notes. The fruity gin is comforting, based on blackcurrant and anis seed. The extraordinary gastronomical gin is iodised, based on a special alga named plankton and macerated in oyster shells. The ginger and Amalfi lemon gives it an incredible freshness and it can even be used in cusine to pimp a sauce!
Bertinchamps eventually created a fourth, more neutral, tonic to be paired with other gins on the market, as a local and less sweet alternative to industrial tonics. All tonics are made at the brewery and are now one of the rare Belgian tonic brands. The farmed G&Ts have existed for a while, but you probably never heard of them, because Bertinchamps has "done everything the other way round by first creating the products and wondering how to sell them only after," Humblet admits. It's time to catch up: they will be the flagship for the 10th anniversary celebration of the Bertinchamps brewery at Gembloux this year. In Brussels, they can be found at the Comptoir Belge in Saint-Gilles and Rob.
Want to make something with it? Try the Marie-Claire, a belgissime cocktail of beer and gin named after Marc-Edouard's two sisters. Mix 5cl of fruited gin, with 1cl cane sugar, 1cl of lime and ice cubes in a shaker, pour it in a high ball glass with 15cl of Bertinchamps Pamplemousse, a beer with natural extracts of grapefruit and ginger.
Bertinchamps farmed gins and tonics can be found at farmed.be