For the 11th year in a row, Museum Night Fever will be offering the public the chance to discover Brussels museums by night. This year, the museums will be open an hour longer than in the previous editions. On Saturday 3 March, visitors will have access to discover 27 museums by night, from 7 pm to 2 am, .
The organisers have revealed that more than 500 creative dancers will sneak in to the exhibitions to add an element of surprise. With performances, dances, music, workshops, visits and other hidden surprises, these young, talented artists from art schools, collectives, associations and youth centers are showcasing the diverse themes and exhibitions from the participating museums for a museum visit certain to be unlike any other.
This year, five new museums will participate for the very first time: The Crossbow Museum (The Grand Serment of the Crossbowmen), the D'Ieteren Gallery, the Allende Room (ULB), the House of European History and the GardeRobe MannekenPis. Some large current exhibitions include the Fernand Léger at BOZAR, Baudelaire >< Brussels at the Brussels City Museum, Wonderland at MIMA, Brussels, Safe Haven? at the Jewish Museum and Saâdane Afif at WIELS.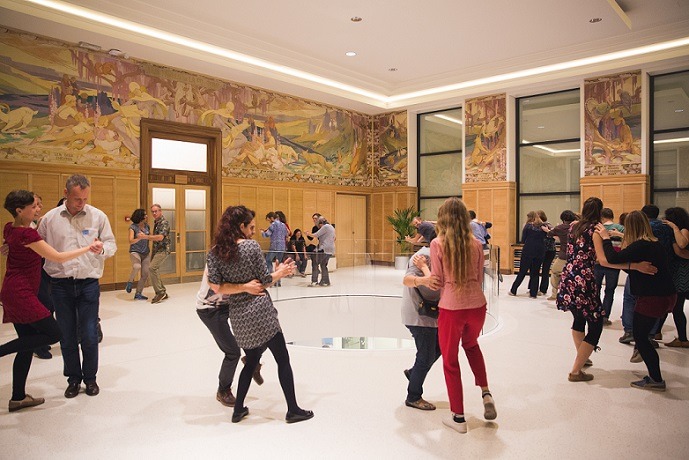 Other interesting activities in the program include the clowns at the Belvue, a Pop-Up Plasticarium at experience.brussels, some "echte" (real) brusseleirs at the GardeRobe MannekenPis, a participatory workshop at the art&marges museum, an (electro)swing soirée at the Ixelles Museum, and bizzare walks at the Museum of Natural Science. There will even be some full metal activities at the Army Museum.
The city also provides free STIB shuttles that will be running between the participating museums the whole night.
Lastly the big afterparty is this year organised by "Future Sound" (the organisers of Brussels Electronic Marathon). DC Salas, Sparkling Bits, Amare, Enkephalin and other promising new talents will join the party in the Zodiak room on Rue du Marché aux Fromages will keep the crowds dancing all night long.
Practical information / tickets:
1 MNF-pass = access to 27 museums + STIB shuttle buses + Noctis line + free Tram 92 between Place Royale and
Schaerbeek Station (Train World):
Standard ticket: 11 € / 15 € (in advance / on the day itself)
Combined ticket (afterparty included): 19 € / 23 € (in advance / on the day itself)
www.museumnightfever.be
The Brussels Times
List of the 27 participating museums:
ARGOS – Centre for Art and Media, art & marges musée, Autoworld, experience.brussels, BOZAR / Palais des Beaux-Arts, CINEMATEK, D'Ieteren Gallery, la Fondation Boghossian (Villa Empain), GardeRobe MannekenPis, Maison de l'Histoire européenne, MIMA – Millennium Iconoclast Museum of Art, Musée de la Banque nationale, Musée de la BD, Musée des Arbalétriers, Musée Juif de Belgique, Musée royal de l'Armée, Musée d'Art fantastique, Musée BELvue, Musée Mode et Dentelle, Musée d'Ixelles, Musée de la Ville de Bruxelles, Muséum des Sciences Naturelles, Parlamentarium, Salle Allende (ULB), Site Archéologique du Coudenberg, Train World et WIELS.