A new calendar for waste collection in the Brussels-Capital Region aims to help residents adjust their habits for sorting their household waste and taking out their rubbish bags, with a focus on creating a cleaner city.
Brussels households are given three possible solutions to sort their food waste: they can either compost it individually or in a communal composting place, or throw this waste in orange bin bags. In practice, however, many still throw food waste in white bin bags, intended for non-recyclable residual waste, resulting in it being incinerated.
As announced earlier this month, sorting food waste in orange bags will therefore become compulsory for all Brussels households from mid-May to ensure it can be revalued and converted into renewable energy or into compost.
"These scraps are precious raw materials. In our evolving world, there is no more room for waste. The changes we are making today are another step towards a neater and more sustainable city," said Alain Maron, Brussels Minister of Climate Transition, Environment and Public Cleansing.
Sorting various types of plastic packaging waste in the blue bag has also become compulsory in the region.
This will result in more waste piling up in households' blue and orange bags and less waste in white bags, a novelty which the region stressed "necessitates a new organisation of bin bag collection."
Focus on action by residents
From 15 May, new calendars for taking out the rubbish bags will apply in the 19 regions municipalities. Rather than showing the days of collection, the calendar will specify the days and hours when residents have to take out the various rubbish bags.
The new calendars, which as was the case before the changes were made, will differ based on people's location. They will be delivered to people's homes between 2 and 12 May, and can also be found on the Net.Brussels website per municipality, under the new bag output calendar section.
Other, more major changes include the cancellation of Saturday collections, while evening collections will now take place on some of the capital's major traffic axes.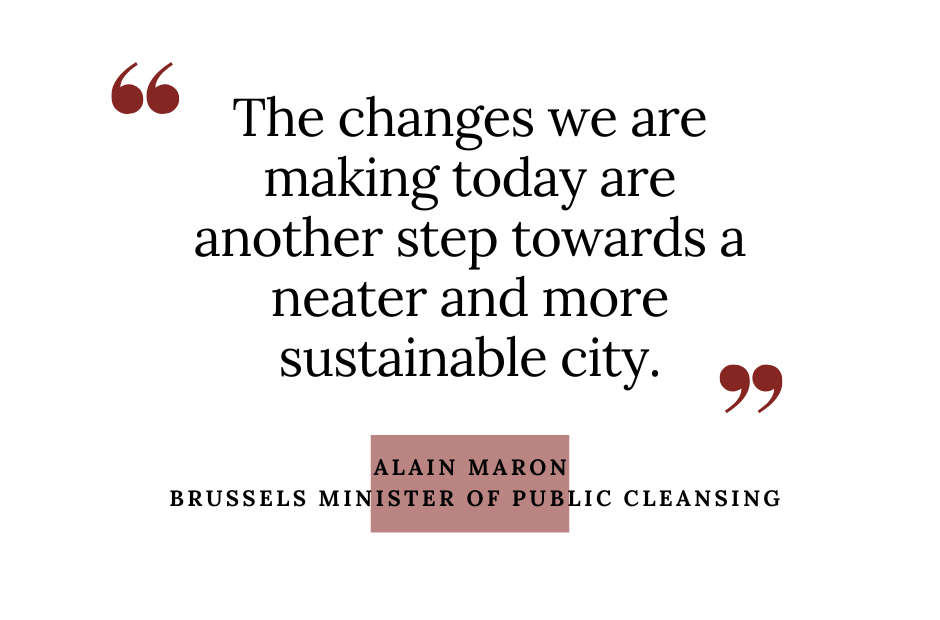 "This will help ensure smoother traffic and prevent rubbish bags from being left on the pavement for too long on the busiest streets; having a positive impact on public cleanliness and on the work of our cleaning services," Maron noted.
Meanwhile, individual white bags will only be collected once a week in Auderghem, Berchem-Sainte-Agathe, Haren, Neder-over-Heembeek, Evere, Ganshoren, Jette, Uccle, Watermael-Boitsfort, Woluwe-Saint-Lambert and Woluwe-Saint-Pierre.
Containers of residents of apartment buildings in these areas will still be collected twice a week. In the other municipalities, the collection of white bin bags will continue twice a week.
These changes are expected to result in the distance covered for white bag collection dropping by up to one-fifth, "with a positive impact on the environment and on the quality of life of Brussels residents: healthier air, smoother traffic and cleaner streets."