Two years ago the Brussels Region launched an ambitious plan on the circular economy. As fresh elections approach, it is time to assess its success. Has it garnered sufficient momentum for the next government to pursue the path towards a new economic paradigm for the future? When you are going to have a baby, all your friends come with good tips about do's and don'ts, useful accessories and clothes, of course. It is virtually impossible in Brussels today to miss out on the notion of shared clothes for pregnant women and children – the kind of clothes that you typically need only for a very short while. The word-of-mouth on "Tale Me" has spread like wildfire: your subscription entitles you to three pieces of clothing every month that you can either choose at the shop or online. You pay for the usage, not for the ownership. Products as a service is one of the signature business models of a circular economy. Dozens of new business initiatives like this one are happening right now, right here, in Brussels. They may change how we consume goods and services and ultimately, resources.
Entrepreneurial spirit
You can find many of these innovative companies in a special place in Brussels. Greenbiz.brussels was launched in 2013 by the region as an incubator of sustainable start-ups. Its flagship building, not far from Tour & Taxis, hosts many start-ups embracing the circular economy. They share the same goal: making a living by minimising environmental impact and improving efficiency in resource use. However, there are several business models to reach that goal.
Circular supplies are renewable, recyclable or biodegradable resources produced by some companies to replace traditional goods or resources. For example, the young start-up Permafunghi uses coffee grounds which they collect from bars and restaurants in the region to grow mushrooms and produce an organic plastic, which is used to make lamp shades.
Resource recovery puts end-of-life waste or goods back into the system and transform them into new resources. Aquaponiebxl has invented a dual system in which the waste of the fish they grow are used to produce fertiliser to grow vegetables, which in turn purify the water that is used in the fish pond. A perfectly circular production of food! Dzerostudio Architects produces greenhouses from the glass and wood remains of construction sites. Their greenhouses, named Tomato Chili, are also entirely dismountable and recyclable. This means that they also belong to the business model product life extension, which aims to extend the life of a product to ensure its economic viability for as long as possible. "The impact on the environment is twenty times less than with an aluminium greenhouse," says Olivier Breda, one of the partners at Dzerostudio.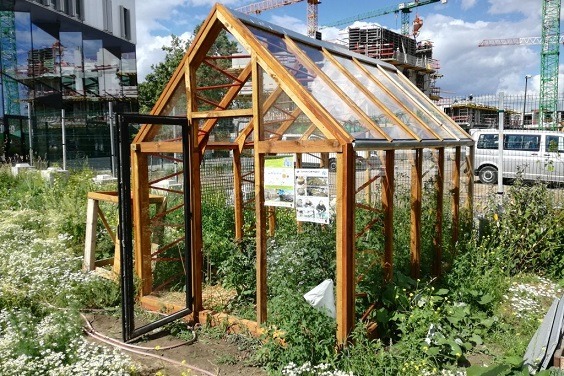 Modual Greenhouse by Dzerostudio Architects. The Greenhouse is manufactured of recycled materials from construction sites and rented as part of a product-service system by Tomato Chili project.
Other examples of this are: Lumency, which retrofits old LEDs by repairing, recycling and even upgrading them; Batigroup, which collects and retrofits construction material; and Loops, which sells retrofitted toys, and organises corporate "retrofitting workshops".
Then there are the well-known sharing platforms, focused on sharing products that are traditionally under-used, such as cars. The cooperative Wibee lets neighbours or colleagues share their vehicle when they don't use it.
Finally, Tale Me is not the only start-up using the product as a service model: AgainAgain rents toys, Coucou rents dresses, Cycad rents eco-bikes and Usitoo rents any kind of tool or device you may need in the home. "We are a 'library of objects' combined with a delivery service. Our subscription-based offer simplifies everything for the customer, because renting objects is usually too cumbersome," says Frédéric Chomé, co-CEO of Usitoo.
Managing logistics and making full use of the Internet are of great added value for customers, confirms Anne Balez from Tale Me: "Reverse logistics is the most complicated part of the value chain and we know how to do it. Big traditional clothing companies are coming to us to rent out their products. Our competitive advantage is our algorithm, which took us four years to refine." "There is an interest for the consumer to embrace the circular economy, which creates business opportunities," sums up Anthony Naralingom, coordinator of the circular economy cluster of the Brussels Region.
Master plan
The most interesting part of this story is perhaps that the regional authorities are not only encouraging this type of business, but also investing money and energy to make it happen. €8.3m have been set aside by the Brussels Region until 2020 to boost the circular economy, either through the conversion of traditional companies or the creation of new ones.
"As a result, 200 companies have already embraced the circular economy in the Brussels Region," points out Didier Gosuin, regional Minister for Economy, Jobs and Training. "We launched a new call for projects and 80 companies have already applied to our offer of subsidies," he adds. Catherine Vanderstichelen, Head of Unit Economies in transition at Bruxelles Environnement explains: "The call for projects aims to finance perennial projects, with a positive impact on both the economy and the environment. The region has sought to initiate the necessary transition by supporting key players in the Brussels economy and innovative entrepreneurs." Naralingom adds: "Players in the linear economy are disconnected from each other. Our difficulty is to explain to them that there is another way of thinking."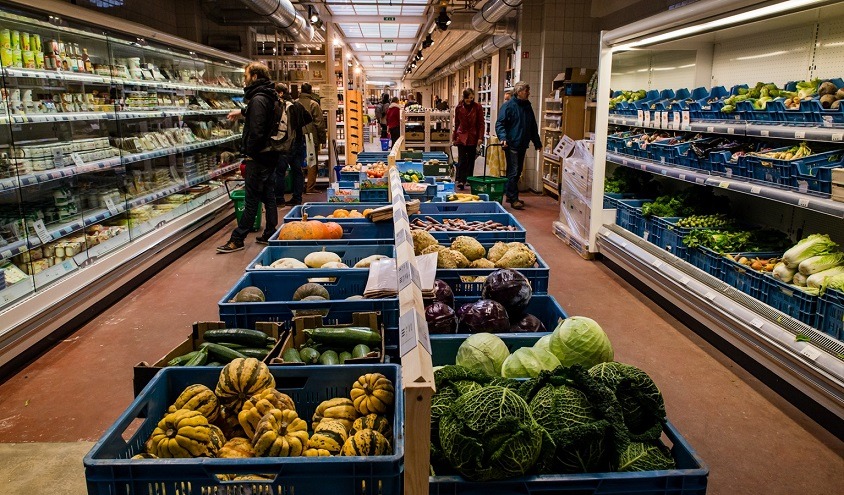 Targeting the everyday shopping for Brusseleir is the goal of Bees Coop, a cooperative proposing local and fair products to consumers. © Yves Kerstius
So how did it all start? In 2011, the previous Brussels government launched an Alliance for Jobs and the Environment. The idea was to boost job creation in the greentech sector. In 2015, as the end of the plan approached, the regional administration was assessing its results. But something was going on at the same time in another part of Brussels, namely the European quarter. Newly-elected EU Commission President Jean-Claude Juncker announced in December 2014 that the EU was withdrawing its proposed circular economy package, reflecting the "better regulation" push triggered by Vice-President Frans Timmermans.
The Circular Economy package intended to increase recycling levels and tighten rules on incineration and landfill, through proposals on waste, packaging, landfill, end-of-life vehicles, batteries and accumulators, and waste electronic equipment. The former Barroso Commission calculated that it would save around €600 billion, create two million jobs and deliver 1% GDP growth. Juncker promised to up that and come with a "more ambitious" version of the bill before the end of 2015, but nobody believed him. Strong protests from green NGOs and MEPs followed. EU Environment Ministers immediately voiced their concerns to the EU Commission. In parallel, studies from the Ellen MacArthur Foundation were highlighting the huge business potential of the circular economy for Europe.
"At the same time, we were seeing several pioneer start-ups being launched in the region," remembers Naralingom. "The Alliance programme had set up a good basis, but we had to go beyond to accompany those companies. We felt that there was something in the air. It was 'time to go to market'; the right moment to embrace this macro-trend." And the Brussels Region, known for the complexities of its governing structures and power games among coalition parties, accomplished a miracle: three Ministers endorsed a master plan on the circular economy.
The so-called 'Brussels Regional Program for Circular Economy' came with a list of 111 measures to organise financing, training, coaching, changing laws and spreading information. So far, 97 measures have been achieved. The biggest novelty of the plan is that it requires the cooperation of 15 different administrative bodies! Four public organisations coordinate the plan: Bruxelles-Propreté (responsible for waste processing, including your bins), Bruxelles Environnement (Ministry of Environment), Innoviris (Innovation agency) and hub.brussels (business support).
Brussels' circular economy master plan was widely recognised in Europe: Paris said it inspired its own circular economy plan adopted in mid-2017, more or less at the same time as London. Brussels received the Regional Innovation Award 2016 from the Assembly of European Regions (AER). The prize encourages best practice by showing how regions can contribute to regional economic welfare. Eurocities, a network of big European cities, gave Brussels an innovation award at its November 2017 conference in Ljubljana dedicated to the circular economy.
The Brussels Region has indeed managed to create a whole ecosystem for the circular economy to thrive. It has set up a dedicated coordination and support platform for everyone involved to communicate, share, give feedback and even create useful tools. For example, the platform has mapped out all existing support for the circular economy in the region. By way of a simple questionnaire, applicants know where to go to find exactly the support they need, be it from independent consultants, public institutions or business groups.
Another interesting organisation was launched this May: CircleMade.brussels, the first circular economy cluster in the Brussels Region. It gathers all the players: businesses, administrations and academics, who don't necessarily know each other. "The aim is to build bridges," explains Naralingom. "We seek to bring together three communities with their own language, interests and attitudes vis-à-vis innovation." Based on the experience from a programme on electric and electronic waste, building trust was identified as the first priority for the cluster.
"You shouldn't overlook the human factor," says Naralingom. Hence the first step will be networking, but not exactly as it is commonly understood: "It's not about 'making contacts', but meeting to learn what everyone is doing, talking and getting to know each other," he explains. The ultimate aim is common initiatives and cooperation among the cluster's members.
Building on the momentum
These are only a few of the over one hundred measures in the plan. But does it work, at the end of day? Aristide Athanassiadis, Co-Chair of Circular Economy and Urban Metabolism at the Université Libre de Bruxelles, praises the move of the Brussels region, despite the lack of consultation prior to the launch of the master plan: "Actions speak louder than words." He praises the unusual collaboration among several administrations. But he emphasises that the whole project is kept alive by "key people within the different administrations, which have to convince everyone, every day, and keep up the momentum." Together with Stephan Kampelmann, a specialist in "urban metabolism", he monitors developments at the international level to learn from the experience of others and evaluate the master plan.
However, Athanassiadis insists that the effort must be sustained: "Creating a new culture may take 15 years and changing an economy takes 40 years. The circular economy is not just about better waste collection or recycling." The entire Brussels circular economy community will gather at its next annual meeting on 24 October at Bruxelles-Environnement (Tour & Taxis). This will be an opportunity to assess the achievements of the master plan. Athanassiadis' team is preparing an assessment for this "crucial moment". He recalls that the political programmes for the next regional elections in May 2019 will be drafted soon: "We have one year to demonstrate that the plan has worked."
One of the weaknesses of the plan so far, according to Athanassiadis, is its lack of attention to consumption: "The priority until now has been the growth in purchasing power, not to consume less. But at some point, unpopular choices will have to be made." But he praises the plan's sectoral priorities: "If you act on the three big flows of construction, energy and food, you solve a lot of problems." He also notes that Brussels, like Paris, has included "social economy" into its definition of circular economy. Not all cities have done so: "The definition of circular economy differs from one city to another. In Brussels, it was a clear choice to include a social dimension," he says.
Athanassiadis remains realistic on the potential of cities to become circular: "A city is a place of transit, of material flows. It's a place where waste accumulates from the consumption of goods and resources coming from somewhere else. Brussels cannot be more than 30-50% circular unless it encompasses a bigger territory." The circular economy is the future of our global economy, he says, "because there are already some signals coming from China on waste reprocessing and from raw material markets." Naralingom concludes: "The circular economy is an indispensable transition". Brussels has initiated this transition, but will it last? A tip: peruse the new political programmes.


By Hughes Belin