Museum Hof van Busleyden is presenting monumental work by Berlinde De Bruyckere. The world-famous Belgian artist engages in a dialogue with the museum's masterpieces, the newly restored 'Enclosed Gardens', which have recently begun to attract considerable interest. The contemporary artist De Bruyckere first encountered the magical Enclosed Gardens from Mechelen in 2016. She was immediately gripped by the fragility and beauty of these sixteenth-century retable cases, that have recently been restored.

It almost seemed a lily is the title of Berlinde De Bruyckere's most recent series of works. Wooden frames containing a single silhouette, a giant flower resembling a lily or a peony. Imposing yet fragile. The frames consist of eighteenth-century oak floorboards, iron, frayed blankets, wallpaper and wax. The materials have a rich history and spill over one another. They conceal and reveal an amorphous form in which you make out flower, stamen and pistil. The pieces allude to earlier work and are also enriched with meanings that refer to both the Mechelen Enclosed Gardens and the myth of Hyacinthus. Berlinde De Bruyckere views Ovid's 'Metamorphoses' as one of her 'Bibles' for endless inspiration.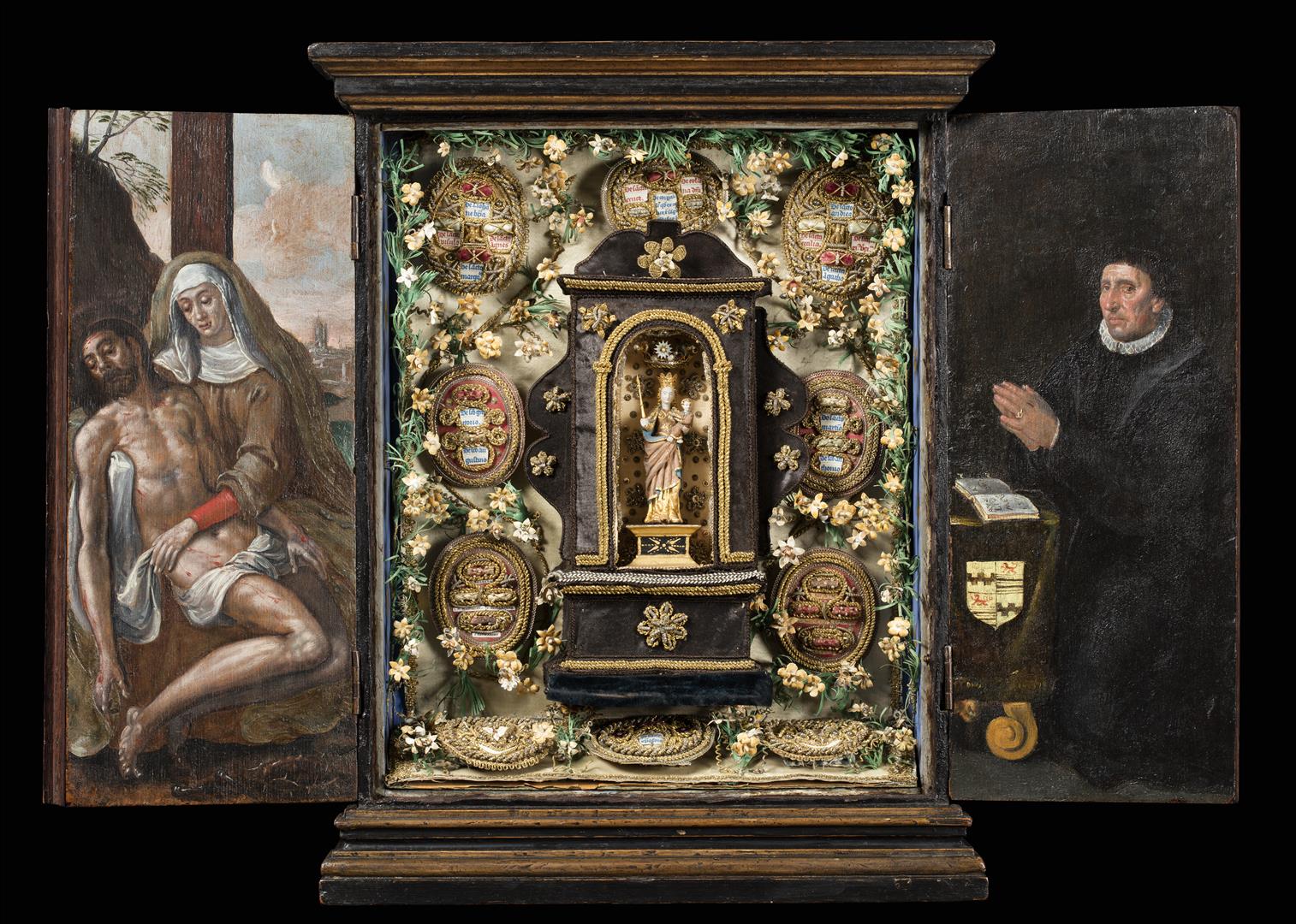 © Museum Hof van Busleyden
The contemporary, monumental sculptures of Berlinde De Bruyckere, a tale from antiquity and the sixteenth-century Mechelen Enclosed Gardens from Museum Hof van Busleyden intertwine, transform one another and are subsumed into a greater whole, transcending time and place.
The exhibition It almost seemed a lily is like an uncontrollable dialogue that constantly reveals fresh meanings. This process of unravelling, isolating, fragmenting and reconnecting fits in perfectly with the specific character of Museum Hof van Busleyden.

Housed in the Renaissance city palace of the humanist Hieronymus van Busleyden, the museum is the ideal place in which to inscribe a new future on the past. With the spirit of the sixteenth-century building as its starting point, it aims once more to become a location that unites art and culture – a hotbed of new ideas and an engine to drive the city's dynamism. This is a place for a new humanism that interacts with the past and, in so doing, not only explores the actuality of that past, but also visualizes or interrogates the future.

To mark the occasion, Berlinde De Bruycekre has compiled a deluxe portfolio, containing six removable sections in which the work is linked both visually and conceptually with the Mechelen 'Enclosed Gardens'. Fragile images by photographer Mirjam Devriendt are interwoven with poetic texts by Berlinde De Bruyckere, Barbara Baert (KULeuven) and Lieve Watteeuw (KULeuven).
Exhibition opens December 15, 2018 at Museum Hof van Busleyden, Mechelen, Belgium.
For more information: www.hofvanbusleyden.be/it-almost-seemed-a-lily-en