More numerous than the so-called yellow vests, Belgium's climate protests have drawn thousands. And Belgian schoolkids striking for the planet have even made world news. But is there real change?
In freezing winter weather, seventeen-year old Anuna De Wever vowed to stay away from school on Thursdays until Belgium's government comes up with a climate action plan for 2050, with binding targets for Belgium to do its bit in order to keep global warming below 1.5 degrees.
No relation to Antwerp mayor Bart De Wever, a candidate to head the Flemish region, Anuna De Wever says politicians have ignored the wishes of thousands who marched for the climate over various weekends. She has now become one of the leading figures behind Belgium's school demonstrators for climate action.
De Wever's greatest success so far has been the school climate demonstration that brought together some 35,000 pupils in freezing January weather. That was no mean feat when you consider kids also face disciplinary action for sneaking off from school.
Skipping school for the climate each week on Thursday, De Wever admits that she is opening herself up to disciplinary action even if her headmistress has supported her. Most schools have condoned a one-off demonstration pointing to the positive educational benefits of social engagement for the schoolchildren. But weekly school climate protests, on Thursdays, have come under criticism, especially from more conservative politicians.
"They say you have to go to school and study. You have to study all that science. But then we see politicians completely ignore the science about climate change," De Wever told one of Belgium's most prestigious political chat programmes - the VRT's De Afspraak.
Flemish ministers Liesbeth Homans (N-VA) and Joke Schauvliege (CD&V) have met with the schoolchildren behind the protests.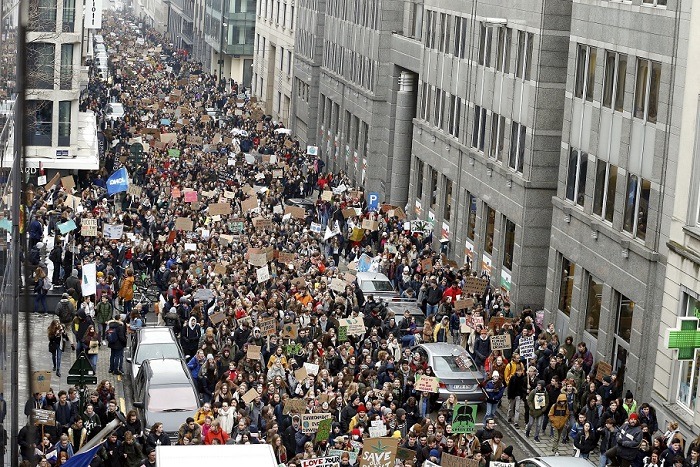 Weekly student protests in Brussels against climate have increasingly gained traction, with 35,000 taking part in a demonstration on 17 January 2019.
"We have a real problem with skipping school. We can't support that. That's why we organised the meeting on a Wednesday afternoon," said environment minister Schauvliege.
French-speaking schoolkids have been slower to join the demonstrations. But that may change. "Flanders is the region that has constantly blocked climate issues at the federal level," said 18-year old Piero Amand who goes to school in Court-Saint-Étienne, south of Waterloo.
"So it's really positive that this all started from Flanders. Why go to school if there's no future," he said on French-speaking RTBF radio.
Gaining traction
It's not just schoolkids demonstrating for the climate. Manuel Muñoz Gil was one of the 75,000 demonstrators in December, alongside his six-year old son. "It was very important for the future. There are hardly any politicians doing things for the climate," he said.
Did the demonstration achieve anything? "We got the media to listen to our demands. And after that, the politicians woke up. Something is changing," said Muñoz. He admits that everyone has a role to play. "We try to use our car as little as possible," he said.
Bad pupil Belgium
"Belgium's climate performance is rather weak, and definitely not in line with the public mobilisation around climate change in the country," said Wendel Trio, director of Climate Action Network (Can Europe). The NGO has done a ranking of all EU countries' efforts to fight climate change and switch to clean energy. Belgium came 16th.
"Belgium is one of the few EU Member States that is not on track to achieve its 2020 climate and energy targets," Trio added. He also notes that Belgium's targets to reduce emissions from transport, agriculture and buildings is probably going to be missed, and "Belgium is also not an active promoter of more action at the EU level," he said.
Trio believes the main reason behind Belgium's lack of climate ambition is the devolution of responsibility for climate and energy from the federal level to the regions, which do not share a common vision. He points the finger specifically at the Flemish government's position for being too close to energy intensive industries, especially those around the port of Antwerp.
Other climate activists are less convinced that change is afoot. "The demonstrations have not yet made a difference," said engineer Paul Plissart. He was one of the local organisers. His sons were also among the first to demonstrate for the climate alongside 75,000 others. Now they are protesting on Thursdays for climate change. "The school has even moved some tests from Thursday so as not to conflict with the demonstration. But they say children must pass the tests," Plissart said.
Charlotte Scheerens of Climate Express was one of the co-organizers of the December climate demonstration, the country's largest ever climate march to date. "We showed that the public is really concerned by climate change. There's been a lot more action. Just think of the strikes by school pupils. Politicians now realise the urgency of climate change. But we're still waiting for concrete action," Scheerens told The Brussels Times.
Scheerens promised more demonstrations will come. In an indirect reference to the more violent demonstration by yellow vests, notably in Brussels on 8 December, she added, "We'll never stop respecting our peaceful principles."
Concrete demands
Another of the organizers of the climate marches, Climate Coalition, has set out clear political demands. They want Belgium to support tougher European climate targets. To ensure that global warming is kept below 1.5° Celsius, compared to pre-industrial levels, Belgium and the EU should commit to at least 55% reductions in greenhouse gas emissions by 2030. And Belgium needs a new climate law that sets out short and long-term climate objectives and obligations. And moving to a full decarbonisation of society must be accompanied by concrete social measures.
Unfortunately, the fall of the federal government will delay any real political commitment to fighting climate change until well after federal elections in May. Environmental activists will have a long wait until any new federal government comes up with a strategy to fight climate change.
One way to measure the success of Belgium's climate demonstrators will be to see if any of the challenging demands are met over the next few years. The Climate Coalition has called for doing away with Belgium's insanely generous system of company cars and subsidised fuel.
Belgium should also forbid the installation and sale of new heating oil installations as well as phase-out gas heating. And for good measure, Belgium should phase-out petrol and diesel cars. Only time will tell if Belgium really moves away from company cars and phases out diesel.
By Dafydd ab Iago
Yellow vests
A week after 75,000 demonstrators marched in Brussels to save the climate, Belgium saw almost 1,000 yellow vests take to the streets. They had started protesting against ever higher diesel prices but later more generally against low pay and high living costs. November 2018 had kickstarted protests in Belgium with demonstrators blocking access to petrol stations and the motorway at the border with Luxembourg. The high point of Belgium's yellow vest protest movement was undoubtedly on 8 December. The 1,000 or so demonstrators converged on Brussels' European quarter resulting in 450 arrests.
Since then, Belgium's own yellow vests seem to have failed to cash in on the fame and clout of their French counterparts. Why has Belgium's protest movement found it so difficult to score political goals? French president Emmanuel Macron has been forced to make concessions to some yellow vest demands, including delaying increased diesel taxes. But Belgium has not seen similar prolonged protests. Perhaps it has been too difficult for the mainly French-speaking and Walloon protestors to reach out to Dutch-speaker Flemings.