Accepting the use of multiple languages in Brussels is vital for making people feel like they belong in the city, according to Sven Gatz, Flemish Minister for Culture, Media, Youth and Brussels Affairs. Everyone uses more languages in Brussels than ever before, and that can only be a good thing, said Gatz in an interview with The Brussels Times on the launch of his new book Molenbeek/Maalbeek: A Brussels Tale, in English.
"A New Yorker, no matter where they are from, feels like a New Yorker," said Gatz. "The same cannot be said for someone who has lived in Brussels for years, and this is something which needs to change," he added. Language is a way to do that, he added.
According to the results of the Language Barometer by the Free University of Brussels (VUB), over 80% of the population of Brussels speaks French well to very well. English is second, at nearly 35%, followed by Dutch at approximately 16%. Arabic comes in fourth place, followed by Spanish, Italian, German and finally Portuguese.
"We struggled with languages for so long in Belgium, but now other languages are not seen as a threat," explained Gatz. Through publishing this very Brussels story in multiple languages I hope to continue that, he added.
The book deals with the terrorist attacks of 22 March 2016, and the shock impact they had on Brussels. Not just for those living in the city, but also for policymakers in charge of the city, from various backgrounds, policy fields and nationalities.
Using narration from the perspectives of seven characters, Gatz relives the attacks at Zaventem airport and Maelbeek metro station. Through the eyes of fictional characters Hamida, Clive, Nina, Claude, Ghazi, Erik, and Francoise, Gatz introduces the reader to a traumatised, yet hopeful Brussels.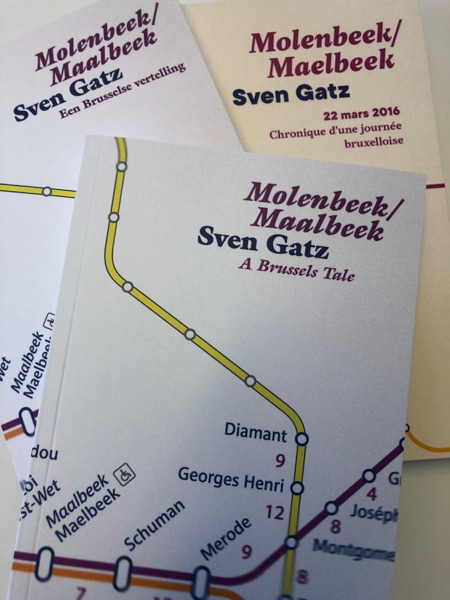 While many characters drew some inspiration from real people, the British character was a completely fictional creation, says Gatz. "I wanted to show Brussels through someone else's eyes, and of course, the choice of a British person was intentional," he adds.
As much as the events of the book are set before the Brexit vote, the feeling of inclusivity should remain the same, said Gatz. There is even an implicit statement in the book that the Brits are part of the city, he added.
The book is available in English, Dutch and French.
Jules Johnston
The Brussels Times