An explosion of digital and immersive art in Europe is making itself known in Brussels, as immersive experiences crop up across the galleries and exhibition spaces of the city.
Two prevalent examples are the opening of 'Dream Box' at MIMA, and the recent Bruegel installations at the Museum of Fine Arts, in Brussels.
The shows are defined by their organisers as a step away from the traditional gallery exhibition. With interactive features, extensive use of technology; both serve as examples of a new style of art exhibition which is pervasive in Brussels.
Comprised of several rooms, 'Dream Box' is an interactive art experience, with a distinct lack of background information. "The idea is the reverse of a traditional exhibition. Normally you have to enter into the world of the artist, you have to read texts. But our idea is that if you want information you have to get it after the exhibition, not before," said curator, Raphaël Cruyt.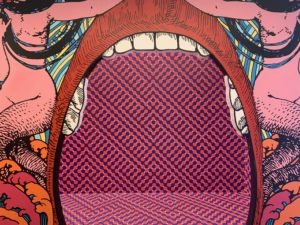 This new style of 'experience' is proving to be commercially popular: Culture Track's 2017 study reported that 81% of respondents wanted digital experiences when visiting museums.
The reason behind this success is that an interactive experience is less intimidating for an audience, said Cruyt. "You succeed in touching people. It is really important with this exhibition, when people buy a ticket we must tell them - there is no information, you must feel it by yourself. People feel much more comfortable, much more relaxed, much more at ease. It should be like that everywhere."
"We are also known to be kid-friendly," he added of the interactive experience appeal.
At the Museum of Fine Arts there have been similar efforts to replicate the immersive experience through the new Bruegel exhibition.
"We have seen an increase in visitors in our Old Masters Room, since interactive technology has been introduced into it," said Isabelle Vanhoonacker, director of operations from the Museum of Fine Arts.
"Especially with young people, they really love it," she explained.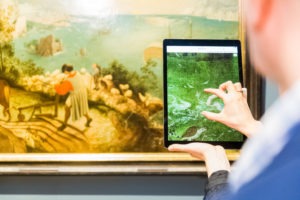 The art-experience appeals to a younger generation, as "young people think old art is not for them and this helps them to look at old art", said Vanhoonacker. "Most of the time younger people are interested in 20th and 21st century art, because it is their lives and their context. And they feel like older art is too far away from them," the director observed.
The introduction of technology has revamped the traditional gallery format said Vanhoonacker. "All of a sudden we see that they [young people] are responding to it [the Old Masters], with the new installations and new technology. Bruegel now feels very up to date," she added.
The role of social media:
"People like this sort of art because it is more fun" said 24 year old Emilie, from Ixelles, a visitor at the Dream Box exhibition.
"I actually heard about the exhibition through Instagram," said Emilie. "I saw loads of pictures and I thought it looked really cool. It was the first time for me, finding somewhere through Instagram."
"There are lots of factors [to Dream Box's success], I'm sure that Instagram has an influence," said Cruyt, echoing Emilie's sentiments.
However, for Cruyt, it is imperative that the work is more than social media fodder. "You need a balance. It is must be entertaining, but it must have substance." He continued, "Sometimes art is only about image, but there's no idea behind it. On Instagram you risk it only being about image. Instagram creates an art of its time. This art, for me, can be a bit thinner; it need more engagement. I think, for me, it has to change but I say that in a positive way."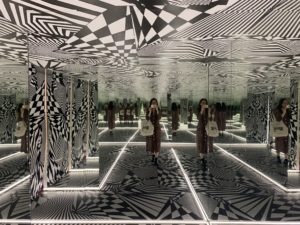 With regard to creating 'Instagram-friendly' exhibitions, in which galleries are curated with photo-opportunities in mind, the curator maintained a similar stance. "Again, it is about balance. If it is not an obsession and a goal, then I think it is great for people to take photos."
When asked if she herself would Instagram the exhibition, Emilie replied, "Yes, that's funny. But, I will because I like these pictures and I like the art. I will Instagram it because it was a happy memory for me."
However, a gallery goer at the Museum of Fine Arts felt differently. "It is sad seeing everyone just looking at their phones. The painting is right in front of them and they are just concentrating on their phones. Why are you going to the gallery if you can see it on your phone instead? ", said Roland, 52.
Yet it is for this reason that both Cruyt and Vanhoonacker do not worry about the relevance and future of the traditional exhibition. "When you see a picture of Instagram, you question it. Is it really that colour in real life, is it a filter? At a certain point you want to feel the authenticity of something", said Cruyt.
"Technology is exciting but it will never replace the original art work. Those who want to see the real work, will always see it. It is different looking at a reproduction than at the real version", concluded Vanhoonacker.
Madeleine Fletcher
The Brussels Times