Further updates on missing Belgian backpacker Théo Hayez as a murder investigation is launched, Brussels firefighters go on strike, and an end is in sight for plastic packaging in Belgium. Here's a recap of the news from Belgium this morning:
Messaging app WhatsApp will assist police in efforts to find Théo Hayez, a Belgian student who disappeared at the end of May while on a backpacking trip in Australia, a representative of the company said on Monday.
Comeos – the interest group of the Belgian trade and services sector – has announced that it will accelerate a ban on single-use plastic in Belgian supermarket and restaurant chains with a series of new commitments to be put in place by members.
Several firefighters have gathered in the centre of Brussels on Monday, in a spontaneous protest to denounce salary cuts, local police confirmed. Some 250 members of the fire brigade are taking part in the demonstration, currently ongoing in Boulevard Emile Jacqmain, in the vicinity of Place Rogier.
The body of a man who went missing on Friday has been found in the Brussels canal, a spokesperson for the prosecutor's office confirmed on Sunday. A man called Ali Hammouni was reported missing on Friday at around midnight.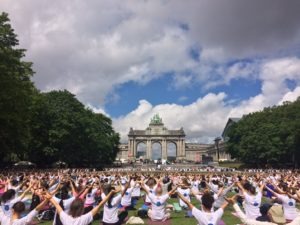 Thousands of people gathered on Sunday in Brussels' Parc du Cinquantenaire, located between some of the city's major roads, to take part in a collective yoga class in the sixth edition of Brussels Yoga Day.
The reclusive monks of Saint-Sixtus Abbey in Westvleteren in West Flanders are making their beer, the most sought-after in the world, more readily available. The beer - which was once extremely difficult to purchase - should now be more readily available online.
Jules Johnston
The Brussels Times