Vlaams Belang has dug deep to target voters in anticipation of Flanders Day on 11 July. Never before has a Belgian political party spent so much on Facebook advertisements as the party did between 30 June and 1 July, De Standaard reports.
One advert paid for by the party on Facebook and Instagram calls on anyone wishing to mark the occasion to order a free Flemish lion flag.
Between 30 June and 3 July, the far-right Flemish separatist party paid Facebook and Instagram parent company Meta €100,000-125,000 for adverts that encourage social media users to claim a free flag. But although the flags were distributed free of payment, the campaign instead gathered the personal information of 100,000 people.
Importantly, the flag in question is not the official crest of the Flemish Community but rather the nationalist battle flag.
This is far from being an isolated publicity push: each month Vlaams Belang pays for dozens of adverts, targeting right-leaning voters in Flanders, and occasionally in Brussels.
On 30 June alone, Vlaams Belang spent no less than €33,111 on Facebook and Instagram advertising, smashing records. Just one day later, it broke the record again, spending another €33,500. Only on its main social media page, the party spent €51,299 on advertisements in the first week of July. Since 2019, this page has dispensed €3.6 million on political advertising.
Buying influence
The party has sought to manipulate public opinion in the wake of recent social events. The riots in France that followed the police killing of Nahel Merzouk and sparked reciprocal protests in Belgium led the party to publish a series of inflammatory adverts. One reads: "This scum must be dealt with harshly." Others call out "De Croo's circus and his gang."
Flemish nationalist parties have long been the biggest spenders on social media. Vlaams Belang and other nationalist parties in Europe have honed their craft, setting a benchmark for political engagement on social media for many parties across the world. As previously reported, Vlaams Belang spent almost double what traditional Flemish parties spent each month.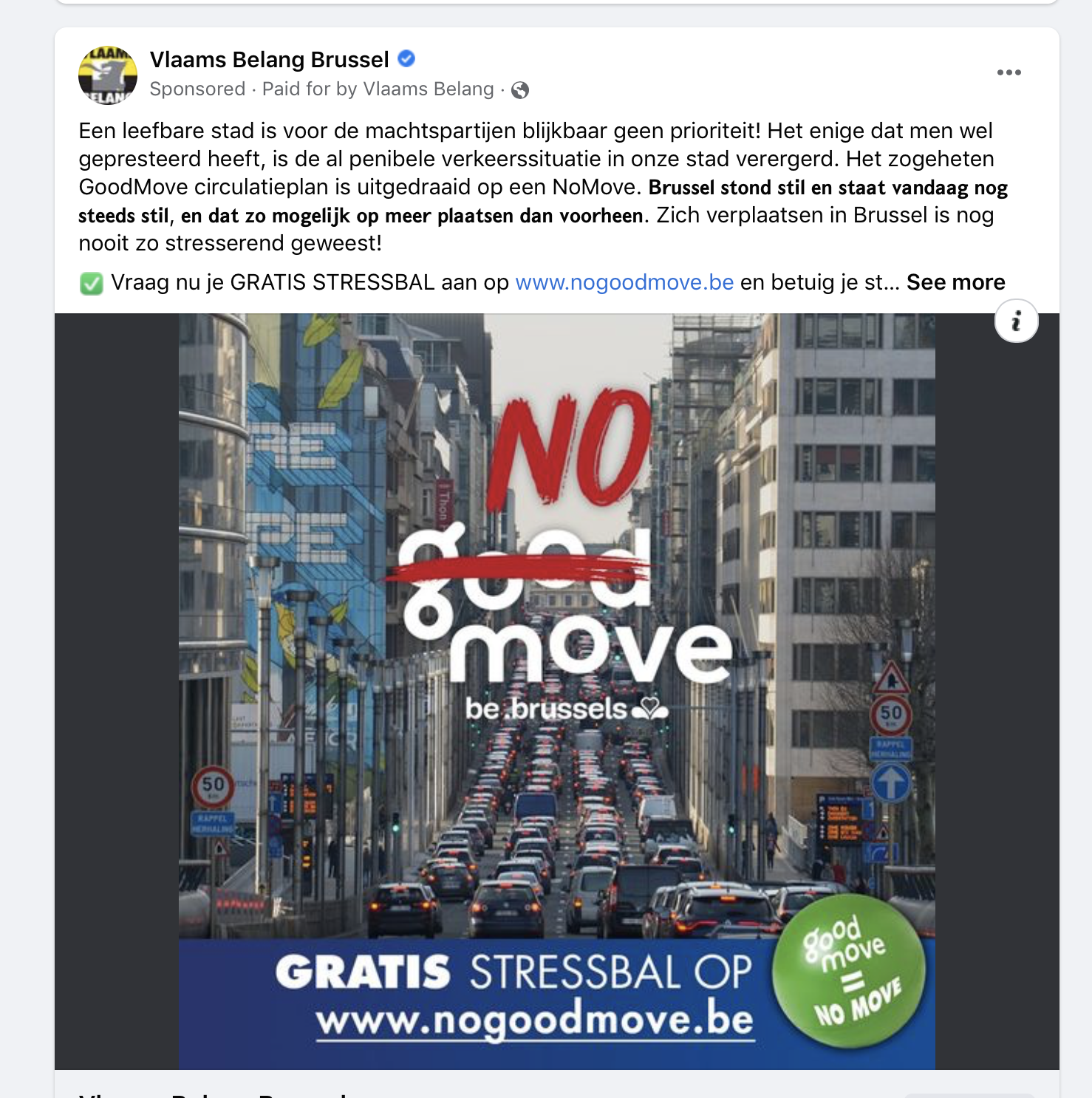 Giving out merchandise for data is a favourite tactic of Vlaams Belang: each year, the party gives away thousands of branded products. In Brussels it gave away squishy anti-stress balls to help motorists get over the "stress" of the Good Move traffic plan. Other national initiatives included pens, magnets, pins, and stickers.
User data proves invaluable to Vlaams Belang and its electoral successes. To get the free flag, users sacrifice a considerable amount of data, including their address, date of birth, gender, and even telephone number.
Related News
No laws are broken, as users must agree to let the party store their data. But this valuable information allows the party to refine its reach and messaging. N-VA (right-wing Flemish governing party) also uses similar tactics, encouraging potential voters to sign up for MP Theo Francken's personal news channel.
Vlaams Belang's social media efforts seem to be successful, with the party riding high in recent polls. An Ipsos poll on 10 June suggests that the party now has a 22.7% voting intention, down slightly from previous surveys but still far ahead of any other political group in the region.
Statistics published by the House of Representatives show that Vlaams Belang is the third-richest party in Belgium, with €17.1 million in its accounts. Following its success in the 2019 elections its coffers have swelled significantly, with analysts speaking of the party's "war chest" that will be used for mass advertising efforts in the run-up to Flemish and Federal elections in 2024.