DARROW, a project co-funded by the EU, is training artificial intelligence (AI) to make wastewater treatment plants more efficient.
The EU co-funded project was launched in 2022 and will run until February 2026 with a budget of over €3.5 million and eight partner institutions from Belgium, Germany, the Netherlands and Spain.
"We had a common interest in supporting the digitalisation of the water sector," Janelcy Alferes Castano – project leader in the Flemish organisation VITO (one of the DARROW partners) – told The Brussels Times. "All partners had strong experience in that and regularly checked the European Union calls for programme funding."
It wasn't long before the EU issued a call for projects in digital and emerging technologies, similar to those that VITO was working on.
Inefficient water resource recovery
According to DARROW's calculations, global wastewater could fill Lake Geneva four times each year. But as well as the intrinsic value of the water itself, the wastewater also contains valuable resources such as nitrogen, phosphorus and potassium. If treated more efficiently, water management would become far more economical and even circular – ie. self-sustaining.
[caption id="" align="alignnone" width="1024"]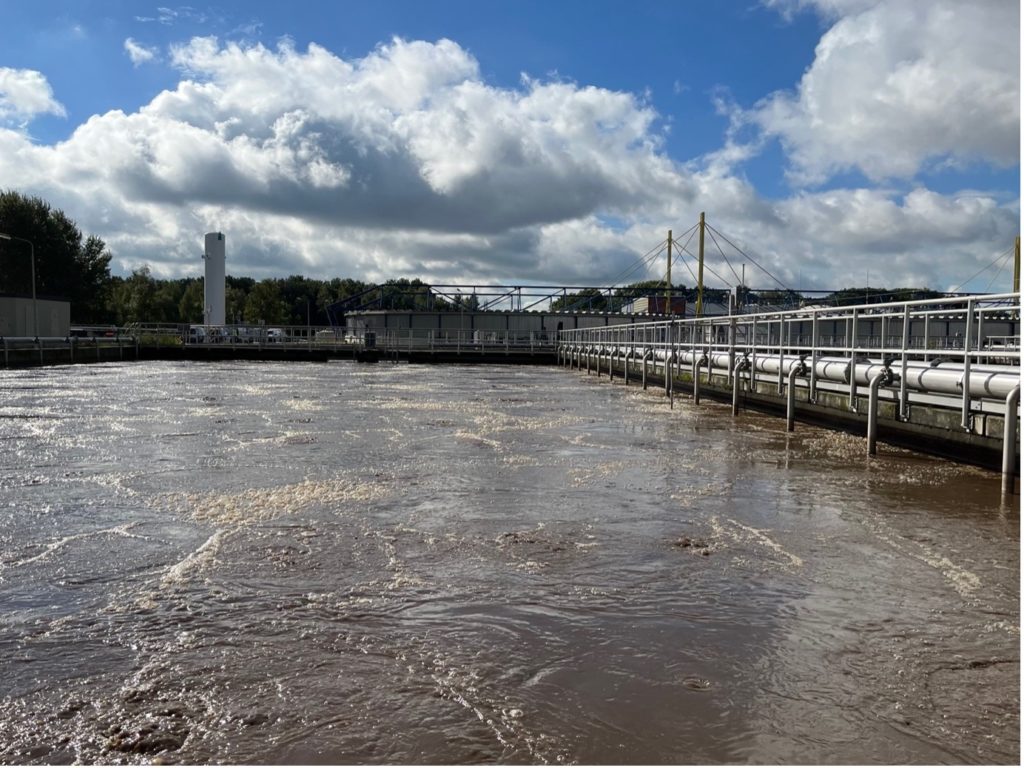 A wastewater treatment plant. Credit: DARROW[/caption]
Already in Europe, wastewater treatment plants have sensors installed at different points to monitor key parameters in the treatment process. But what to do with the reams of data collected poses another challenge.
Aware that the constant findings could be used to build a far more comprehensive view of water treatment and optimise the entire process, DARROW aims to harness latest AI technology to this end.
"Most of the time in a treatment plan we have a lot of data, but sometimes it's not high quality or maybe the data isn't enough for a specific purpose," Alferes Castano explained. By using artificial intelligence, this data can be processed and enriched to help enhance plants.
DARROW's mission is "to build a data-driven AI solution to optimise resource recovery from wastewater by making wastewater treatment plants more autonomous and energy efficient." In other words, researchers are training AI to better interpret data and provide operators with recommendations on how to run the plant more efficiently.
But despite the heavy reliance on AI, Alferes Castano emphasised that humans remain at the centre of the operation: "Human oversight remains crucial. The goal is not to replace the human. Treatment plants are human-driven processes and what the project intends to do is to help in operations and decision-making. The operator will always be there to make the final decision."
[caption id="" align="alignnone" width="1024"]
DARROW team members. Credit: DARROW[/caption]
A more circular economy
Making treatment plants more efficient ultimately means lowering their environmental impact. The use of AI can optimise a plant's recovery of nutrients from wastewater and reduce greenhouse emissions, all the while cutting the overall energy consumption.
More specifically, DARROW's goal is to reduce a wastewater plant's energy consumption by 20%, greenhouse gas emissions by 20%, chemical consumption by 15% and sludge generated by 50%. At the same time, it hopes to increase energy generation by 15%, nitrogen recovery by 5% and bio-phosphorus recovery by 50%.
In doing so, wastewater treatment plants would become a genuine resource rather than a necessary procedure with marginal gains.
Related News
The DARROW system will be installed at the wastewater treatment plant RWZI Tilburg in the Netherlands. Project coordinator Ion Irizar explains that the Tilburg wastewater treatment plant will become a world reference facility in terms of usability of AI-based tools.
By the project's completion in February 2026, the team hopes to have demonstrated the power of AI for optimising data. In the longer term they seek to develop a trusted system that can be applied to other treatment plants and perhaps even other sectors – all in support of the European Green Deal and its goal of reaching climate neutrality by 2050.