What are the most delicious foods, refreshing drinks, coolest cafés and chicest restaurants in Brussels at the moment? Here are some of the best.
Café: Carpe Diem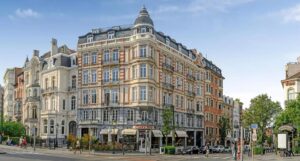 I have a confession: as a journalist who already works from home, the lockdowns did not change my life much. However, when you don't have an office, it's nice to hold meetings in a familiar, friendly café. For me, that's Carpe Diem, which has been my professional HQ for many years. Why do I like it so? Let's count the ways. It's close to the European quarter but not too much, and very well connected to the rest of town (metro, tram, bus, taxi, Villo, Cambio, you name it).
It has a heated and sheltered terrace and a ground floor usually frequented by locals. I don't know who conceived the lighting, but it's cosy, despite a high ceiling and a huge bay window. The upstairs, where I usually go, has a view over the Cinquantenaire Park and Merode area. The decor – wooden floor and wallpaper – and the various rooms without doors, make it feel an apartment. You can hold discrete meetings without being disturbed on the first floor, which is much less busy than downstairs.
But beyond the view and the décor, I enjoy their very classic drinks menu: a decent Belgian beer list, premium gin cocktails, specialty teas and a couple of carefully chosen wines. When I don't drink alcohol, I like their perfect chose (tonic and grapefruit juice). And when I need to eat, I remember Carpe Diem is a brasserie with a kitchen open until 11pm.
The menu will satisfy any appetite, from robust Belgian specials to healthier dishes. Everything is always fresh and tasty. They even serve café gourmand, a trick to get a sweet bite on top when your guest only wants to brush off a business lunch with a coffee. Their homemade chocolate mousse is delicious, and their ice cream range is excellent. Not to mention a smiling, professional service from Jonathan and Karim, the owners, and their friendly staff. If you start coming there, this could well become your HQ too.
Carpe Diem 13, Avenue de Tervuren 1040 Etterbeek – www.le-carpediem.be
Restaurant: Bulthaup Les Filles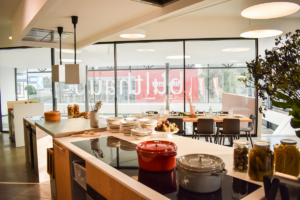 Bulthaup Les Filles could be one of the most original restaurants in the Brussels region. This hidden gem is a short drive away, but far enough that you won't bump into colleagues during your lunch. And its location is very unusual: it's inside the showroom of a premium kitchen brand.
Its owners, Véronique and Bernard, ran the concept successfully in their first shop at Gosselies, near Charleroi and replicated it near Brussels in 2013. The idea was to have people come into the shop to enjoy being in a Bulthaup kitchen in real conditions instead of looking at it from the outside through the shop window. They have now found the perfect match with multi-site restaurant and catering company Les Filles, which settled at Bulthaup last mid-November, hopefully for good.
The premises are great, and the restaurant is very versatile: you either come to have lunch there, to take it away or you get delivered. No parking space issues, of course, because we are in a dedicated zone for big showrooms (the continuation of the Chaussée de Louvain off Evere into Zaventem). The place is run by Sam, the manager. It is quiet, spacious and bright, very different from a classic restaurant, but not as basic as Ikea's restaurant nearby. You are surrounded by beautiful premium kitchen furniture, here!
As far as food is concerned, Les Filles has a deserved reputation. Everything is organic and local, freshly produced in Les Filles' workshop in Uccle. I fondly remember a lunch at their first restaurant (a big table in a flat!) in Saint Gilles. I'm glad they have made it. The food is what we call here 'bobo': healthy, green, gluten-free, seasonal, local, made with love and eaten in conviviality. You can't go wrong with such food if you have a business lunch or if you want to impress a date.
Bulthaup Les Filles 323, Leuvensesteenweg 1932 Sint-Stevens-Woluwe (Zaventem)
Drink: Belgian spritz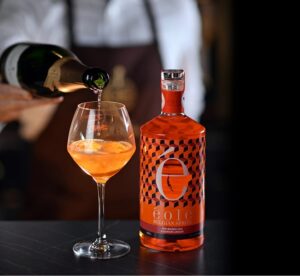 Two interesting innovations on the Belgian cocktail scene appeared in late 2021 almost at the same moment. They are both a twist on a renowned drink, still very popular here: the spritz, which is a mix of a sparkling drink with a bitter one. We now have two local versions of this cocktail: one with alcohol and one without.
Let's start with the alcoholic one: the Éole Belgian Spritz, based on kumquat-flavoured gin and mixed with the excellent Belgian sparkling white wine Chant d'Éole. The 28% vol Éole Spritz is by local ginmaker Cala gins and distilled at Biercée distillery off Charleroi. It is made of kumquats, juniper berries, cocoa, cloves, hop, bitter orange, lemon, coffee, malted barley and cane sugar. The bitterness comes from the kumquats. It can either be mixed with Chant d'Éole sparkling wine (with or without sparkling water) or tonic. The result is very tasty and original, a refreshing reshuffle of the original spritz recipe.
The alcohol-free version, Nona Spritz, comes from Nona gins, one of the first non-alcoholic gins in Belgium. Its founder, Charlotte Matthys, developed a premium non-alcoholic spritz three years ago based on the citrus taste of blood orange and orange zest, which are perfectly balanced with the bitterness of gentian root. All the ingredients are 100% natural. It's the perfect, invigorating drink with a bite, mixed 'on the rocks' with twice its volume of tonic and a slice of orange.
Food: Chicons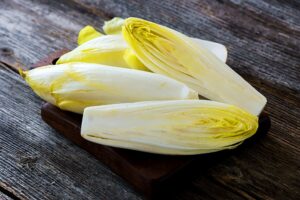 Belgium is associated with several foods: fries (or chips), chocolate and waffles. Chicons are perhaps the second tier of typical, local foods. This variety of chicory is called endive in France, and witloof (white leaf) in Flanders. Contrary to Brussels sprouts which are now grown globally, chicons retained their Belgian identity: they were born in Schaerbeek in the mid-19th century.
Belgium still produces 27% of Europe's chicons, while the rest is grown in France and the Netherlands. They grow first from April-June to October-November in open ground. In winter, they are then replanted, after trimming, in a mix of sand and dust, sheltered from the freezing cold and light. After two more months, a fragile tight pack of white leaves will be ready for consumption after its thick root is cut. The best and most expensive ones are soil-grown and may be granted one of the EU-recognised Protected Geographical Indications. However, most chicons are grown in hydroponics and can therefore be consumed all year round.
Soil-grown ones lose less water when cooked, are tastier and more bitter – a very important characteristic. Some recipes will include tricks to mitigate this, but what is the point of eating chicons if not to savour their bitterness? Jennifer McLagan's book, Bitter: A Taste of the World's Most Dangerous Flavor, celebrates this, and we can enjoy the weirdest of our five basic flavours in chicons.
Raw: in a simple salad with fleur de sel, coarse pepper, red wine vinegar, sunflower oil and finely chopped curly parsley (with chopped shallot optional). Tip: don't mince the leaves and eat them one by one. You will be surprised by the range of subtle bitter flavours they express on top of incredible crunchy sensations.
Cooked: see recipe below, a Belgian classic. You can buy soil-grown ones (in season) at Delhaize, which sells 70% of the national production, or at premium and organic grocers.
Chicon au gratin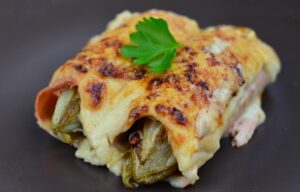 This recipe involves frying chicons, wrapping them in a slice of wet-cured ham, covering them with bechamel sauce, topping them with grated cheese and gratinating the dish in a hot oven.
Ingredients (4 servings): Four washed and dried chicons, 15g of butter and a drop of oil, four wet-cured-ham slices, 40cl milk, 15g of flour, 30g of butter, salt, pepper (a pinch of grated nutmeg optional), 100g of grated Emmental or Belgian abbey cheese.
Process: Preheat your oven at 180°C. Fry the chicons at medium heat for 15mins in a covered pan with 15g of butter and a drop of oil, turning them regularly to get an even colouring. The core should still be firm afterwards. Set aside and let them cool off. In a separate small high pan, melt the butter at medium heat and add the flour with a whisk until well mixed and bubbly. Gently add the cold milk little by little, whisking constantly until you get a nice thick white sauce. Season. Wrap each chicon with a slice of ham and place them side by side in an ovenproof dish (or four small individual ones), cover them with the bechamel sauce and grated cheese on top. Gratinate for 40mins.