The House of European History opens this Saturday a new free exhibition showing 150 posters from across the continent over the last 100 years.
From 30 April until 30 November, visitors can explore how these posters have influenced our ideas, views and perceptions of Europe. From the propaganda of the World Wars and the Cold War to the rise of cultural exchange, tourism and social movements after the Second World War, the exhibition reveals complex layers of European division and unity.
The opening of the exhibition - "When Walls Talk! Posters - promotion, propaganda and protest" – includes a half-day of activities. Along with a drawing performance by internationally acclaimed artist Dan Perjovschi, visitors are invited to follow guided tours in French, English and Dutch and make their own posters during a creative workshop.
Primary and secondary schools are invited to participate in complimentary workshops, which promote analytical skills and learning about European history via posters presenting human rights, migration, European elections, conflict, and even cultural and sport events.
The vast majority of posters are from the House of European History collection, which contains over 5,000 posters. The idea and concept of the exhibition started as a selection from this collection. A small number of posters were attained on loan or as a replica, to better complete certain sections.
"Posters function as vehicles to inform, but also educate and even manipulate," explained lead curator Perikles Christodoulou.
"They have dominated the public space, jostling for our attention and confronting us with the ideas of our time. Whilst posters offer invaluable insights into European life and what it is to be European, they can also reveal darker stories of how society has been moulded by economic and political forces."
Is there any connection between the exhibition and the war in Ukraine?
"As a result of a last-minute effort, we added three posters about Ukraine," Perikles Christodoulou told The Brussels Times. "Two are by Ukrainian artists, the third is by a Polish artist who was very touched by current events there."
"We included these in the "Activism and protest" section of the exhibition, and they are appropriately located there, alongside a series of anti-war posters and banners. Posters clearly still have relevance as a form of protest about the war in Ukraine, even when the focus appears to be on digital media."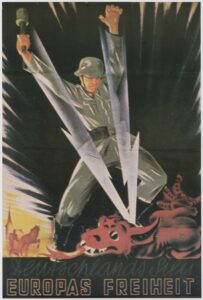 Asked if he wanted to highlight any poster in the exhibition, he mentioned the poster "Deutchlands Sieg, Europas Freiheit" (Germany's victory, Europe's freedom) from 1941.
"It's the one of the more spiteful posters in the exhibition, showing a Wehrmacht soldier hitting the red dragon of Bolshevism. Yet at the same time it's one of the most visually attractive posters. It's full of symbolism, demonstrating the power of posters, and how they can be used to coerce sympathy or agreement."
M. Apelblat
The Brussels Times