Walk into Le Grand Café on Place de la Bourse in downtown Brussels, and step back in time. It was in 1874 that the brasserie, built by Emile Jaulet in eclectic style, first opened, but it has gone through many incarnations since then.
Originally named the Café de la Bourse in 1874, it became Monico Bourse in the 1950s, and Le Grand Café in the 1970s, the name it retains to this day. However, its age began to show in recent decades, and a makeover was in order.
The Brussels regional government, which classed it as a historic monument in 1994, supported the restoration of the exterior, which was completed last year.
The work included the uncovering of 37 pieces of painted glass with letters spelling out Stella Artois and Monico Bourse as it was decades ago, says Andres Vandenheede, who owns the brasserie with his father Patrick, who bought it in 1985. The orange-painted wood panels were also restored to their natural colour.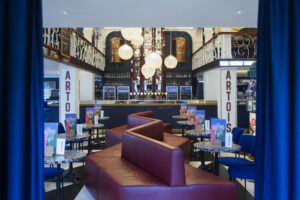 The interior, renovated in early 2020, features two large, boldly coloured, geometric faces of drag queens who used to perform in Le Grand Café 30 years ago.
An ornate staircase leading up to one of the faces is reminiscent of grand entrances. New lighting, painted wood panelling and furniture complete the royal treatment.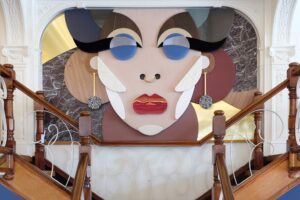 This renovation put Le Grand Café on the shortlist for the 2021 International Restaurant and Bar Design Awards. "These faces are a memory of that time," says Vandenheede, whose family also owns brasseries Carpe Diem near Park Cinquantenaire and Le Café de l'Opera near Place de la Monnaie in Brussels.
Le Grand Café also offers culinary culture: since reopening after the pandemic, it sources as many ingredients as possible from Belgian producers. "COVID-19 gave us time to find local suppliers," says Vandenheede, whose brother, Nicolas, is now the head chef.
"The menu has fewer items and focuses on seasonal, high-quality Belgian ingredients."
It includes Belgian classics like grey shrimp croquettes, mussels, stoemp, vol-au-vent, carbonades flamandes and jambonneau a la moutarde. To wash it all down, it offers 16 beers on tap as well as about 45 bottled Belgian beers.
The facelift and the menu changes have already made Le Grand Café a popular haunt in the neighbourhood. "We attract more locals now, not just tourists," says Vandenheede.