Brussels has a proud musical history, but today's artists are taking their sounds in new directions. The Brussels Times looks at the most exciting performers in the city's scene.
Until recently, Brussels artists on the global stage were few and far between. That was until Stromae burst onto the scene in the early 2000s, bringing with him an eclectic blend of influences ranging from Jacques Brel to Eurodance and even Congolese rumba, a musical mainstay in parts of the city. After receiving praise from artists like Sam Smith and Madonna, his international breakthrough culminated in a sold-out show at Madison Square Garden in 2015.
Stromae's success served as an example to other artists in Brussels. He showed that you can succeed even if you come from a city with a fraction of the population of Paris. And since his last studio album in 2013, the Brussels scene has grown from strength to strength, proving its value as a vibrant location for musicians to express themselves.
Those who have benefited most from Stromae's influence are the ones who experiment with the cultural and musical codes of their countries of origin and of Western culture, as best exemplified by Tawsen and Lous and The Yakuza.
Tawsen, who grew up in Morocco and Italy, has carved out a niche for himself by jumping from one musical genre to the next across multiple continents. Inspired by raï music, an Algerian genre known for its explicit subject matter about love, he mixes traditional and electric instruments, which he combines with reggaeton, a Latin American style. This can be heard throughout Tawsen's three recent EPs, which blend modern pop and R&B music with contemporary African sounds, reminiscent of Nigerian Afrobeats artists such as Burna Boy and WizKid.
Blended sounds
Similarly, Lous and The Yakuza unashamedly fuses styles, including those of her country of birth. Born as Marie-Pierra Kakoma in the Democratic Republic of Congo, she came to Brussels with her family as a teenager. Her adolescent ambitions to become a musician collided with her parents' aspirations, resulting in a rift that led her to spend months on the streets. However, she eventually knuckled down to her craft, honing her musical identity.
It led Kakoma to surround herself with an array of varied producers, from Brussels, Barcelona, and even Broward County in Florida. With their help, she created the Lous and the Yakuza moniker. She blended lyrics lamenting the human condition, akin to the chanson française musicians while applying trap instrumentals, a foundation of modern rap music.
International recognition came with her first major single 'Dilemme', which became a sleeper hit in Italy, and then with her 'Tout est gore' video, which caught the eye of American media.
Poetic violence
Lous and the Yakuza's career has been intertwined with that of Damso, a Belgian rap heavyweight. She appeared in Damso's music video for 'BruxellesVie', one of his first major singles, and was recently featured on his latest studio album, 'QALF'.
Damso's own career has been a source of pride for the city of Brussels. Born William Kalubi, he began as a protege of Booba, the French rap icon. His debut studio album 'Batterie Faible' in 2016, signalled that the burgeoning Belgian rap scene could compete with its French neighbours.
Damso's verses on 'Batterie Faible' were described as a form of poetic violence, but his lyrical content appears to have mellowed over the years, as he's now turned to writing ballads for the key people in his life, whether that's his mother, his partner, or his young son. Musically, he continues to experiment: with his latest album, 'QALF', he trades 808s for lusher instrumentation, as he appears to have been influenced by a variety of 80s songstresses such as Mylène Farmer, Grace Jones, and Sade.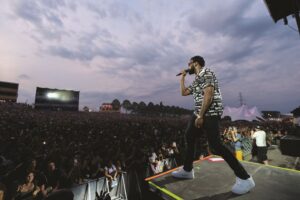 Damso also had a hand in launching the careers of other Brussels artists. Among them is Hamza, a fellow Belgian rapper noted for his musical versatility, inspired as much by 90s R&B as by early noughties gangster rap. Often compared to Drake, he opened for him at his Paris show in 2019.
Damso also had Angèle, who is currently Belgium's biggest pop star. She opened for him in 2017 and included her vocals on his album 'Lithopédion'. Singer-songwriter Angèle, from Uccle, is the daughter of the singer Marka and actress Laurence Bibot. She is also the sister of rapper Roméo Elvis, who features on her catchy song 'Tout Oublier' (the music video, set at the Belgian coast, has 120 million views on YouTube). Angèle rose to fame in 2018 with her piano-based brand of pop that would regularly cover important topics such as feminism amongst others. Her debut album, 'BROL', was a five-time platinum seller, and she recently collaborated with British pop icon Dua Lipa on 'Fever'.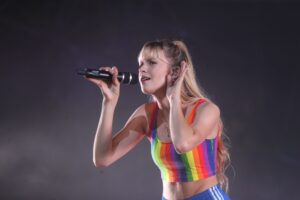 While the Flemish scene in Brussels has not had the same level of success as its francophone counterpart, one musician, Zwangere Guy, stands out. Originally a member of the band Stikstof, he broke through as a solo artist, pulling inspiration from his troubled upbringing, which included drug abuse and domestic violence, to create two studio albums, 'Wie is Guy?' and 'Brutaal'. Both released in 2019, they paint an often unpleasant but much-needed portrait of Brussels, garnering him critical acclaim from Dutch-speaking critics.
It should not be surprising that Brussels, a cosmopolitan crossroads for so many distinct cultures, is home to such a diverse spectrum of musical talents. Even fresher sounds are emerging too: Frenetik, the newest poster child of Belgian rap, and Iliona, who is modernising the music of long-gone French divas. They all show that the ever-moving music scene in Brussels still has room to expand – and reach a global audience.