What are the most delicious foods, refreshing drinks, coolest cafés and swankiest restaurants in Brussels at the moment? Wandering food and drink expert Hughes Belin names the best of the best.
Restaurant: De Maurice à Olivier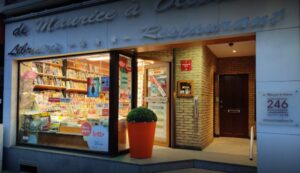 Belgium is the home of surrealism, but when you experience it in your daily life, you get a real taste of what the country has to offer. It crossed my mind when I casually strolled into a newsagent at the Place Verheylewegen in Woluwé-Saint-Lambert. There was a restaurant at the back! Not a snack bar. I mean, a fully-equipped room looking like a typical Belgian café with its wood banks and mirrors on the walls.
What makes this place so bizarre is that it is a high-end gastronomic restaurant. Yes: sophisticated and premium Belgian/French cuisine supported by a country's top-ten wine cellar and a rare collection of spirits.
The name of the restaurant stems from the owner's father, Maurice, who launched this business for his son, Olivier, as a final gift to perpetuate his love for good wine and good food. Maurice inherited this family's character from his grandfather, who gave him a hand in his beer and wine selling business. "Some people come here to drink rare bottles," Olivier says.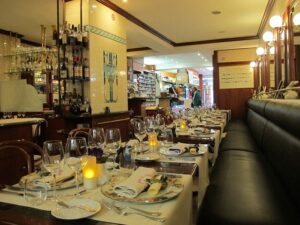 His cuisine is seasonal and the menu changes every month. They serve the best meat and fish cooked traditionally. It feels like a restaurant I used to go on Sundays with my family when I was a kid: we knew the meal would last for hours, with rich food and wines you don't drink every day and cloth napkins, of course.
You'll have the same kind of exceptional food experience at De Maurice à Olivier. The menu is characterised by the special attention to all details, to satisfy all senses, with an array of premium products: lobster, pigeon, wild salmon, poularde, suckling calf, truffles, hand-peeled shrimps, soufflé, foie gras, quenelles, crab merus, snails, eel, sabayon, nougat glacé and minute-maid ice-cream.
Olivier tells me he plans to invest in even more spectacular plates and dishes, as well as handcrafted leather placemats. All the dishes are already a visual treat: even potato purée takes the shape and colours of…dead leaves! And there's a stunning menu dégustation for those who don't want to have to choose.
I mentioned the incredible wine cellar, mainly French. For the connoisseurs, there is a very long list of spirits, with obscure and rare rums, whiskies, cognacs. "One of the five top spirits cellars of Belgium," according to the owner. If the food is worth its price, just be careful that any drink could significantly weigh up the bill. A far cry to fashionable haute cuisine, his authentic cuisine remains however a valeur sûre for genuine gourmets.
De Maurice à Olivier 246, chaussée de Roodebeek - 1200 Woluwé-Saint-Lambert www.demauriceaolivier.be
Food: Ultimate chocolate survey
Spring is a good time to return to Belgian fundamentals such as chocolate. Contrary to popular belief, Belgium's former colonies contributed little to the wealthy chocolate industry in Belgium. It's rather the access to cocoa from producing countries through the port of Antwerp from the 17th century onwards that allowed this industry to shape the realm's reputation worldwide. The Belgian chocolate myth even says that its great competitor, Switzerland, started its own chocolate industry after Zurich's mayor brought back home the recipe after he had a hot chocolate in Brussels in 1679.
However, Belgians did invent pralines, the soft-centred confections with a chocolate casing, gathered in ballotins (cardboard boxes of 250g to 1kg). Although there is no real geographic indication, there is a voluntary quality standard by which 90% of the chocolate makers abide: Belgium's chocolate code foresees that the production from cocoa is done in the country.
There are many, many chocolate outlets in Belgium and especially in Brussels. The best ones are handcrafted and bear the names of the maître chocolatier. The new trend of bean-to bar has pushed up the quality, to the delight of chocolate geeks. But every passion has its price and you must be ready to pay for quality.
On the least expensive side, the best industrial pralines can be found at Neuhaus (I'm over the moon with Caprice and Tentation) and at Galler's (it changed ownership a few years ago). A special mention for Belvas, an organic brand that collaborates with five cocoa farms in Peru, Santo Domingo and the Ivory Coast.
Then, you have Pierre Marcolini, expensive but very innovative and directly sourced in the producing countries. This is also the case of Benoît Nihant from Liège, who owns plantations in Peru. Jean-Philippe Darcis from Verviers, ambassador of Belgian chocolate, sources his cocoa beans from small, fair-trade plantations around the world and runs his own chocolate museum.
Laurent Gerbaud (see below) is a true genius who associates chocolate and dry fruits and nuts. Dominique Persoons from Brugge and chocolate roaster Frederic Blondeel from Koksijde are two great stars in Flanders. And there are many small workshops in Brussels, which can bring great tasting experiences: Passion Chocolat, Vandenhende, Vanessa Renard, Lchocolat among others.
Let me also mention the delicious hand-crafted chocolate spreads Eugène and the incredible "Pur noir" industrial chocolate spread from Corné (exclusively at Delhaize). There are also several brands of original Belgian chocolate bars such as Bean-to-Bar and Dolfin. And finally, a special mention for the renowned chocolate maker Jean Galler, who launched a new brand of chocolate bars, pralines and spreads at Chez Blanche bakeries. For genuine aficionados, Gault & Millau publishes an annual guide of the best chocolate makers of Belgium and Luxembourg.
Drink: Brunehaut
When former crisis management consultant Marc-Antoine De Mees took over the Brunehaut brewery in 2006, he realised that the balance sheet was so much in the red that he had to triple its production to break even. So he travelled to every possible trade fair in "countries where people liked good Belgian beer and could pay for it" (read: the US and Japan).
Once the brewery was saved, his next step was "to go beyond a mere beer trade and have some impact on society". Meeting people from NGOs and business circles with the same purpose was key to achieving a high impact. They all guided Brunehaut towards progress: organic certification, well-being of staff and company governance, fair prices to local producers. Its products also evolved beyond organic certification.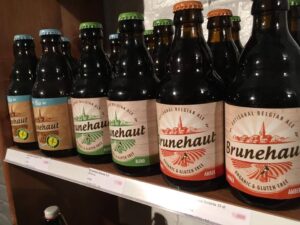 All the beers are now gluten-free, thanks to a unique filtration technique which enables to make it "world's best gluten-free beer", according to De Mees. This journey toward societal excellence was testified by a B corp™ certification last year. It requires a check-up every three years, hence the bar is permanently set higher. Brunehaut brewery launched recently La Miche ("the bread loaf") a delicious beer that includes 40% of unsold bread, to mitigate food waste.
The range of Brunehaut organic beers is a classic Belgian one: gluten-free blond (best special beer in 2011 at the World Beer Awards), triple, amber, white and saison, plus St Martin abbey beers (dark, blond, triple and Christmas), as well as the last creation, the "Ne kopstoot", a beer with old jenever in it. "I'd like people to buy our beers as much for their qualities as for the values they embed", De Mees says, hoping to set an example for his peers to walk the talk of societal transition.
Bar: Laurent Gerbaud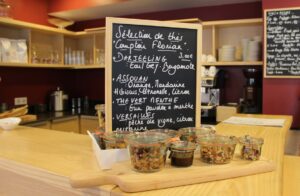 I love chocolate, but I do not buy online because the pleasure of going to the shop, or better, the workshop, is part of the tasting experience. So, I was in seventh heaven when, a couple of years ago, I walked into Laurent Gerbaud's tearoom for the first time, opposite the Bozar in the centre of Brussels. The smell of chocolate is everywhere. Can you imagine a better place to have a drink?
The founder's workshop is behind the boutique. Laurent Gerbaud is a self-made man who started his career 20 years ago, and now one of the top chocolate makers of Belgium thanks to his signature creations made of premium chocolate and dry fruits and nuts. He is perhaps the only chocolate maker of Belgium who humbly sells his products on an open air market at Boitsfort every Sunday! You never get tired of tasting his delicacies. His tearoom offers the opportunity to do it literally on site.
Thanks to smart partnerships with premium suppliers, his tearoom offers a wide range of drinks and bites, like in any other. If you don't fancy a genuine hot chocolate, have a tea from Comptoir Florian, one of the best tea shops in town. Or have a coffee from J.J.Looze, a renowned Belgian coffeemaker. You can even get vegan milk in your cappuccino!
Cold drinks are also available (beer, tonic, homemade lemonade, water and juices). And, as a special treat of this unique tearoom, you get a free praline from the counter with every drink, but if you wish more, get the combo deal with three more pralines. What would be a tearoom without pastries? Here, the supplier is Brian Joyeux, whose shop is located Rue du Congrès – a great place for the finest pastries.
The shop sells Dandoy biscuits and homemade ice-creams when the cold season ends. The terrace, though, is permanent. Only opened from noon to 6pm, the boutique and tearoom are closed on Mondays. An absolute hidden gem for a particular moment at a stone throw of the capital's busy centre.
Laurent Gerbaud - Rue Ravenstein 2D 1000 Brussels www.chocolatsgerbaud.be
Related News