A total of 16 restaurants in Belgium and Luxembourg will be awarded their first star in the Michelin Guide for 2022, the dining guide announced during a ceremony on Monday.
A total of 16 restaurants were considered by the juries for this year's awards, six more than in 2021. The Michelin Star ceremony was scheduled to take place on 21 February this year, but was postponed to 23 May due to the Covid-19 measures at the time.
"It has been an absurd year for restaurant owners but also for Michelin, to judge all the restaurants, but in the end, it has gone very well," the organisation said during the awards ceremony, held in Mons for the second year in a row.
The updated version of the guide to Belgium and Luxembourg 2022 now lists three restaurants with three Michelin stars (all in Belgium), 23 with two stars and 115 restaurants with one star.
Vintage in Kontich, near Antwerp, gained a Michelin star after already seeing 25-year-old Ruben Christiaens win the Young Chef Award. The restaurant combines Nordic influences with Asian flavours while giving attention to sustainability.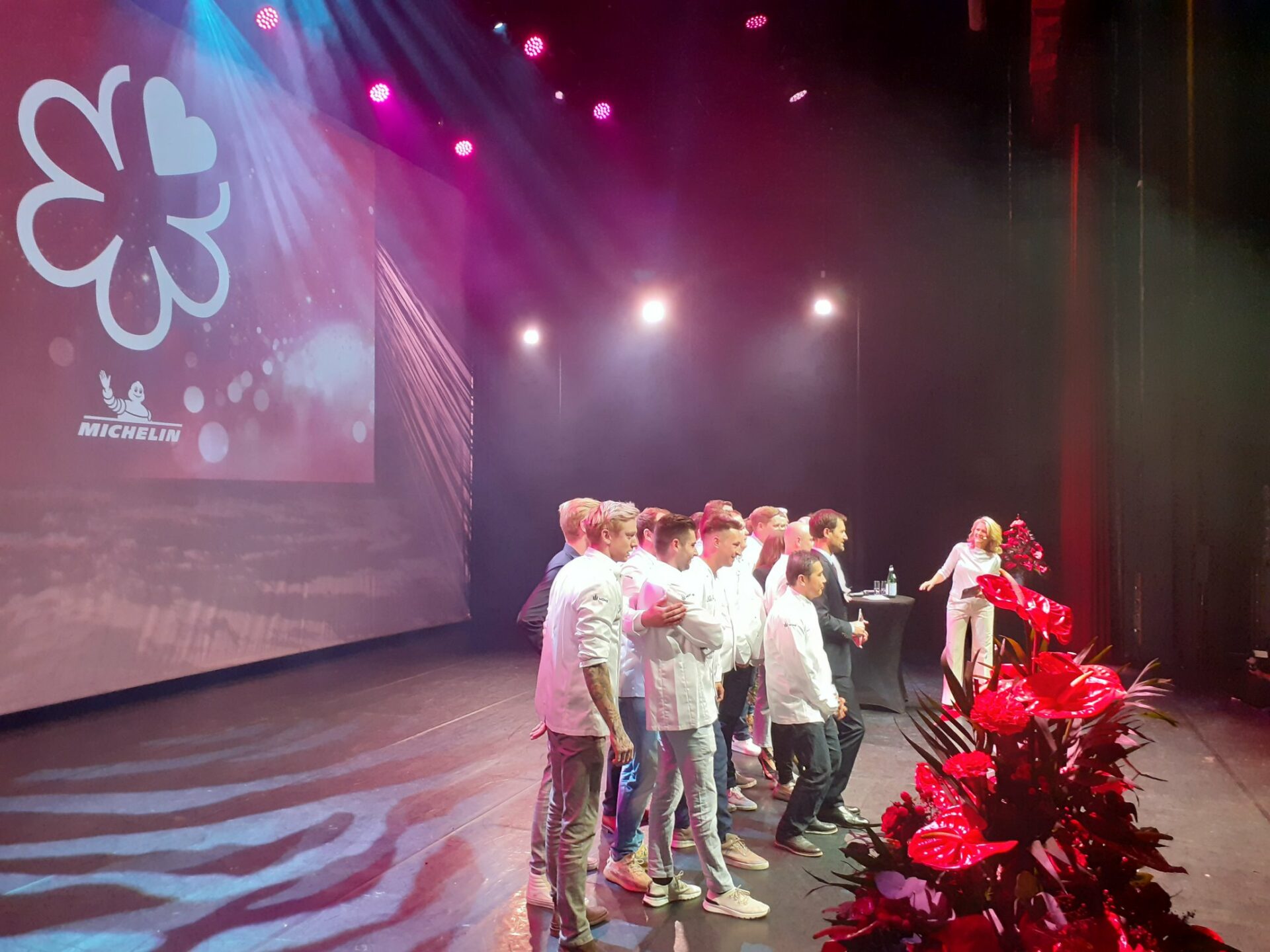 Meanwhile, the renowned Brussels restaurant 'Comme chez soi' will be losing a Michelin star, it announced in a press release ahead of the ceremony.
Both Zilte in Antwerp and Hof van Cleve in Kruishoutem, run by Peter Goossens, were once again given three Michelin stars. For the latter, it is the 17th year running. Boury in Roeselare was given three stars for the first time.
Related News
The other restaurants with a first star are:
In Belgium:
Restaurant Hert in Turnhout, chef Alex Verhoeven
Arden in Villers-sur-Lesse, chef Marius Bosmans
Fine Fleur in Antwerp, chef Thomas Dierpersloot
In Den Hert in Wannegem-Lede, chef Frederick Dhooge
Quai n4 in Ath, chefs Maxence Bourhala and Charles-Maxime Legrand
Nebo in Antwerp, chef Dimitri De Konick
Fleur de Lin in Zele, chef Lode De Roover
Tinèlle in Mechelen, chef Ken Verschueren (the second time that the chef has been awarded a first star for a restaurant he runs)
Rebelle in Marke, Martijn Defauw
Aurum by Kirchens in Ordingen, chef Gary Kirchens
Dim Dining in Antwerp, chef Simon van Dun
Restaurant Sense in Waasmunster, chef Michiel De Bruyn
Toma in Liege, Thomas Troupin
In Luxembourg:
Ryôdô in Luxembourg, chef Ryôdô Kajiwara
La Villa de Camille et Julien in Luxembourg, chef Julien Lucas
Last year, Belgium had the fourth most Michelin-starred restaurants per person in the world, with one restaurant for about every 91,000 inhabitants.
The guide was originally developed at the start of the 20th century to show French drivers where local amenities such as restaurants and mechanics were located. The first Michelin star ratings were given in 1926.