The floods that wreaked havoc in Belgium, Germany, the Netherlands, Luxembourg and France this summer constitute the second-most expensive natural disaster of 2021.
Combined, they caused some €38 billion in damage, De Morgen reports. A total of 240 people lost their lives.
The ten biggest disasters of 2021 caused a combined €150 billion in damage, British NGO Christian Aid calculated. That's equivalent to the GDP of countries like Algeria and Qatar.
Hurricane Ida, which raged across the United States in late August and early September, caused the most damage at $65 billion (€57 billion) and claimed 95 lives. The winter storm in February in the American state of Texas took third place with $23 billion dollars (20 billion euros) of damage.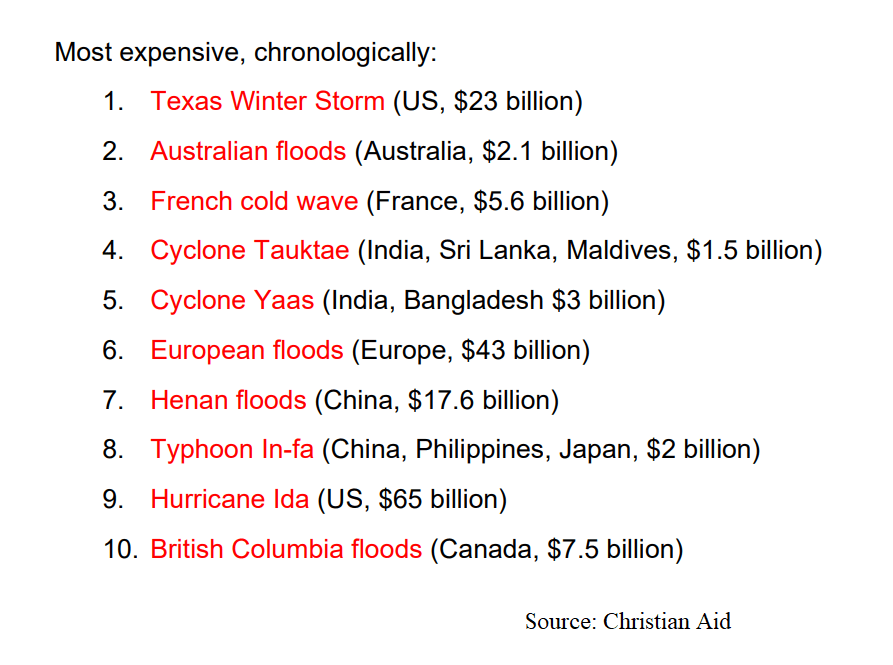 2021's top ten most expensive natural disasters, in chronological order.
All amounts are estimates of the insured damages, meaning the actual financial costs are probably higher.
Climate change in part to blame
"The cost of climate change has been high this year," said Kat Kramer, climate manager at Christian Aid. Not every natural disaster is caused by or linked to climate change. Christian Aid stressed that natural disasters have always existed, but human-induced climate change is increasing their frequency and impact, and scientists are increasingly making the connection.
Related News
"The intensity of tropical cyclones and of wind peaks during these storms will increase globally as global warming continues," the Intergovernmental Panel on Climate Change (IPCC) wrote in a report in August.
A few weeks later, Hurricane Ida hit the US, the most expensive weather disaster of the year.
Disparities between wealthy countries and developing world
The majority of disasters in Christian Aid's list occurred in wealthier countries. The report's authors note that the financial damage from disasters is often greater here partly because property prices are higher and most things are insured.
However, the deadliest natural disasters often hit poorer countries and regions. For example, floods in South Sudan left more than 800,000 people homeless, and in India, Sri Lanka and the Maldives, 200,000 people had to flee cyclone Tauktae in May.
The ten most costly disasters killed at least 1,075 people and displaced more than 1.3 million.