Morocco continues to surprise friend and foe during the World Cup, most recently with its win against Portugal, and supporters across the world are celebrating as Morocco has now become the first African country to make it to the semi-finals.
Along with videos of Morocco's midfielder Sofiane Boufal dancing with his mother on the pitch and goalkeeper Yassine Bounou playing with his son going viral after Saturday's quarter-final win, footage also shows thousands of fans gathering on streets and squares in numerous Western European cities celebrating the country's success.
Many, including the team's coach Walid Regragui, have suggested that the massive celebrations of Moroccan communities in western countries are about a lot more than just football.
"What is also being celebrated is the bicultural identity, carrying many worlds. Here people took their social wrath on being looked down upon for years: the discrimination, the internships that were not awarded, the unrelenting stream of prejudices," wrote Moroccan-Dutch author Abdelkader Benali in a beautiful opinion piece for Dutch newspaper De Volkskrant.
The wins are unprecedented achievements by a team whose members (and many of its supporters) come from everywhere and nowhere: more than half of the players were not born in Morocco, but are children of migrant workers in Western countries – a reflection of the "raw, dizzying Moroccan reality," Benali said.
With every win, coach Regragui dreams louder and louder of actually becoming World Champion, and urges all Moroccans, biculturals and binationals across the world to openly do the same.
"Why shouldn't an African team dream of that? Why be content with participating, or even with a quarter-final, as achieved in recent decades by Cameroon, Senegal and Ghana? Gold can only be achieved if expectations are raised," the Moroccan-Dutch author argued.
Goalkeeper Bounou was born in Montreal, defender Hakimi was born in Madrid, winger Ziyech and midfielder Amrabat come from small towns in the Netherlands; Amallah, Chair, Zaroury and El Khannous were all born in Belgium. Coach Regragui, who grew up in France himself and settled in Morocco after a long playing career as a trainer, called his team's success so far an African victory: "We are playing for the continent here."
And fans from the entire continent, along with their descendants spread across the world, are celebrating. If you ask me, Morocco has already won, no matter what happens against France on Wednesday.
What do you think? Let @Maajtee know.
Belgium in Brief is a free daily roundup of the top stories to get you through your coffee break conversations. To receive it straight to your inbox every day, sign up below:
Brussels Airports expects disruption on Friday, as unions have organised a new strike: staff may be reduced to 30% compared to a normal Friday. Read more.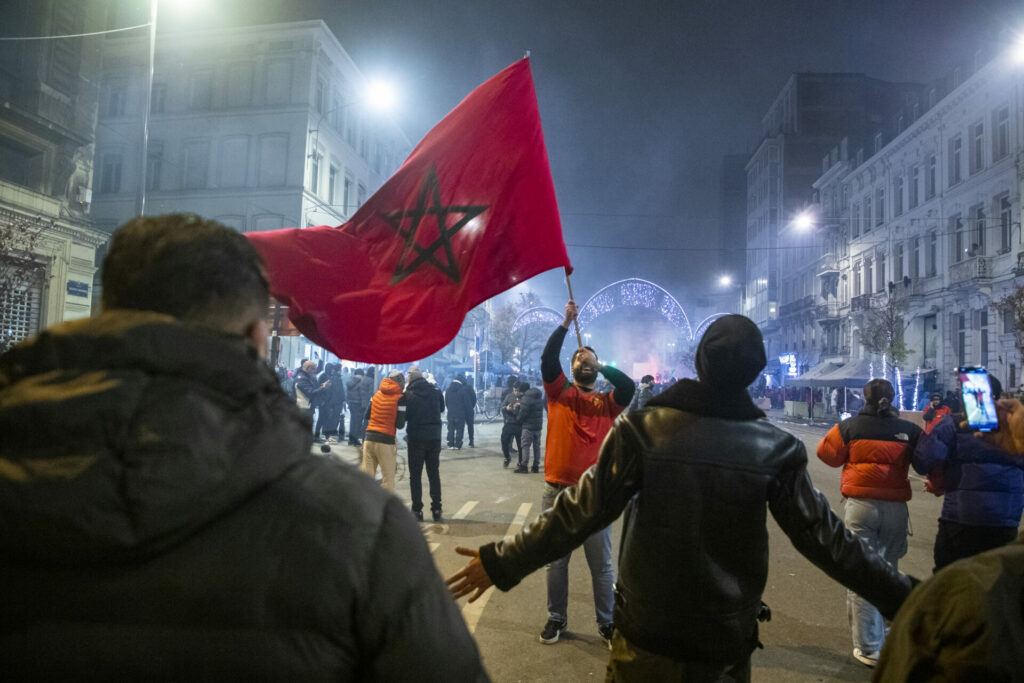 A "party zone" will not be set up in Brussels city centre for Morocco's remaining matches in the World Cup, announced the Brussels-Capital/Ixelles police zone, refuting claims by Belgian newspaper La Dernière Heure this weekend. Read more.
Elected officials in the European Parliament (EP) and NGOs have called for an urgent debate on improving the rules and ethics at the European Parliament after anti-corruption proceedings on Friday led to five arrests, including Greek MEP Eva Kaili. Read more.
The global microprocessor shortage that is hampering industries around the world has seen EU lawmakers scramble to write new legislation that will alleviate the crisis and help ailing economies. Read more.
Belgium has started what is forecast to be the coldest week of the year on Monday, with temperatures climbing no higher than 4°C during the day and dropping to -10°C at night in some areas. Read more.
Many people believe that you cannot have enough vitamins and indeed, you can be healthier by taking more. The opposite is true, according to food scientist Renger Witkamp from Wageningen University in the Netherlands. Read more.
Not many people have looked inside the beautiful orphanage for girls founded in Antwerp's Lange Gasthuisstraat. The building dating from 1564 was once filled with young girls who had lost their parents. But it has served as a museum since 1884. Read more.