While the discourse about "woke-ness" has been going on for a while, it is now also being felt in Antwerp, as its famous Arenbergschouwburg theatre has been ordered to take down four contemporary photos hanging in its stairwell.
The photos, taken by internationally renowned Belgian photographer Mous Lamrabat, have been hanging in the stairwell since a renovation in November 2022. But now, the Antwerp city council ordered the theatre to replace them.
The photos – one of which shows a woman wearing a headscarf – will be replaced by the four classical paintings that initially hung in the stairwell, following a decision by Antwerp city councillor for Culture Nabilla Ait Daoud that has been heavily criticised on social media.
Ait Daoud's party member Luk Lemmens requested the change because he felt that the decision to replace the paintings with contemporary photos was politically motivated: "I cannot help feeling that people are trying to erase our history under the influence of the woke culture and a limited group of intellectuals. We should be proud of our history."
But what is 'woke'?
A recent survey in the United Kingdom showed that half of those surveyed did not know what the term meant, and the other half gave it all kinds of different meanings, sociologist at the University of Antwerp (UAntwerpen) Walter Weyns told VRT.
"That is a big problem because it means we are left with a word that does not have an unambiguous meaning," he said. "If people argue about it, a normal, polite conversation becomes very difficult. Woke sometimes functions as a container concept in which people put different things that people reject. "
The discussion has also reached political circles, as Flemish rightwing N-VA leader Bart De Wever has written a book called 'Over Woke' ("About Woke" in Dutch).
"I think that, as a historian, [De Wever] was first and foremost struck by the fact that people are indeed developing a new view of history and that is a view that he does not like," said Weyns, explaining that a so-called "woke" reading of history looks at it from the point of view of the injustices that have been committed, such as colonialisation.
"Someone like Bart De Wever is a Flemish nationalist and wants to be proud of that history. If you then have to explain that it is anchored in a Western history of all kinds of abuses, he is not too happy about it," he added.
However, Weyns explained that being woke simply means being aware of and attentive to all forms of social injustice. "Its origin is difficult to pinpoint, but it was first used in black culture. Then it spread to other movements, such as feminism. Now, the term is often used by minority groups who have been feeling discriminated against in recent centuries."
What do you think? Let @Maajtee know.
Belgium in Brief is a free daily roundup of the top stories to get you through your coffee break conversations. To receive it straight to your inbox every day, sign up below:
Belgium is on course for a budget deficit that is €6 billion lower than previously estimated this year, as falling energy prices and reduced government-mandated wage indexations continue to ease pressures on the country's public finances. Read more.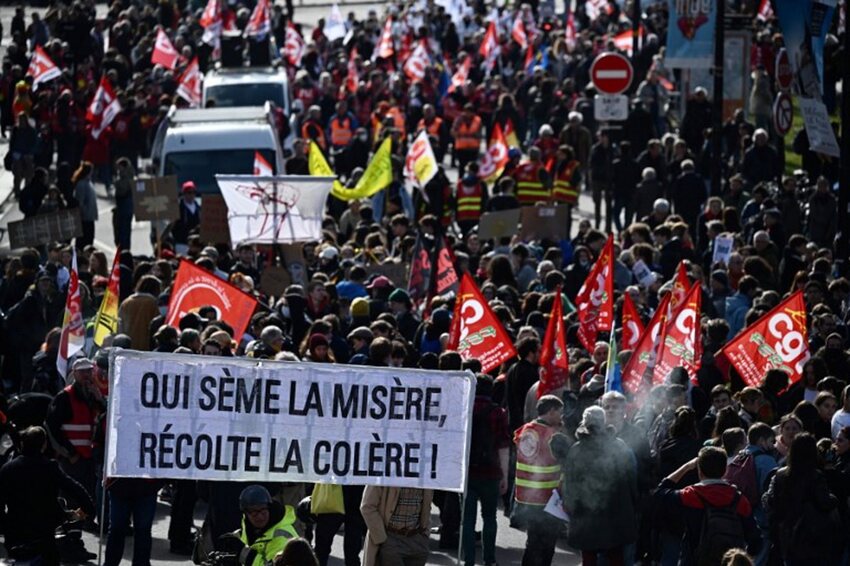 More than 300 people were arrested in France on Thursday during demonstrations against the government plan to force through a disputed pension reform that will raise the age of retirement from 62 to 64. Read more.
Four contemporary so-called "woke" photos – such as a woman wearing a headscarf – that hang in the stairwell of the Arenbergschouwburg theatre in Antwerp must be replaced by four classical paintings. The decision has been heavily criticised on social media. Read more.
Dentist-cum-runner Karel Sabbe was one of three people to finish the 'Barkley Marathons', known as the toughest ultra run in the world, in the early hours of Friday, making him the first Belgian to do so. Read more.
A religious studies teacher at Cardinal Mercier College in Braine-l'Alleud has been ordered to leave Belgium, despite having lived in Belgium for nine years and graduating from a Belgian university, as his work visa was interrupted during the school holidays. Read more.
Union Saint-Gilloise's 3-0 win against Union Berlin on Thursday evening has secured them a place in the quarter-finals of the Europa League. The Brussels team dominated their German rivals, who had previously held them to a 3-3 draw during the match's first leg. Read more.
The Patershol in Ghent is an old quarter of narrow alleys and brick houses. Located near the Gravensteen castle, it was originally settled in the 10th century by leather workers. But it had become a notorious slum by the 20th century. Read more.