Due to excessive concentrations of fine dust in the air, a smog alert will be in force throughout Belgium from 06:00 on Friday morning, resulting in a temporary speed limit of 90 km/h on several motorways.
The monitoring networks of Belgium's three regions have been indicating high concentrations of fine dust for several days now. This accumulation of air pollution combined with the continued unfavourable meteorological conditions will further increase the fine dust concentrations in the air.
"The situation is due to the stable weather conditions and very low wind speeds. This leads to hardly any movement in the lower layers of the atmosphere, which in turn means that the air pollution is very poorly diluted," Katrien Smet, spokesperson for the Flemish Environment Agency, told The Brussels Times.
Last night, the alert threshold was exceeded in Flanders. And as little change is expected over the next few days, the alert phase was activated, triggering the regional smog action plans – including speed limits on a number of motorways.
Related News
The smog alert goes into force from 06:00 on Friday morning and will also remain in force on Saturday. Whether it will be extended or cancelled after that, will be communicated on Saturday.
In practice, the alert means that the maximum allowed speed on large parts of the Flemish motorways and ring roads (indicated in blue on the map below) is temporarily limited to 90 km/h. This will be clearly indicated by fixed and dynamic traffic signs with the message '90 km/h SMOG'.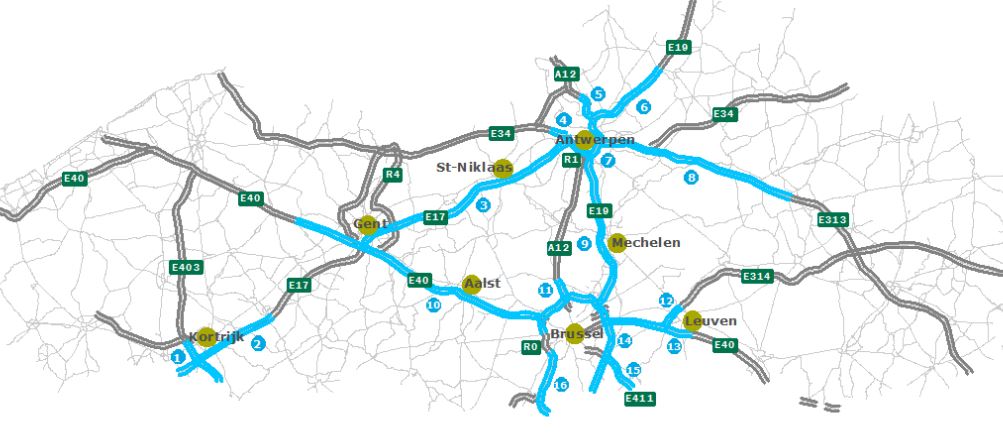 "A study has been carried out on which motorways pass through built-up areas, and it is precisely on those stretches that the maximum speed will be limited to 90 km/h," Smet said, adding that the limit is primarily a health precaution.
The 90 km/h limit will only be in force in zones where people live really close to the motorway, she said. "For example, in the provinces of Limburg and West Flanders, which are generally not as densely built-up, there will be no speed limits."
It has been eight years since the smog alert was activated in Belgium, and before that – between 2007 and 2014 – there were nine smog alerts with speed limits. "The fact that it has been as long as 2014 shows that air quality has improved in recent years," Frans Fierens of the Interregional Cell for the Environment (IRCEL) told VRT.
The Flemish Environment Agency also calls on people not to light any wood stoves for the time being, unless they have no other source of heating. With the sunny weather, however, this will likely not pose any problems.
What happens in Brussels?
Throughout the Brussels-Capital Region, the 30 km/h zone remains in force on all Brussels roads except on a number of major traffic axes. There, the speed is reduced to 50 km/h where a maximum speed of 70 or 90 km/h normally applies.
On roads where a 120 km/h speed limit normally applies, the maximum speed will temporarily be reduced to 90 km/h. The police will carry out stricter speed checks.
Additionally, day tickets for Villo's city bikes will be free, and commuters can also use public transport on the entire STIB network (buses, trams and metros) free of charge on Friday and Saturday. "Bruxelles Environnement encourages the inhabitants to change their behaviour in order to reduce polluting emissions. The use of public transport is recommended. You will not have to scan your ticket."
The Region is also prohibiting the use of wood stoves (unless they are the only source of heating in the home) and will lower the temperature in public buildings to 20 degrees Celsius.
Speed limits in Wallonia
On the following motorways in Wallonia, a speed limit of 90 km/h also applies applies:
E42 Liège - Namur - Charleroi
E42 to the urban centres
R3 Charleroi ring road
E19 Nivelles to Brussels
E411 from Rossières to Brussels
Why is particulate matter unhealthy?
Breathing in (too much) fine dust is harmful to people's health and can cause respiratory problems. People who are sensitive to it should avoid prolonged physical exertion on Friday and Saturday, said IRCEL. This mainly concerns young children, the elderly and people who already have respiratory diseases (such as asthma) or cardiovascular diseases.
Due to their small size, fine dust particles can also easily penetrate everywhere and the amount of fine dust indoors is not necessarily lower than outdoors, stressed IRCEL.
What about electric cars?
Peter Bruyninckx of the Flemish Traffic Centre stressed that the 90 km/h speed limit also applies to electric cars. "The motorway code has not yet been adapted to electric vehicles. So there is no exception."
While the engine of an electric car does not emit fine dust particles like diesel and petrol cars, they are not completely emission-free when it comes to particulate matter either. Tyre wear and braking still release fine dust.