The Council of Ministers has yet to reach an agreement on a potential increase of Belgium's defence budget, even after a long meeting well into the early hours of Tuesday morning.
With the NATO summit in Madrid rapidly approaching, Prime Minister Alexander De Croo hopes to reach a federal agreement on the matter beforehand.
De Croo would like Belgium to follow the path taken by several other EU Member States and release additional defence funds, moving towards 2% of GDP by 2035.
In exchange, De Croo expects a more efficient division of tasks at European level as well as a social return on investment.
A domestic focus
Efforts to increase Belgium's defence budget have met opposition from the ecologist members of government, with Ecolo Deputy Prime Minister Georges Gilkinet stating that there is more to be done in the fight against global warming by investing in renewable energies.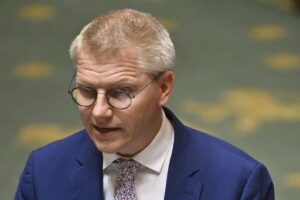 Recalling an earlier government agreement on a "necessary" increase in the defence budget to 1.54% of GDP, Gilkinet stated that his party is making sure that future investments will also be useful in civil matters "to better protect citizens in case of natural disasters," in light of the current war in Ukraine.
Related News
"We are not going to mortgage the policies of the future with ill-considered choices," the minister explained, "this is why we are thinking about a series of conditions to be put in the confirmation of a commitment made in 2014 by Elio Di Rupo to increase spending on defence."
Future governments, he believes, should not be bound by previous decisions, all while advocating for improved European cooperation in this area. This would allow Europe to play a more vital diplomatic role in the future, while also saving money.
Failing on NATO commitments
The president of the PM's Open VLD party, Egbert Lachaert, expressed his confusion over Ecolo's position on this issue, which he saw as "purely symbolic."
"We have invested too little in defence for years," the party chairman said on radio. "If we send equipment to Ukraine, it is often equipment that we ourselves lack", Lachaert added. "As the host nation for NATO, you can't refuse to commit yourself to meeting the fulfilment of (the organisation's) basic obligations."
He closed his remarks by expressing his hope that the matter would be resolved within the next few days.