In his State of the Union speech to open the new Parliamentary year in the Chamber on Tuesday, Prime Minister Alexander De Croo presented his Federal Government's 2023-2024 budget agreement.
Belgium's premier discussed the war violence in Ukraine, denouncing President Vladimir Putin who he described as "a belligerent and dangerous madman in Moscow," an "ultra-nationalist" and a "fascist."
"There is a war in Europe. I never thought that I would ever say these words on this stand. Exactly the moment we started to leave Covid-19 behind, the war broke out." He added that it is impossible to overstate the suffering of the Ukrainian people.
De Croo then highlighted the wider effects of Russia's aggression, stating that it is the root of Europe and Belgium's energy problems. "Many people are seeing their hard-earned savings melting like snow in the sun. They are uncertain and very worried."
Repeating his previous calls, De Croo reiterated that high energy prices must be tackled at the European level and that the EU should intervene in the gas market. "In March, we as Belgium were almost alone in asking for the gas price to be capped. Together with the Energy Minister, I kept hammering that nail. Council after council, we tightened our proposals. The first duty of government is to protect people."
'A gentle giant'
The current high gas prices are "no longer a free market but a weapon of war," he said, adding that the EU is still missing opportunities. "Like the United States, we have the potential to weigh in, but we are not using our power. Not in energy markets and not geopolitically. Europe is a gentle giant but in times of war that is not enough."
He stated that Belgium needs to accelerate the move to cheaper and domestic energy and free the country of fossil fuels. "In our North Sea, in our nuclear power plants, on our roofs," said De Croo, explaining the decision to extend the lifetime of Belgium's youngest nuclear power plants. He added that Belgium is looking to increase its energy capacity, "both nuclear and renewable."
Speaking of the budget for the next two years, the Prime Minister was confident that "When the skies have cleared and the storm has died down, the house should be in order again... With a net effort of 0.6% of the GDP, or €3.6 billion. That will bring the Federal Government to a structural deficit of 3.2% of GDP in 2024."
De Croo expressed his concern about the budget deficit but insisted that further saving is not currently sustainable: "What should we have done then? Should we have let our companies go bankrupt during Covid? Should we have denied support to self-employed people? Should we have left our middle class out in the cold?"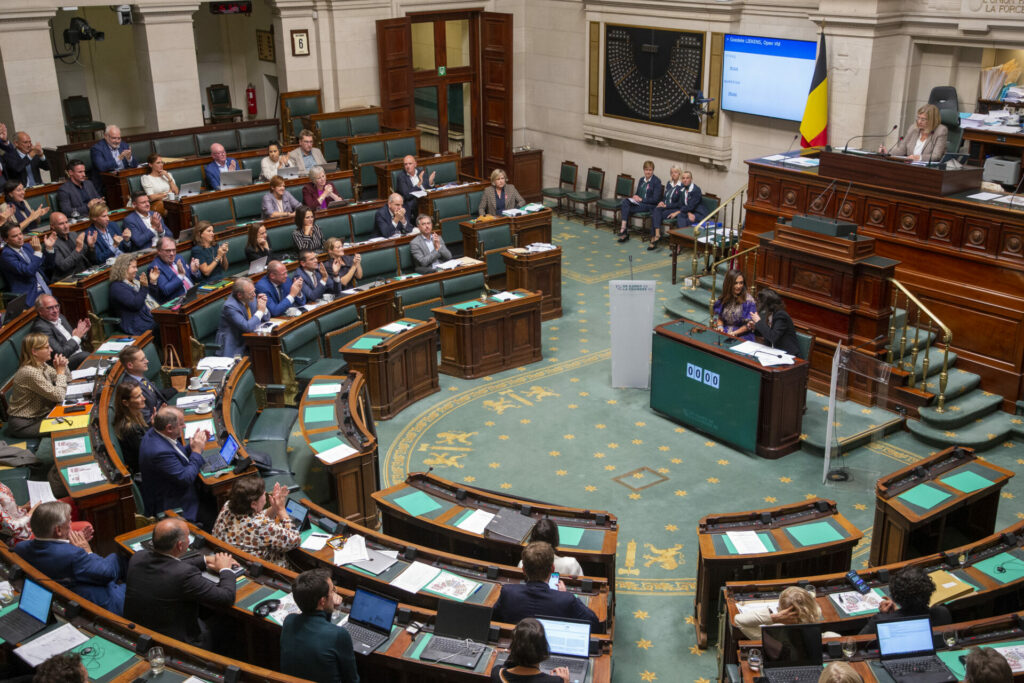 Furthermore, students will now be allowed to work more (up to 600 hours) and flexi-jobs will be possible in more sectors, such as agriculture, events and culture, healthcare and sports. People on benefits will receive "financial incentives" to work. "We are extending the measures for flexible working also in care."
The Government also wants to prepare a "health shift," making healthy food cheaper and unhealthy products more expensive. "There will also be more investment in mental health and the government wants to accommodate healthcare providers and healthcare institutions." This should result in "better remuneration, better working conditions, in training and attracting new employees."
De Croo also announced that the Government will increase the Defence budget. "On 25 February, one day after Russia invaded Ukraine, the Council of Ministers decided on a growth path leading to a defence budget of 1.54% GDP in 2030, a 75% increase on five years ago. And we set an additional path to 2% by 2035. The government is also increasing the deployability of Defence, with an additional €1 billion in the period 2022-2024."
Reintroducing conscription is not on the table, De Croo stressed. "Bringing back general conscription does not fit into this strategy but a professional army does represent an opportunity for motivated young people to fully develop their talents, academically, militarily, athletically and character-wise."
Character makes all the difference
Despite efforts to tackle the issue, De Croo stated that "narco-terrorism" is gaining a foothold in Belgium. "The foiled abduction of our Justice Minister a fortnight ago was a warning that narco-terrorists will stop at nothing. Our response is clear: we will not be intimidated."
To this end, the Government will invest over €1 billion in the police and justice departments. This will help fund 1,000 new police officers in the Federal Police, including 400 in the Federal Judicial Police. "Every officer who leaves the Federal Police will be replaced."
For asylum and migration, the Government is working on a comprehensive approach to limit inflows and increase outflows. "With a Winter Plan, the Secretary of State for Asylum and Migration will address reception capacity. At the same time, a long-term structural reform is being worked on with a new migration code."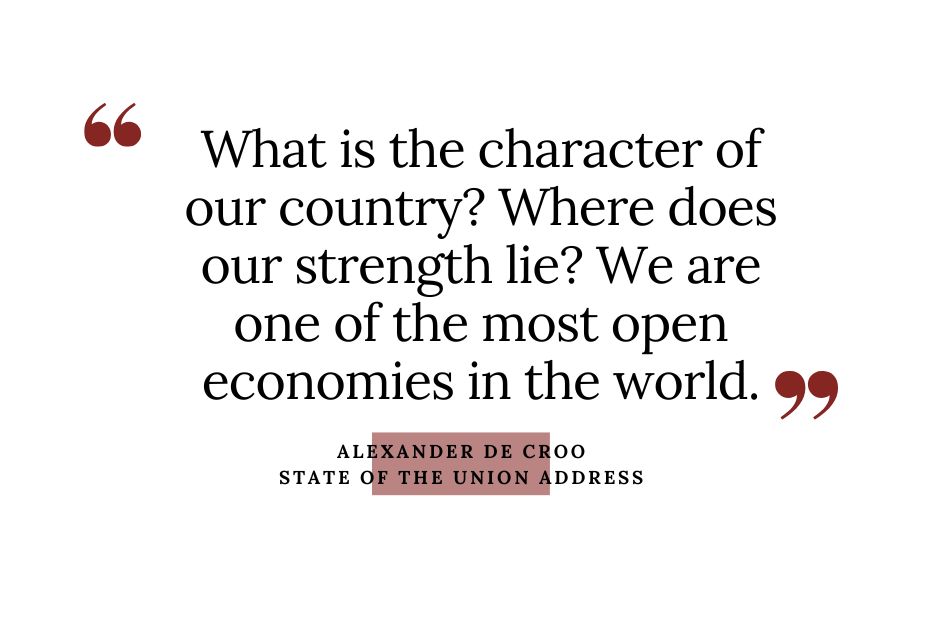 At difficult times, De Croo said, character makes all the difference. He highlighted Belgium's openness and the growth and prosperity it brings: "Just a fortnight ago, our country was named one of the leading innovation countries in Europe by the European Commission."
That openness also means cooperation, he added. "Belgium is one of the founding countries of NATO, the United Nations and the European Union. We know that our Belgian interest also always lies in partnership with others who share our values. That is also a lesson of this war. For too long we thought that openness was self-evident and that Russia could be a partner."
But the war in Ukraine has exposed closed-mindedness in Belgium. De Croo singled out a streak of "closed nationalism, built on purity and exclusion: 'One people. One empire. One leader.' Where else have we heard that? Putin's madness forces all free democrats to choose between barbarism or civilisation, between letting each other down or protecting, shutting ourselves off or being open."
Related News
"This Government is making the choice: our country embraces openness, but we also empower people. It is a resilient openness, which starts from our own strength and does not seek to weaken others but to strengthen ourselves."
"This is how we truly protect our people, so that they stand strong in life, even when it is difficult and challenging because that is the basis of true freedom," De Croo stressed. "Strong, resilient and independent citizens. That is the real strength of our country, even in these difficult times."