Belgian Beer is revered the world over, recognised internationally as unique, quirky, and diverse. But why has it evolved to be so different to the beer of other countries? Breandán Kearney has some answers
The grandiose Stock Exchange building in Brussels, built a century and a half ago as a temple to money, is set to be reborn in 2023 as a shrine to a currency that some would describe as uniquely Belgian: beer. The Palais de la Bourse or Beurspaleis will become Belgian Beer World, a museum celebrating the country's renowned beer culture. And fittingly, it will be housed in one of the capital's most iconic buildings.
It is hard to overstate beer's importance to Belgium. This is the only country to have had its beer culture inscribed on UNESCO's Representative List of the Intangible Cultural Heritage of Humanity. There are more indigenous styles of beer here than anywhere else in the world. "In Belgium, the magistrate has the dignity of a prince," wrote Belgian poet Émile Verhaeren. "But by Bacchus, it is true that the brewer is king."
At first glance, it might seem odd that this place has become a beer mecca. Belgium is tiny: some 11.5 million people are crammed into around 30,000 square kilometres. It's a complex construction, with three official languages and six different governments. Much of its beer is misunderstood, with common flavour descriptors including words like banana and coriander and balsamic, the offerings sometimes dismissed as being quirky, weird or esoteric. So just how did such a small, so intrinsically divided, and so seemingly peripheral country evolve into the most diverse beer nation on earth?
Humble origins
Belgium's brewing landscape evolved across farmhouses, small towns, and monasteries, mushrooming around communities and instilling a resistance to the mass production techniques that took hold much more quickly in neighbouring countries.
To the west is France and its myriad winemakers, from whom Belgians absorbed knowledge about the microbiological benefits of oak ageing in large foeders. To its east is Germany, where technical proficiency in lager fermentation and yeast management infiltrated conversations about quality. And to the north, just across the channel, is England, influencing both brewing and hop growing in Belgium, particularly after World War I.
Belgium's location supplied a mishmash of influences. And the varied array of institutional regimes and bureaucracies to which it was subjected engendered practical thinking amongst its brewers. Belgians developed workarounds, many of which helped maintain the uniqueness of their regional brewing identities in the face of increased globalisation.
One example of such workarounds came in response to the Vandervelde Act, a piece of legislation passed in 1918 by the temperance movement which banned the selling of spirits in pubs. The act lasted until 1983 and over time prompted brewers to raise the alcohol level of their beers to fill a gap in the market, selecting and developing yeasts that would be able to ferment at higher alcohol levels, often as high as 12% ABV. Belgian brewers are good at solving problems, and in doing so, they often create something new.
Local varieties
A key part of Belgian beer's diversity is the preservation of regional specialities. Even by the mid-19th century, the average Belgian brewery was very small, mostly because there was a tax incentive to remain so. Rather than packaging beer, they sold beer from wooden barrels directly to consumers in their own pubs. There were 3,089 breweries in Belgium in 1845. Today, there are around 380. As a result, production and consumption stayed local, preserving distinctive varieties of yeast and maintaining the unique character of a town's beer style.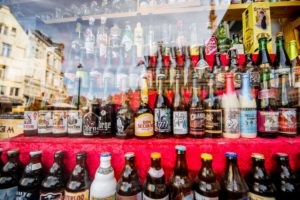 You can see the preservation of this local colour in Belgium's regions today. The areas around Brussels known as the Pajottenland and the Senne Valley are home to a small cohort of lambic breweries and blenderies producing a spontaneously fermented wheat beer often blended across different ages to create gueuze. Flavour descriptors for these beers include lemon sherbet and horse blanket. In their book Lambic Land, Tim Webb, Chris Pollard, and Siobhan McGinn describe lambics as "both the crudest and the most complex beer styles in the world."
Elsewhere, the wheat farming around Leuven helped Flemish Brabant became synonymous with Belgian witbier. This spiced wheat ale was brewed as early as the 14th century but is best known in a form presented by Belgian milkman Pierre Celis who revived the style during the 1960s in the town of Hoegaarden.
The Leiestreek and surrounding countryside in southwest Flanders is red-brown territory: beers of mixed fermentation most commonly aged for long periods in large oak foeders before being blended back with younger beer. These beers are sweet and sour at the same time, more similar in flavour to a rich Burgundy wine than a "pintje".
The province of Hainaut in Belgium's mid-west is thought to be the home of two indigenous Belgian beer styles: Saison, originally a farmhouse ale with a dry, fermentation-forward flavour profile (imagine a Champagne type spritz with notes of citrus and black pepper); and Belgian Scotch Ale, a dark sweet treacly ale introduced by WWI British soldier Jack Peyne when he fell in love with a local girl and came to work at Brasserie Silly.
Ingredients and flavours
Another reason the beers in Belgium are very different is because of the ingredients used to make them.
Belgian yeasts, for example, kick off a diverse and pronounced range of flavour and aroma compounds. These compounds are part of the reasons Delirium Tremens is all pears and oranges, Chimay Bleue is all figs and prunes, and Sint Bernardus Wit is all pepper and clove. The yeasts range from those that ferment sugars, delivering incredibly dry beers, to those that leave behind a sweetness and full body. Belgians also deploy wild yeasts, drawing on flavours that range from floral and earthy to mousy and horsey. And sometimes they don't add any yeast at all, relying on the microbes in the environment of their brewery to help them create the beer.
Unlike brewers in other countries, Belgians are not afraid to throw unexpected flavours to their beer, emptying their spice cabinet of bitter orange, coriander, and grains of paradise, or dropping in fruits such as cherries, raspberries, or apricots. They deploy multistep mashes and ferment at higher temperatures, and experiment with all sorts of vessels, including open ones at Brouwerij Liefmans, wooden ones at Brouwerij Drie Fonteinen, and the unique geometric vessels designed for lower-stress yeast environments, such as the wide, squat tanks utilised by Brouwerij De La Senne.
But perhaps the most visible differentiator of Belgian beer is the country's café culture. Think of brown bars with their tobacco-stained wood panelling and mosaic tiling. Think of leather-bound beer menus and the small knives used to cut the correct head of foam on a pintje. Think of bespoke glassware, a specially designed receptacle for every brand: some that look like tulips; others like chalices.
The various COVID-19 lockdowns and restrictions on the hospitality trade have taken their toll on these bars. Some iconic beer cafés only stayed afloat with help from the public. Many, however, were forced to close – and with each loss, a part of the Belgian beer culture went with it. Belgian beer is special not only because of how it's created, but in how it's served, presented, and savoured. If these cafés survive, then Belgium's beer culture can thrive.