Smoke billowing from an electric car that caught fire in an underground parking forced diners in a restaurant on Ravenstein Street, central Brussels, to evacuate on Friday night.
At about 22:30, the Brussels firefighters first answered an alarm for smoke inside the restaurant, located across from Bozar in the centre of Brussels, according to a statement released by the fire brigade. However, after not finding evidence of a fire in the restaurant, the firefighters quickly discovered the electric vehicle on fire in the garage below the restaurant.
Firefighters found a large amount of heat and smoke emanating from the car and a thermal reaction in the car's battery. They placed the car into a large water container to fully extinguish the fire.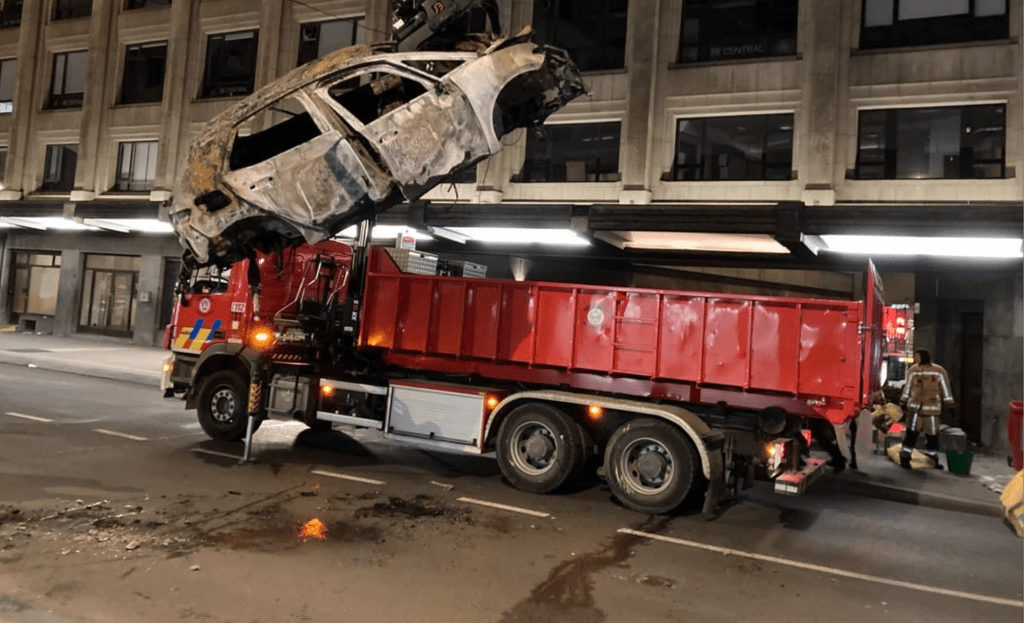 "The origin of the fire has yet to be determined. According to the owner of the car, it was not charging," the fire brigade said in a statement.
In November 2019, the fire brigade responded to a similar incident involving an electric BMW X5 PHEV engulfed in flames, previously reported by The Brussels Times. Like Friday's events, the BMW was reportedly not charging at the time of the fire.
Related News
The fire destroyed the car and the parking deck level suffered significant damage. No other vehicles were parked nearby.
The fire department recommends underground car parks limit electric cars to level -1, space charging stations apart and install heat and smoke extraction systems.