The pandemic, and the restrictive measures it resulted in, have highlighted the need for recreational spaces in Belgian cities, including open-air public pools. And though the pandemic is, hopefully, nearing an end, the public desire for swimming remains strong.
Following the opening of its open-air swimming pool in Anderlecht last year, POOL IS COOL has been in touch with various cities – especially in Flanders – which are looking to create public facilities where residents can cool off. This includes Leuven, which asked the organisation to help set up a swimming zone in the Vaartkom, currently under redevelopment.
"Today the public space around the Vaartkom basin is a leftover of the past and needs a redesign to become a welcoming place. The proposed swimming zone was taken up by politicians with the idea of providing residents with a place that you would not otherwise find in Leuven and its surroundings," POOL IS COOL's Paul Steinbrück told The Brussels Times.
He added that, if all goes well, people should be able to bathe in a natural swimming pond with room for 70 people in the centre of Leuven from 2024 onwards.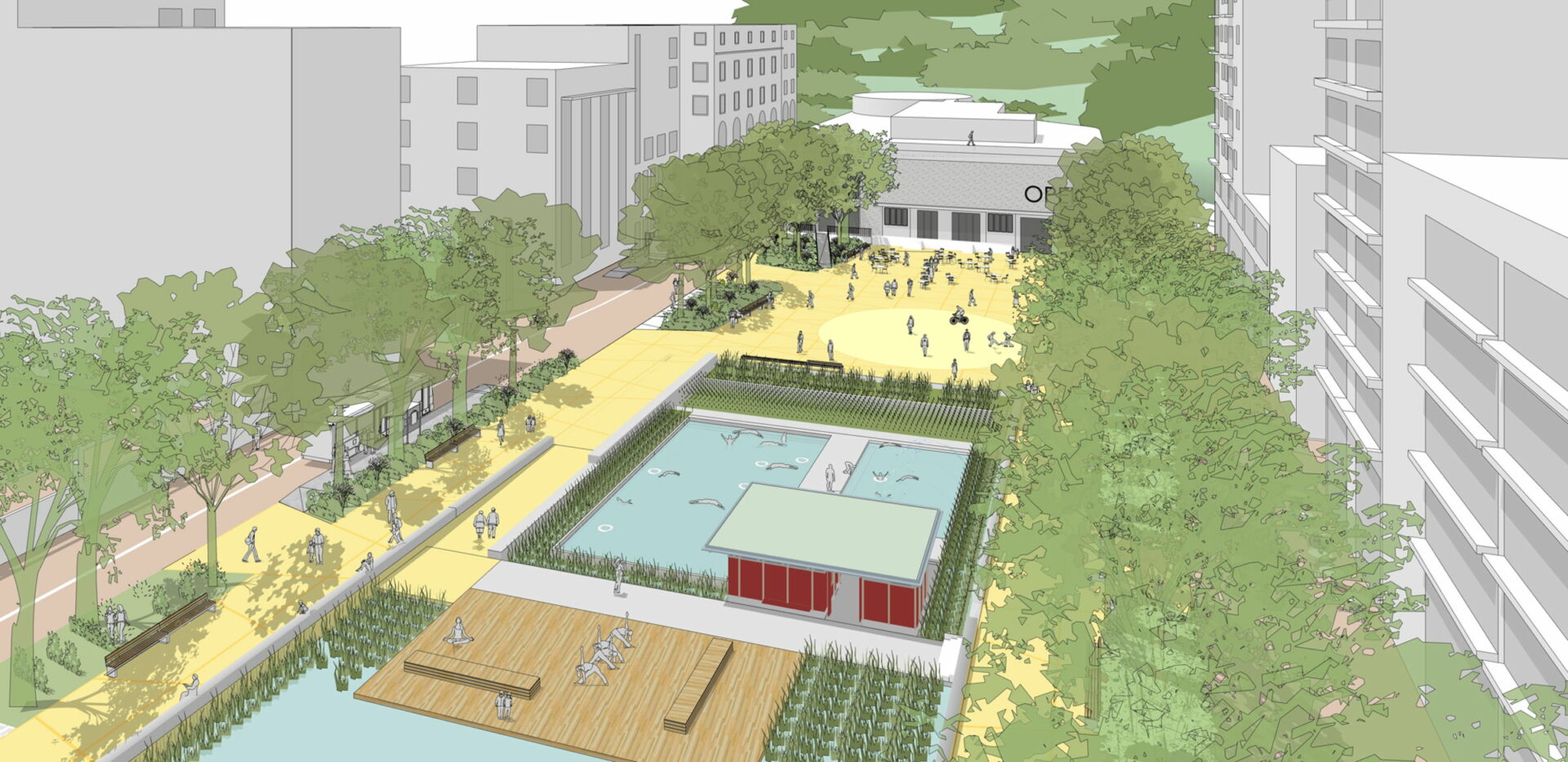 The city's mayor, Mohamed Ridouani, was at the forefront of this decision, stressing the importance of the fact that public space is not a residual space, but a way to "stimulate encounters and connect people."
After all, a city is more than just buildings: public space is very important; it is a place for people, especially those who do not have a garden or a small terrace. The coronavirus crisis further emphasised the importance of pleasant, high-quality public spaces, which we will continue to invest heavily in," he told The Brussels Times.
Shift in authorities' mentality
Steinbrück explained that this project responds to a shift in mentality. In the Brussels region, POOL IS COOL had to campaign hard for pool-related projects and look for public partners to gain the necessary financial and administrative support.
"In Leuven, the roles were completely reversed. There, the idea came from the city, it was their initiative," he said adding that the idea of open-air swimming in cities is growing in popularity all over Belgium, especially in Flanders.
"This shift is also happening in Wallonia, but the governments are exploring it more on the Flemish side, in cities such as Bruges, where there has been a swimming place for a couple of years already, and in Mechelen, there was a first test last year with a temporary installation."
"We are not yet being asked to take on an organisational role, but rather to exchange experiences and then see how cities can make it happen. We would definitely like to see this grow," Steinbrück said.
He added that he hopes this shift will also hopefully happen in Brussels in due course, but that, "unfortunately we are still not there, even after the first year of FLOW."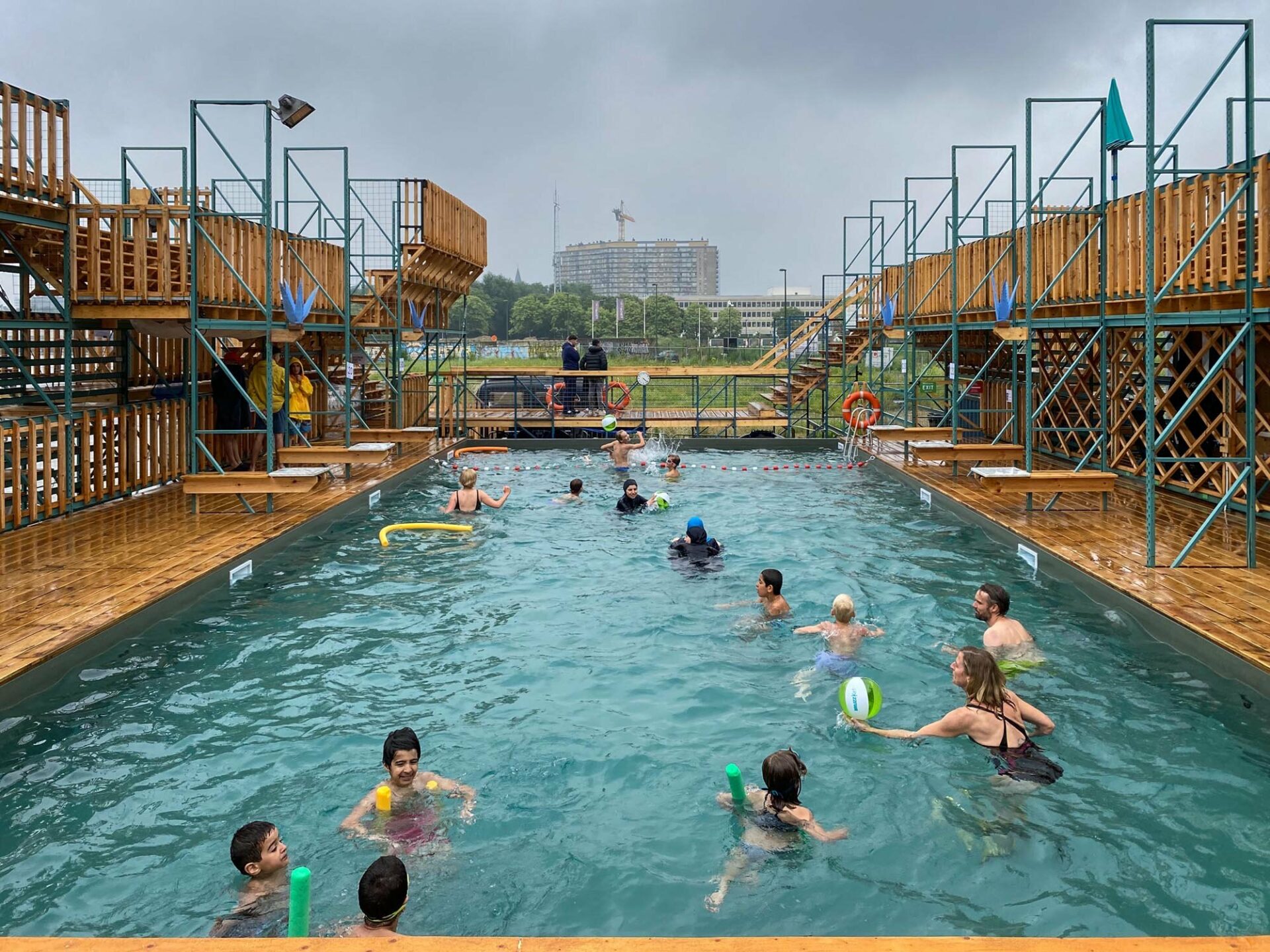 "We notice that, in Brussels, it remains complex, especially when it comes to temporary projects. Some politicians are far more receptive to the importance and benefits of the projects than others."
But even in Brussels, political support is growing for these projects, with Pascal Smet, State Secretary for Urban Development, a long-time proponent of open-air swimming in the city.
Related News
"Those who do not have the opportunity to go to Cannes or Knokke in the summer, also deserve relaxation in the water. With this swimming pool five minutes from the city centre, that is possible. We owe it to the young people of Brussels," Smet said.
Just last week, its government agreed to partially fund an open-air swimming pool on the roof of Manufakture in Anderlecht which will look out to the city's skyline. The Brussels government said that the accessibility of the pool by public transport will ensure all Brussels citizens can enjoy it.
Activism turned social necessity
In response to cities increasingly approaching POOL IS COOL, a new non-profit organisation named POP will be created. This stands for Project Operation Partner and aims to "help authorities or organisations to manage public infrastructure and activities in a socially relevant way."
While POOL IS COOL grew from activism, based on public disobedience manifesting itself through people illegally jumping into fountains due to the lack of public swimming infrastructures, POP is an organisation that responds to requests from partners so that people don't feel the need to bathe in unsuitable locations.
"Both are related in many ways, the basic ambition to make outdoor swimming and other public infrastructures accessible to everyone is present in both organisations; it's more the way of working that differs," Steinbrück explained.
Unlike other commercial organisations that could have taken on the Leuven project, this vision is socially-motivated rather than profit-driven. Looking towards the future, Steinbrück believes that open-air swimming is here for the long run and that the trend will continue to grow.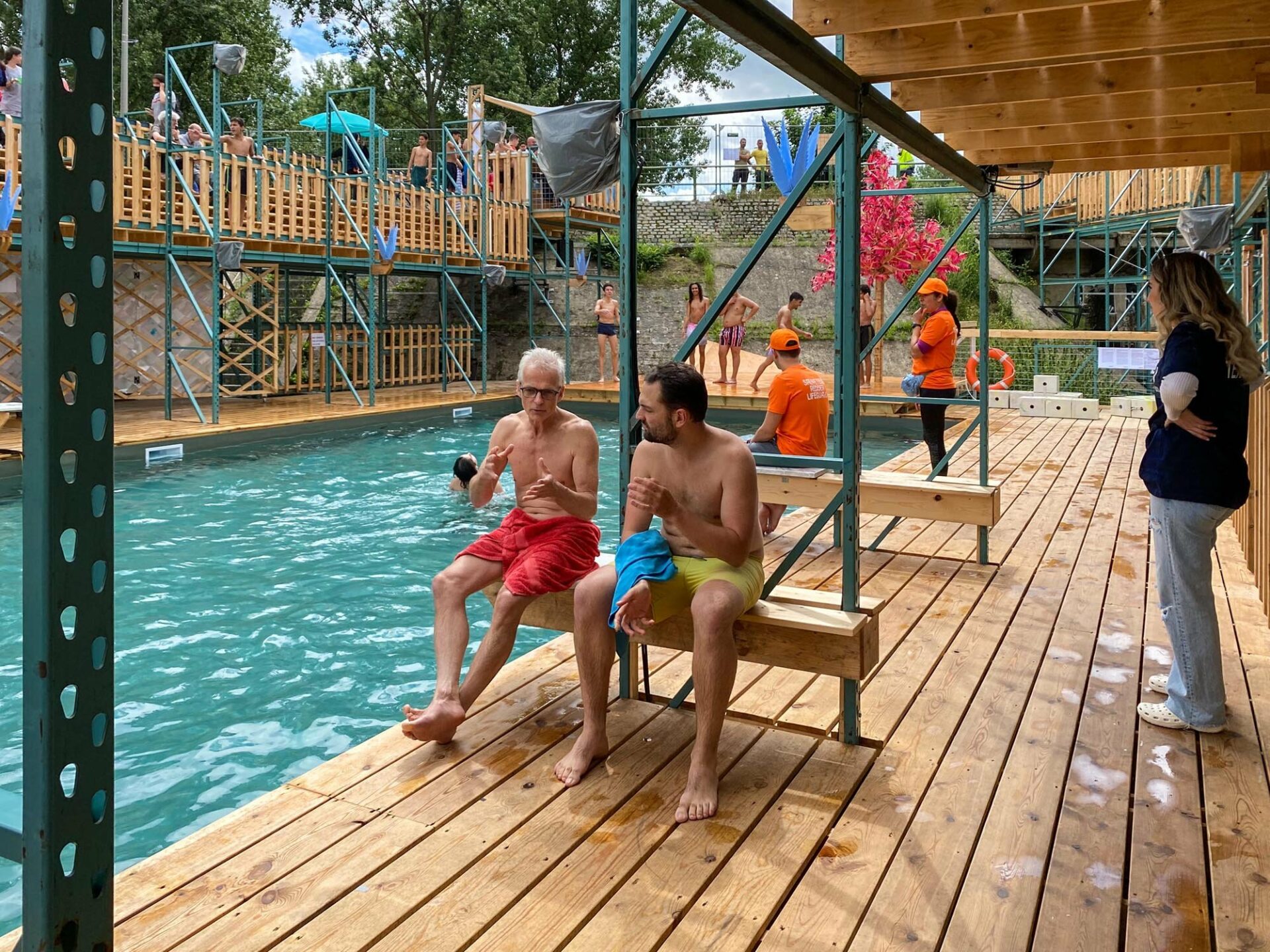 "For example at the Flemish level, there are ambitions to adapt regulations so that swimming spots can be created elsewhere without a restrictive framework, this could allow for wild swimming as is possible in Switzerland or Scandinavia."
He added that he predicts a simple approach to open-air swimming will be central to this trend, managed by a small team.
"There is a clear interest throughout the entire population, people of all ages go swimming, and they now do it all year round. It doesn't have to be so complicated and technical and expensive with bells and whistles, it can also be done in a simple and cheap way," he concluded.