As someone living in Brussels with no need for a car, I've been able to observe the spiralling fuel prices with disconnected neutrality, each hike in prices only fuelling my own conviction that bikes are the way forward for me.
But even to the disinterested bystander, the ramp in prices is quite remarkable. Taking a ten-year overview, the notches on the graph have this year become a vertical wall with diesel prices up by almost about €0.46 per litre in a month. Even the 2008 financial crash didn't spark such a staggering spike.
This rise is clearly beyond the ordinary and something that can't fail to have knock-on effects beyond hitting motorists at the fuel pumps. As it turns out, this will indeed be the case, with transport organisations warning that it will be individual consumers who see the effects in their grocery expenditure.
Even for pedal-pushers such as myself, it isn't hard to see how the products we buy in everyday shopping will inevitably become dearer given how essential lorries (almost always running on diesel) are to the supply chain. This is despite the best efforts of supermarket managers who have done their best to shield customers from fluctuations and aim to keep their prices competitive.
A combination of factors had already been pushing prices up; now the conflict in Ukraine and uncertainty about oil provision from Russia will mean that an increase in bills is all but inescapable – not to mention the eye-watering hikes in energy bills.
Are you feeling the squeeze? Let @Orlando_tbt know.
Belgium in Brief is a free daily roundup of the top stories to get you through your lunch break conversations. To receive it straight to your inbox every day, sign up below:
Property prices have risen by 11.8% per square metre in Belgium since the start of the health crisis in March 2020, according to data published on Thursday by the website Immoweb. Read more.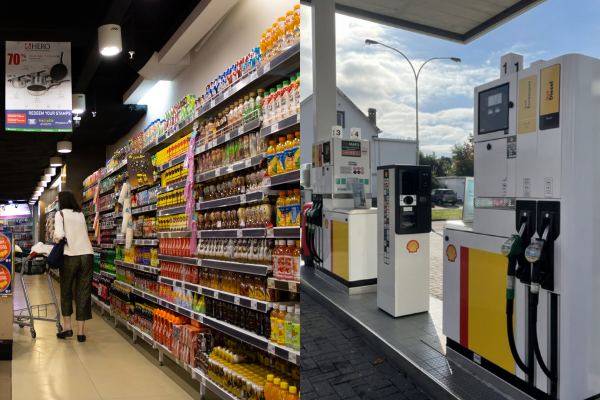 As prices for diesel and petrol climb ever higher, consumer products will become more expensive, according to transport umbrella organisation Febetra. Read more.
The Belgian police played a part in rounding up a gang operating on a European level that made almost half a million by using fraudulent fuel cards to fill up trucks and pay for tolls. Read more.
The decrease in new coronavirus infections in Belgium has all but stopped after weeks of this figure dropping rapidly, while Covid-19 hospitalisations have started to increase slightly. Read more.
The energy sector never emitted so much CO2 as in 2021, when countries relied more on coal to fuel the economic recovery that took place following the pandemic-driven year. Read more.
David Ceschia, born in Brussels, was one of the 276 Belgian citizens reported to be in Ukraine at the outbreak of the war. Trapped by explosions, heavy fighting and occupying Russian forces, he made a daring escape with his Ukrainian partner. Read more.
The Brussels metro has stunning underground stations decorated by 60 contemporary Belgian artists. Read more.