With a beer festival in Belgium almost every week of the year, how do you choose which to attend? The Brussels Times names 2022's ten best beer festivals.
Beer festivals bring together brewers, bar owners and beer enthusiasts, but the festival calendar has been sparse for the past two years for obvious reasons. Now, however, there's renewed hope that the festival circuit could pick up again, allowing punters to try out fresh beers and celebrate old classics.
The festivals want to surprise and delight in venues that offer unique settings to experience beer. They want to reconnect with familiar friends and make new ones, with visitors sometimes coming from all over the world.
But which festivals are worth visiting? Here is a list that includes a broad mix of Belgium's beer events: from the traditional to the modern; the ginormous to the intimate; the mainstream to the esoteric. Mount your bike, get in your car, or jump on a train and discover some of the most memorable, quirky and exciting beer events that this country has to offer.
1. Bruges Beer Festival (Bruges, April 9-10)
This year will be the 14th edition of the Bruges Beer Festival, scheduled to take place in the new Bruges Meeting & Convention Centre in the city centre. The changed location should address issues experienced in previous years, including the lack of space in the Belfort and Grote Markt, and the logistical problems with payment and toilets at 't Zand. Hosted against the backdrop of Belgium's fairytale city, the Bruges Beer Festival provides a broad offering of what is being brewed in Belgium and attracts a large and internationally diverse crowd.
2. Zythos Beer Festival (Leuven, April 23-24)
Zythos has long been the benchmark for independent beer festivals in Belgium, although newer festivals have emerged in recent years to challenge its traditional format. Around 100 breweries and beer firms pour 500 beers for 16,000 people over the weekend at Leuven's Brabanthal, where a party atmosphere develops over the course of each day.
3. Toer de Geuze (Payottenland, April 30 - May 1)
The Toer de Geuze is a celebration of Lambic culture across the Pajottenland and Senne Valley. The bi-annual event sees the brewer and blender members of HORAL (The High Council for Artisanal Lambic Beers) host brewery open days on the same weekend. Buses are organised to take visitors around the breweries over the two days. Visitors can taste the various Lambic beers – Oude Geuze and Oude Kriek among others – from Boon, De Cam, De Troch, Hanssens, Lambiek Fabriek, Lindemans, Mort Subite, Oud Beersel, Tilquin, and Timmermans.
4. Namur: The Capital City of Beer (Namur, July 8-10)
Some 40 breweries and beer firms pouring 150 different beers team up with producers of local delicacies to deliver the main beer festival in Namur over three days in July on the esplanade of the city's Citadel. The 10th edition of the festival will be a family affair with children's games and a variety of concerts. This year, music will be provided by Awissa and Sttellla, with guest beers from Scottish brewery Brewdog.
5. Bxl Beer Fest (Brussels, August 27-28)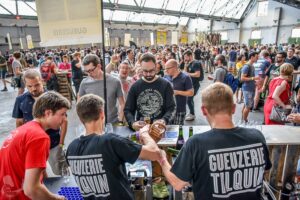 Bxl Beer Fest is a stand out festival that puts a curated list of some of Belgium's most exciting breweries alongside an invite-only list of international names. The Tour & Taxis venue is open and relaxed, with talks and tastings organised in adjoining rooms over the weekend. There is also a focus on gastronomy, with local chefs and artisanal food businesses from the city offering up plenty of intriguing beer and food pairings over the two days.
6. Belgian Beer Weekend (Brussels, September 2-4)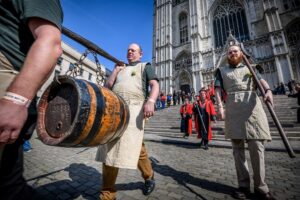 The Belgian Beer Weekend is set against the impressive backdrop of Brussels' historic main square. There are usually close to 50 Belgian breweries — the country's biggest and most established producers — serving up around 350 different Belgian beers. On the same weekend, draped in gowns, the Belgian Brewers Federation stage their annual ceremony to welcome new inductees to the "Knights of the Mash Staff of the Belgian Brewers".
7. Poperinge Hop and Beer Festival (Poperinge, September 20-21)
This is a tri-annual festival in the hop-growing centre of Flanders, featuring a series of events centred on beer and hops over a weekend during the town's hop harvest season. Highlights include the beer festival in the main square as well as a hop parade involving 65 groups, 1,400 extras, and 12 floats. Visits to hop farms are offered, there's a Hop Queen election in a marquee, and it all finishes with a stunning firework display.
8. Oud Bruin Fest (Kortrijk, October 7-8)
The Oud Bruin Fest in Kortrijk celebrates this sweet and sour beer style of mixed fermentation which is indigenous to certain parts of West Flanders and East Flanders. Attendees can discover classic Flemish red-brown beers as well as mixed fermentation experiments from breweries in the region and those further afield. The producers involved even collaborated to produce an Oud Bruin Megablend, with each producer contributing part of the blend.
9. Billie's Craft Beer Festival (Antwerp, November 11-12)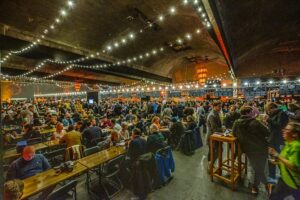 Unlike other festivals in Belgium, Billie's Craft Beer Festival runs on an all-in formula, with one ticket price including entry, tasting glass, unlimited beer tasting, a booklet with information, and a refillable bottle of water. There are around 400 different beers to taste from Belgian and international breweries as well as a barber and a tattoo artist on site should you wish to change your look. The festival was named after loveable French bulldog Billie who lived in a respected Antwerp beer café. Billie passed away last December and next year's festival offers a chance to toast his life with those who loved him.
10. Kerstbierfestival (Essen, December 17-18)
Such is the growing popularity of this festival that the organisers were forced to introduce a ticket system in 2015 to reduce numbers from more than 3,000 people per weekend to a manageable 1,000 people a day. This has resulted in a more comfortable atmosphere in which to enjoy the 170 Belgian Christmas and Winter beers in the Heuvelhal in Essen, but it does also mean you'll have to book your ticket months in advance. The Objective Beer Tasters Essen Region (O.B.E.R.) do a great job of collating a beer list which in recent years has returned from novelty and special editions to authentic Christmas and Winter beers.