During his address to the Federal Parliament on Thursday, Ukrainian President Volodymyr Zelenskyy denounced the Belgian diamond trade with Russia and once again pleaded for a no-fly zone over his country.
Zelenskyy's speech via video conference on Thursday afternoon marked the first time that the president of a country at war addressed the Federal Parliament, and the Chamber was packed with politicians.
"For eight years we have been at war, for 36 days we have been attacked by Russia. Many people thought that the Ukrainians could not last this long, but we have been able to hold out," Zelenskyy said. "The courage of the Ukrainian people has won the admiration of many."
He stressed that 90% of the city of Mariupol has been destroyed in the past months. "For four weeks, this city has been under siege: access is completely denied. There is nothing left: no water, no food, no medicine. There is no life. Yet we stand. Yet we continue to fight."
While those who defended the city had the choice to leave it, they did not, Zelenskyy stressed. "Every day, we do everything we can to keep the humanitarian corridor, so that women, children and the elderly can flee. Sometimes it works. But in many cases, the Russians do not make it possible to leave the city. It is hell on earth."
He compared the situation in Mariupol to the Battle of Ypres – known as one of the most bloody battles of the First World War – in Belgium. "This is even worse. But no one has the courage to stop it. Nobody has enough determination to end hell in our country."
'Peace is worth much more than diamonds'
As he did in his speeches to parliaments of other countries, Zelenskyy pleaded for a no-fly over his country. "Why wait any longer to establish a no-fly zone? We have the feeling that the Europeans are not brave enough to make this decision."
"Are they thinking about money? About companies?" he wondered, denouncing the Russian diamonds that are still sold in Antwerp. "There are people for whom the diamonds sold in Antwerp are more important than the battle we are waging. Peace is worth much more than diamonds."
However, Zelenskyy also thanked Belgium for the help it has already provided, as it was one of the first countries to provide support.
"That was historic. I want to thank you for that," he said. "You can be an example for other countries to do even more. Help us. Deliver weapons, impose sanctions. We will be grateful."
With one last "glory to Ukraine," he ended his speech, which was followed by a minutes-long standing ovation by all politicians present.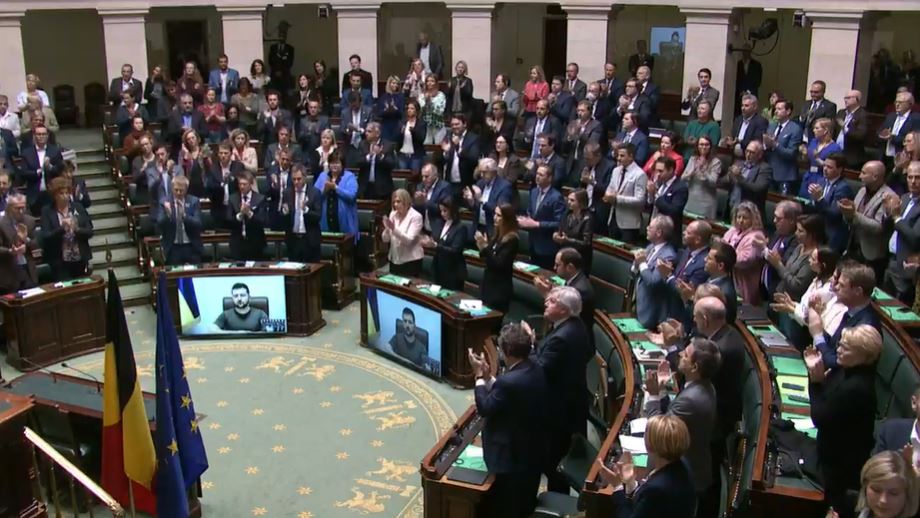 'NATO is not a party in this conflict'
Once the applause died down, Belgian Prime Minister Alexander De Croo took the stage to reply to Zelenskyy's words, thanking him and the rest of the Ukrainian people for "fighting the fight."
He stressed that Ukraine is not just fighting for the survival of its country, but for the survival of freedom and democracy. "We hear your message. And I understand your frustration. You have been pleading for a no-fly zone imposed by NATO since the beginning of this war."
However, that would mean shooting down Russian planes and an escalation that might engulf the whole of Europe. "More lives lost and a wider war without any solution," De Croo said. "NATO is not a party to this conflict. And it should not become one."
Related News
Still, he said that this is a time for Belgium to take sides. "That is what we have done, and we will continue to do so. We will continue to support Ukraine."
The country is doing so politically (by imposing high economic costs on Russia) and diplomatically (by isolating Russia), as well as by providing humanitarian and military aid and by sheltering those who are fleeing Russian missiles and bombs.
Honesty, sincerity and determination
Belgium has been a fierce advocate of "sanctions that bite" from the beginning, and "we see that sanctions are working – and let there be no mistake – they are here to stay for a long time," De Croo said.
Additionally, new aid from Belgium is on the way to Ukraine at this moment, following Zelenskyy's appeal at the last NATO summit and European Council. "I can inform you that the Belgian army has ordered new weapons for Ukraine. And we will continue our support as long as needed, as long as your country is under assault."
De Croo also underlined that, contrary to "Russia's shadiness and ambiguity," Ukraine shows the world "honesty, sincerity and a real determination to end this illegal and unjust war."
"It is hard to find the right words given the dramatic circumstances. But do know that all Belgians admire your courage and cool-headedness," he said.
"We admire the bravery of the Ukrainian people. And above all, we admire your dignity in the face of so much inhumanity. Ukraine will win and freedom will prevail."