Ukrainian protesters lay facing the ground on Wednesday morning in front of the European Council headquarters in Brussels, to demand that the European Union ban oil and gas imports from Russia.
"I am Bucha" read one poster among the demonstrators, who lay on the ground to represent the killed civilians of Bucha, the town in the suburb of Kyiv, where dead civilians and mass graves were found as Russian forces left the area. Similar to the findings in Bucha, the protesters in Brussels had their hands tied behind their backs.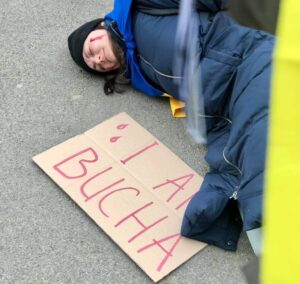 "We need stronger sanctions against Russia," stressed Anna Melenchuk, protest organizer from Promote Ukraine, the association behind the demonstration.
"We are grateful for the fifth package of sanctions," she added, referring to Ursula von der Leyen's announcement of additional measures against Russia on Tuesday. "But they won't stop Russia. The only measure that will stop the Russian war machine is an oil and gas embargo".
The demonstration was organised to coincide with the Coreper I and II meetings taking place today, in which ambassadors from Europe will discuss measures against Russia.
Related News
"How does it feel to finance a genocide?"
Following the horrors of Bucha, the European Commission announced further sanctions against Russia on Tuesday. However, several member-states have expressed reluctance on sanctioning energy imports from Russia. Belgian prime minister Alexander de Croo warned that banning Russian oil or gas would have a "devastating impact" on Europe's economy.
The heavy hitter among the most reluctant countries is Germany, which relies on Russia for just under a third of its gas. Yet for Melenchuk, more should be done.
"67% of people in Germany support an embargo," she said. She added that she doesn't believe Russian expansionism will end in Ukraine and that the only way to stop the country is hitting it financially. "We are asking the ambassadors to take a tougher stand, otherwise history will judge them," Melenchuk concluded.