Social fraud, forgery and criminal organisation: PostNL Belgium has been accused of various crimes since a Flemish journalist worked as an undercover courier in November last year.
During his investigation, he also uncovered child labour, human trafficking and 'modern slavery'. Three of PostNL's top men were imprisoned, while PostNL denies any wrongdoings and states they have not been formally accused of anything.
Subcontractors
The documentary, aired by Flemish media channels HLN and VTM, follows journalist Joppe Nuyts, who worked undercover as a courier at PostNL Belgium for several weeks, including during the busy period around Black Friday and the holidays.
He explains how PostNL works with 200 courier companies, which represent around 1,500 couriers. Those couriers deliver hundreds of packages per day, with one of them having 494 deliveries to make.
Because PostNL does not directly employ couriers but uses subcontractors instead, not every employee gets the same pay for the job. While some couriers make €1,50 per delivered package, others have to settle for €1,06.
'Modern slavery'
A subcontractor participating in the documentary called it "modern slavery." Subcontractors are facing losses and debts, as they need to choose between operating at a loss or going bankrupt. Stopping is difficult, he explains, because of the costs that they are tied to, such as leases for vehicles and personnel.
A courier explains how the price for packages is reduced every six months: "That means more work for the same wage. Many couriers can no longer make a living."
Forced fraud
On top of that, PostNL imposes fines on its subcontractors; for every ride that is not fulfilled, they receive a €100 fine. "We are forced to cheat and commit social fraud," one courier said. "That's why many couriers are paid under the table."
Nuyts also meets drivers without papers, such as illegal migrants, and even without driver's licenses. Some workers are forced to employ minors, as one courier used to bring his 13-year-old nephew to work to help him out.
Two boys relate how they were 13 and 14 when they were recruited by PostNL workers, one when he was picking up a package for his mum. "Do you need a job?" the courier asked him. Since that day, he would work eight to ten hours - "that's almost slave labour."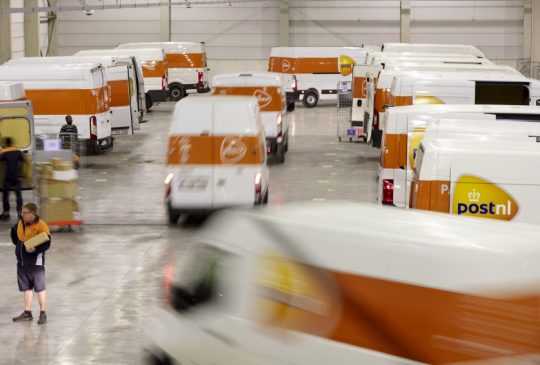 Inspectorate raids
In recent weeks, the Flemish inspectorate raided several PostNL depots following the shocking documentary, finding out that subcontractors had several drivers work longer hours than stipulated in their contract. They were also paid off the books.
In the following months, complaints to the inspectorate continued to pour in about drivers without a driver's license, underage workers, undeclared work and illegal employment.
After three more PostNL locations were raided last week, the CEO and his number two were imprisoned, while in total nine people from PostNL were arrested.
They are suspects of human trafficking, forgery and forming a criminal organisation. Labour exploitation is mentioned as an example of human trafficking.
Related News
While the council chamber ruled that the CEO and his number two could be released from jail last week, the labour prosecutor has appealed that decision, and the two must remain imprisoned for two more weeks.
The indictment chamber will now rule on their further arrest within 15 days.
PostNL response
PostNL's director Liesbeth Kaashoek finds it "insane" what is happening, she told De Tijd.
"Three of our people are still in jail. That has a huge impact on their families. They are seen as criminals. They sleep in a cell with four others, don't get clean clothes and eat once a day. That is unacceptable and disproportionate."
The director also argued that they are clueless as to why the men are jailed. "Maybe there are good reasons, but we don't know them," Kaashoek said.
"We carry out identity checks every day in our depots and we check every day whether the employees have been correctly declared to the RSZ. We also report this to the authorities. We are cooperating with the investigation."
When asked about the accusations regarding forming a criminal organisation and human trafficking, she said this has only been claimed in the press. "I have not yet received any official documents stating that," she said. "We are a large, publicly-traded company that adheres to the rules. That's not how we work."
Meanwhile, Public Entreprises Minister Petra De Sutter announced a new postal law, limiting the use of subcontractors for the delivery of packages among other things. She wants the majority of the packages in Belgium to be delivered by people in paid employment, rather than subcontractors.