Union Saint-Gilloise's last home game of the regular season was suspended in the 85th minute and subsequently abandoned after trouble from the visiting Beerschot fans.
Union were celebrating coming first in the regular season, putting them in pole position for the play-offs and to contend the league, but the referee decided to abandon the game over fears that the safety of the players could not be guaranteed.
What was supposed to be a celebratory day ended as a sad spectacle as the visitors from Antwerp set out to rain on Union's parade.
With the match in a stalemate at 0-0 with ten minutes to go until the end, a large part of the Antwerp team's supporters breached the barriers and overwhelmed stewards. Some fans threw flares and invaded the pitch, prompting riot police to intervene and halt the game. A small number of Beerschot fans charged the stand with Union supporters.
With the match abandoned, the Jupiler Pro-League will convene on Monday to decide whether to end the game at 0-0 or hand the victory to Union.
This decision will have big implications for the play-offs if Union are handed an extra two points, which will widen the gap at the top.
Lorin Parys, CEO of the Jupiler Pro-League – Belgium's premier division – called the scenes "unacceptable" and said that those responsible have "no place in our stadiums". Beerschot also issued a statement condemning the actions of their fans and stating that an investigation will take place.
Zwanze parade
The day had begun in a celebratory mood, with a few hundred Union fans organising a 'Zwanze' parade – a traditional Brussels celebration – in the streets of Saint-Gilles and Forest to celebrate the team's recent successes and return to the top of Belgian football.
The parade ran from the Commune of Saint-Gilles to the Stade Joseph Marien, with beer and food stands. The parade aimed to raise money to enable the club's older fans in local nursing homes to attend the match on Sunday.
With Union one of Belgium's most successful teams nearly 50 years ago, many elderly fans would have witnessed both the glory years and the slow descent into football obscurity.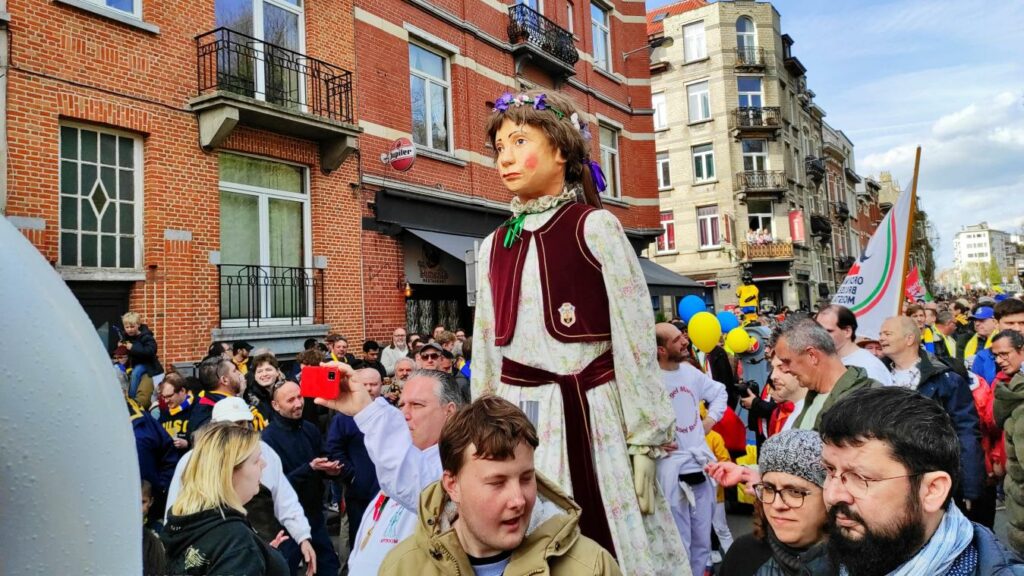 The other Brussels team and Union local rivals Anderlecht also secured a place in the Championship play-offs after a 2-3 victory at Kortrijk. The play-offs will be contested by four teams: Union Saint-Gilloise, Club Brugge, Antwerp and Anderlecht.
The Belgian league is one of the few European leagues to have a play-off for the championship, where the top 4 teams of the regular season qualify and contest a breakaway league, which begins with their final points of the regular season halved. Teams play each other twice for a chance to be crowned the champions of Belgium.