Everyone loves chocolate. Belgian chocolate is particularly recognised across the world for its quality, which gives the country's chocolate sector great power. But with this power comes great responsibility, according to the Beyond Chocolate Partnership.
During Easter time, people are looking to fill their shopping carts with their favourite chocolate, most of which will come from Belgium: out of the 700,000 tonnes of chocolate produced in the country every year, 80% is directed for export.
Beyond Chocolate, the Belgian initiative for a sustainable chocolate industry, since 2018 has worked to ensure that the Belgian treat is not only good for consumers, but also for those working to make the product.
"The product is not only important for the Belgian economy but also for its reputation outside of the country borders. That brings a lot of power to the sector but it also brings with it a lot of responsibility," Beyond Chocolate Program Manager Charles Snoeck told The Brussels Times.
He explained that, if the Belgian chocolate sector can integrate national and international sustainability ambitions, it has the capacity to make a huge impact on a global level.
"Because of these large volumes, we have the potential to reach a large number of farmers, and that is the difference we are trying to make with this partnership. We want a system change," Snoeck said.
The "living income agenda"
By 2030, Beyond Chocolate aims to ensure that farmers in the cocoa-growing regions relevant to the Belgian industry – Côte d'Ivoire, Ghana and Congo, among others – will earn at least a living income. Its intermediary goal is that, by 2025, all Belgian chocolate should comply with a relevant certification standard and/or corporate sustainability scheme.
Snoeck stressed that, when looking at the industry and the living conditions of cocoa farmers now, the challenge is immense and highly complex, and the question of sharing the responsibility and costs – "a product with more value is also one of more costs" – is at the centre of this issue.
"There is no silver bullet. No one can whistle a symphony; it takes a whole orchestra to play it," he said. The same is true in the world of chocolate.
This is why Beyond Chocolate works together not only with smaller, larger and typically Belgian chocolate brands, traders and major retailers, but also with the public sector, academics, financial institutions and more.
"When we first created the Partnership, we had 47 members, now we have almost 65. With all the signatories that we have today, we cover more than 90% of the chocolate that is produced in Belgium."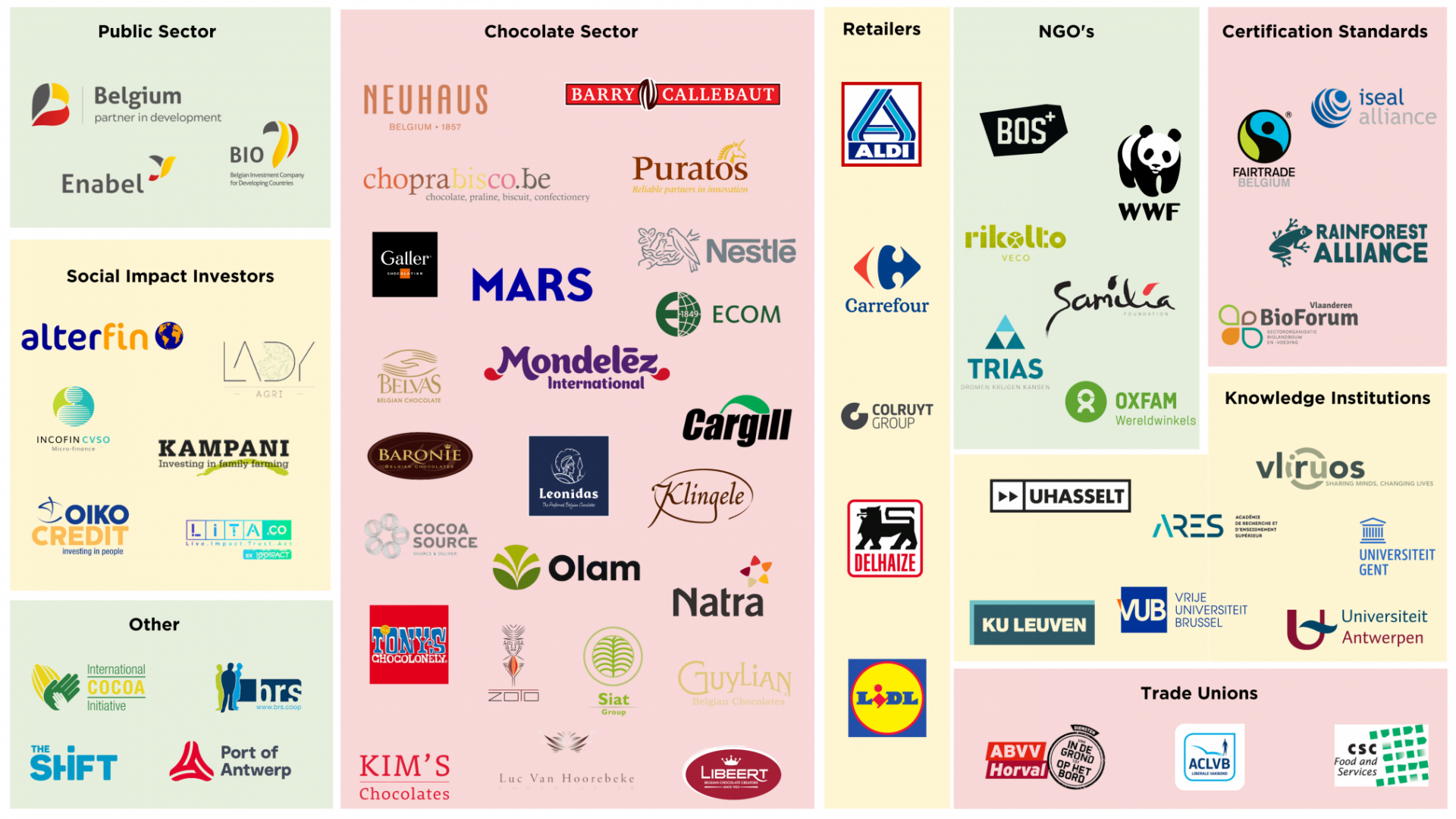 As part of this Partnership, the Federal Government has also helped to create a fund that helps support pilot supply-chain projects that help it achieve targets faster.
Radical change, but more is needed
Snoeck, who has worked with the cocoa sector for several years, said that a radical change has taken place in recent years in Belgium.
"If we look back at 2016 and 2017, there was no conversation regarding sustainability in the sector. At that time, a total volume of 42% of chocolate carried a sustainability label, while less than 1% carried a Fairtrade label. In 2020, this increased to 57% and even 12% respectively," he said.
He added that now, the engine and ambitions of the sector as a whole are being analysed, and that the conversation has shifted, specifically putting living income higher on the agenda of stakeholders.
Snoeck said that although there is much cause for celebration here, much more needs to be done by all partners, and further industry-wide involvement is still needed. "The reality for farmers is cruel. In these countries, some 2 million farmers find themselves in a situation of extreme poverty which also prevents them from developing their businesses."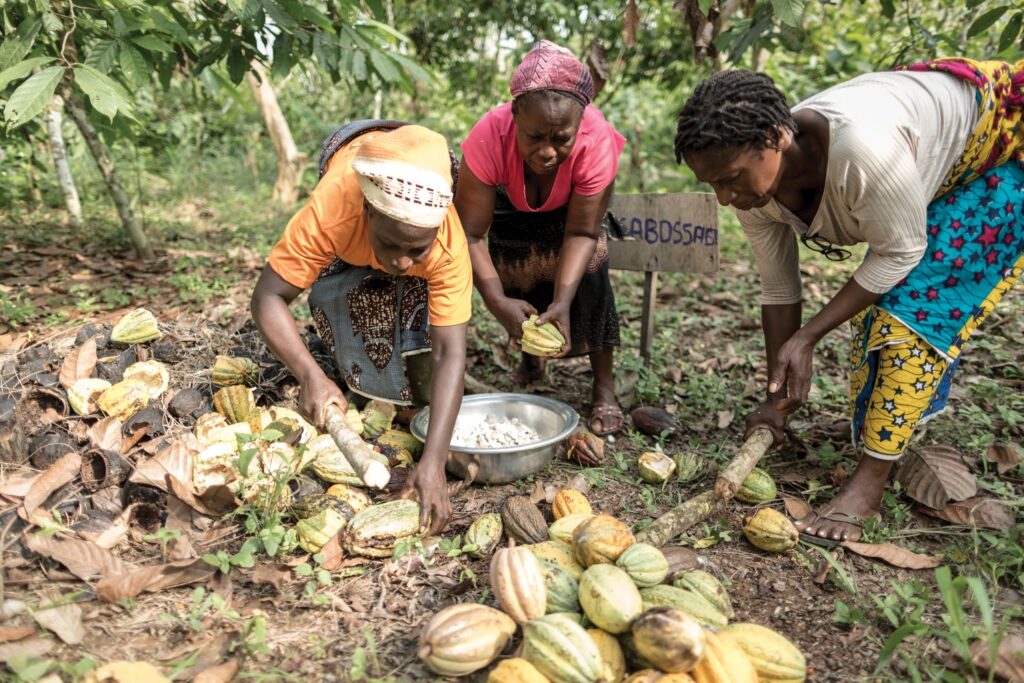 Today, cocoa farmers still earn less than $1 dollar per person per day (around €0.93), which is less than half of what is considered a living income, which allows people to cover their basic needs.
The pandemic and the economic crisis, as well as the war in Ukraine and the rising cost of living and of fertilisers, have further exacerbated their difficult situation. "Their costs are rising, but the price of cocoa is not."
However, Snoeck said the organisation is confident that it will reach its target by 2030, also because the objective is in line with those of partners involved in programmes. "But to reach our joint objectives, we will need to change the paradigm, we're still too much in a 'business as usual' scenario."
How consumers can help
People on top of the supply chain are not alone in holding the responsibility to change the system. Consumers too play a big role in making the next steps happen. A recent survey found that a large majority of consumers in Belgium recognise the need to consider sustainability when buying products, but that many are still unsure about which products are made sustainably.
Related News
"Consumers have a function in the whole chain as a purchasing power, and have a capacity to be informed and make choices," Snoeck said, but added that there is still a gap between intention and behaviour. "What people buy is also influenced by price, quality and the major one, by habit."
However, he recognised that the steps being made so far are already good news for consumers, as in almost every supermarket, chocolate produced by a company that is seeking to set the bar higher for sustainability can be bought.
"One farmer who I met in Côte d'Ivoire told me that the best way to support a farmer is to consume the product, meaning to eat more chocolate. So people need to make the right sustainable choice of chocolate, and eat a lot of it. That is the best way to help."