As Belgium moves beyond the Covid-19 pandemic, a new report by the National Bank of Belgium analyses 2021 economic development and takes a closer look at some of the obstacles facing the country in the coming months.
Governor of the National Bank Pierre Wunsch states that Belgium's recovery so far has been "stronger than expected but uneven", with some sectors proving their resilience whilst others continue to be hit by rising costs and uncertainty. With real GDP growing by an unprecedented 6.1% over the course of the year, Belgium's economy out-performed most neighbouring countries.
Wunsch sees this swift comeback as a sign of the Belgian economy's strength in the face of external shocks: "This performance highlights the economy's resilience to successive waves of coronavirus infections and the consequent public health restrictions."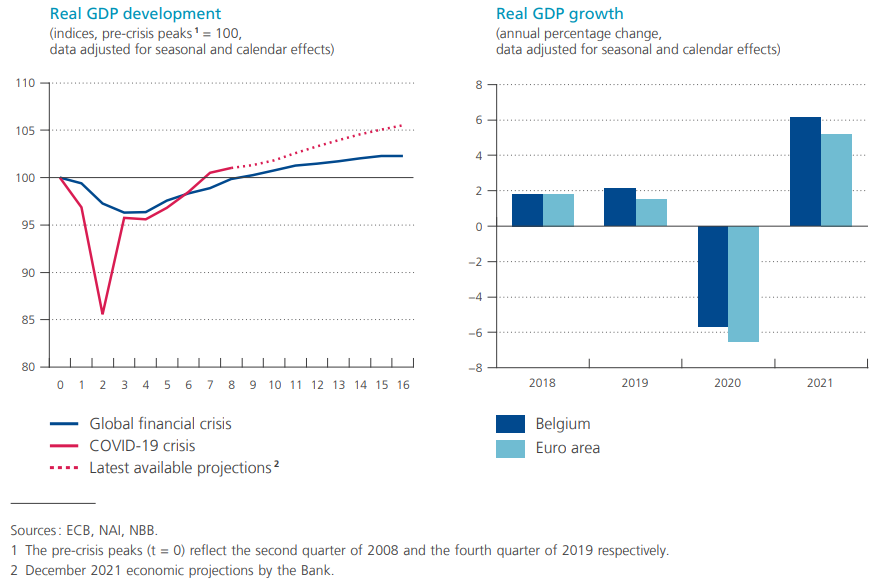 Belgium's successful vaccination campaign allowed the country to switch its focus from containing the virus to promoting economic activity once again.
Domestic demand drove Belgium's economic recovery last year with private consumption increasing by 6.4%. Sales and growing profit margins provided a further boost.
Belgium is also fortunate to be a prosperous nation with public finances capable of absorbing the blow caused by the public health crisis. Unlike lower-income countries, the Belgian State was able to cover the enormous costs of shutting down huge swathes of the economy. However, these measures have come at a cost with the budget deficit rising to -6.3% of GDP.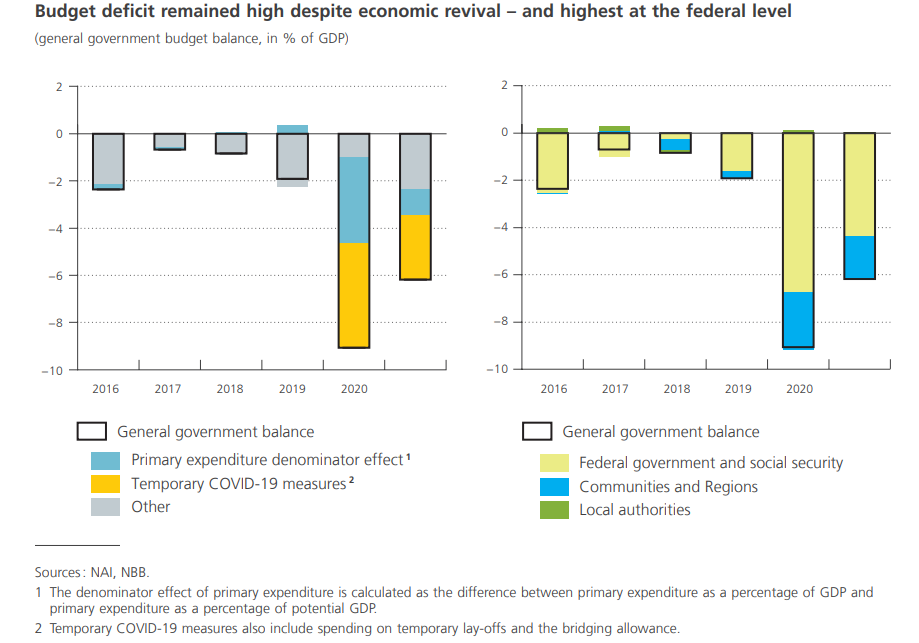 The government reached deep into its pockets to help protect household income, labour relations, and businesses. The government's overall monetary and fiscal policies provided significant support for demand, increasing general economic activity.
The National Bank of Belgium has now announced its intention to introduce a "gradual, smooth exit from the crisis policies" which supported demand during 2021.
"No easy transition", the bank says. Winding down massive support for domestic spending will be needed to prepare the economy for any future shocks. Investment is needed to pour into Europe's green transition, new infrastructure, education, health care, and to stimulate growth in underperforming sectors.
Supply constraints and rising inflation
Fast recovery, however, has given rise to a series of deep-set, logistical issues within Belgium and the Eurozone. Supply constraints have proved an issue for the National Bank's monetary policy.
Severe and repeated disruptions to supply contributed to a curb in Belgium's economic recovery which was driven by domestic demand.
While demand has recovered quickly, increased energy prices, input costs, and transport have forced kept supply low.
This has fuelled a wave of increased consumer prices. Inflation increased 3.2% over the year in 2021. Annual inflation reached 8.31% at the end of March 2022. High energy costs now mean that 20% of Belgians now live in energy poverty.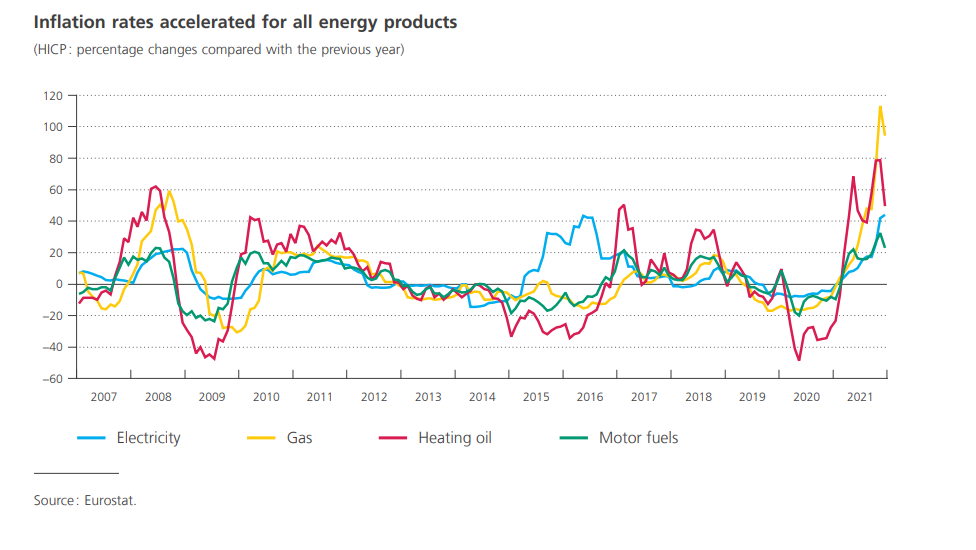 Eurozone inflation is also a long way away from its 2% target and jumped to 5% at the end of 2021 before climbing as high as 7.4% in March 2022.
Meanwhile, production has been hindered by skyrocketing import costs. In the manufacturing industry, these leapt by 25% at the end of 2021.
Translation of graphic: Business sectors having encountered supply problems (other than an increase in price). Purple = severely affected; orange = moderately affected; yellow= lightly affected; green = unaffected (by percentage)
In 2021, the National Bank played a delicate game of balancing the "risk of spiralling prices against the danger of premature monetary tightening" which risks strangling economic recovery. Fortunately, there are no signs that consistent supply issues have left any lasting damage to Belgium's production capacity.
Controversial wage indexation
As many households have been hit with spiralling costs of living, calls for wages to be indexed to inflation have grown louder. But although the National Bank's report acknowledges that wage indexation "protects households against the erosion of purchasing power caused by inflation", it "inevitably affects the Belgian economy's cost competitiveness in the short term."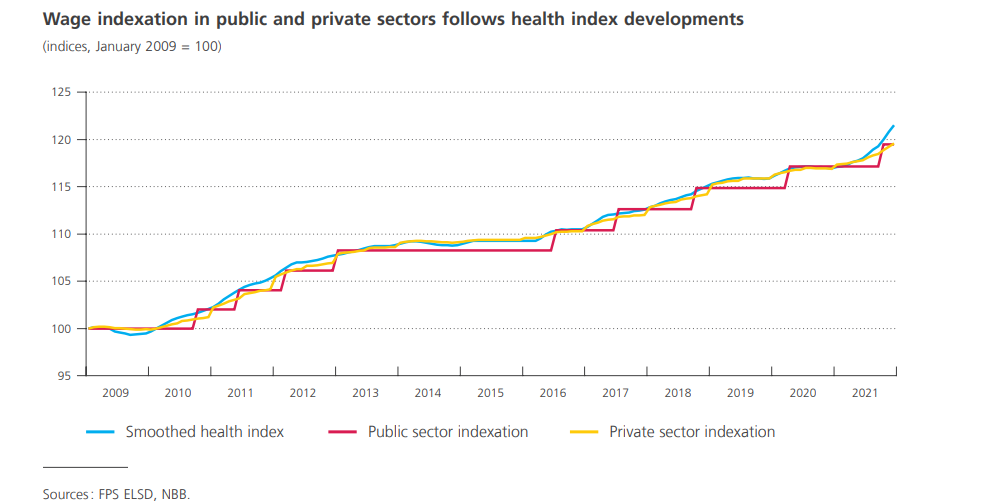 Indeed, while wage indexation helps shelter employees, companies and industry experts argue that it harms productivity. Jean-Luc Vannieuwenhuyse, legal advisor to HR company SD Worx, stated that rapidly raising wage indexations have led to a "sharp increase in labour costs, with negative consequences for the competitiveness of Belgian companies."
A survey shared by the National Bank revealed that around 31% of small businesses and 49% of large businesses viewed higher wages as an obstacle to production.
Strong employment recovery
The Belgian job market was one of the most resilient sectors of the Belgian economy last year. In 2021, most furloughed workers returned to their companies and worked increased hours, perking up productivity. An extra 80,000 jobs were created by the end of the year.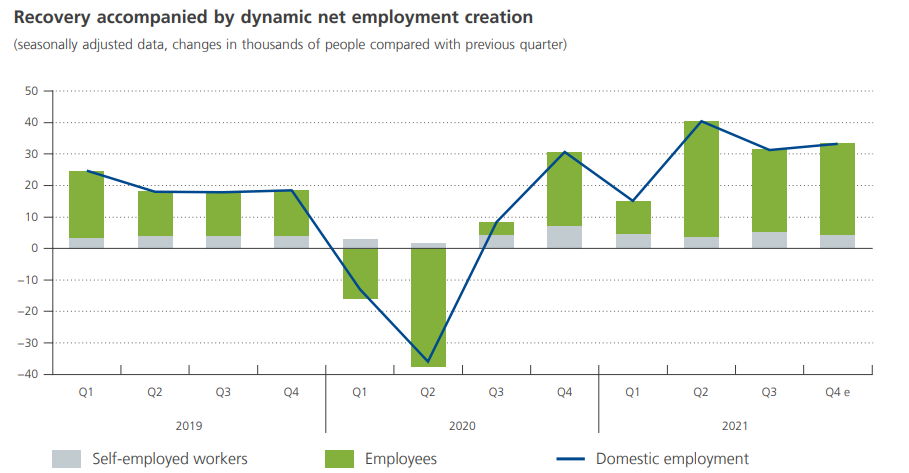 Staffing shortages that emerged after the relaxation of Covid measures were mostly in sectors already affected by shortages before the outbreak of the pandemic.
Nevertheless, sectors emerged from the pandemic with different results. Staff shortages and layoffs had the most significant impact on production in the hospitality industry, which was particularly vulnerable to health measures.
Related News
Whilst some professionals were able to weather the pandemic relatively unscathed, others – such as young people, casual student workers, and the low-skilled – often found themselves victim of hard-hit industries that hire people in financially unstable positions.
"The number of people claiming the subsistence allowance increased considerably in 2020," the report notes.
Women were more harshly impacted by the health crisis than men; women are over-represented in the service and health care sectors.