As of January 2022, only 4.5% of rail stations were accessible to people with reduced mobility, according to Belgian mobility advocacy group Passe le Message à ton Voisin with reference to data from SNCB.
Currently, 115 stations in Belgium offer assistance to those with reduced mobility wishing to board trains. 90 stations offer assistance, but this requires prior booking through the SNCB's reservation system. These reservations must be made 48 hours in advance for trips abroad, and 24 hours before for national journeys.
An additional 25 stations are completely accessible, allowing wheelchair users to board independently onto trains and also offering assistance to those who cannot board. There are only two stations (Schuman and Central) which offer full accessibility.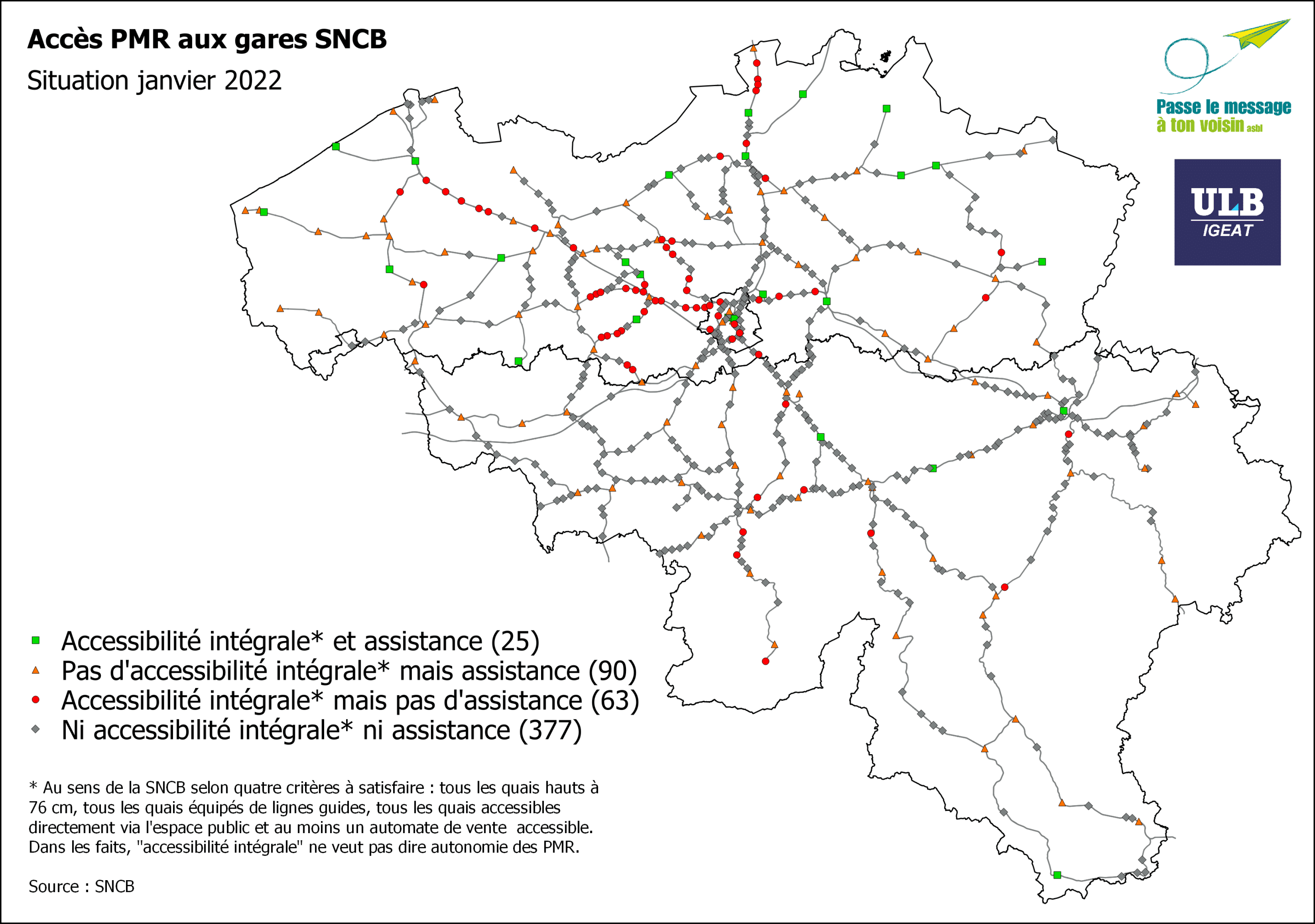 Translation: Green Square= Full accessibility and assistance. Orange Triangle= Not fully accessible, but assistance. Red circle=Fully accessibility but no assistance. Grey biased square= Not fully accessible, no assistance.
This poses a challenge to Belgian Persons with Reduced Mobility (PRM). In Brussels, more than 30% of the population is considered to be disabled.
Across Belgium, 377 stations provide neither assistance to passengers nor step-free access to trains.
In a comment to Belgian broadcaster RTBF, SNCB spokesperson Marianne Hiernaux stated that the rail company had "missed opportunities" to make the network more accessible in the past.
Related News
Now, SNCB says that accessibility is a "real priority." Two new accessible trains have been ordered and will be brought into service in 2024. By 2025, the rail company wants to make 150 stations accessible. As part of its latest budget, SNCB has allocated €28 million towards improving the accessibility of its stations.
SNCB offers priority seating and service access to holders of disability cards, as well as up to 80% ticket price reductions.
In 2009, Belgium ratified the United Nations Convention on the Rights of Persons with Disabilities, which states that access to public transport is a prerequisite for disabled persons' full participation in society.