The children of high-ranking figures in the Kremlin live a life of luxury in the West. Their lives are in stark opposition to the propaganda of their fathers in Moscow.
Imprisoned Kremlin opposition figure Alexei Navalny, put together a research team that has looked into the lives of the children of Russian President Vladimir Putin's inner circle.
Polina, stepdaughter of Russia's Foreign Minister
First, there is Polina, the stepdaughter of none other than Russia's Foreign Minister Sergei Lavrov. Lavrov has recently likened the US to Napoleon and Hitler in reference to Russia's invasion of Ukraine, claiming that America has gotten Europe under control and that Europe is "just fulfilling a role."
Related News
"Like in Hollywood, there is absolute evil and absolute good and this is unfortunate," he told reporters at a virtual news conference in March, according to Sky News.
Yet despite this battle between absolute good and evil, his stepdaughter, Polina, lives a glamorous and seemingly carefree life in London.
The 26-year-old's Instagram account depicted a life with endless parties, designer clothes and yachts until her account was recently taken down.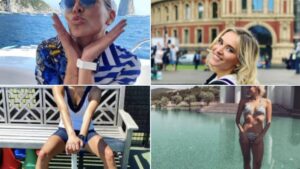 Maria Pevchikh, a researcher on Navalny's team, highlighted on Twitter how Polina's mom and Lavrov have been together for two decades now. Polina's biological dad isn't rich nor does she have an oligarch husband. Despite that, she bought an apartment in London on Kensington High Street for £4.4m when she was just 21.
As Pevchikh points out, it is a "textbook example of unexplained wealth". Polina paid cash with no mortgage and her only source of income is her unemployed mother who is Lavrov's partner. Pevchick asks why it is that Polina lives in the West when Lavrov has repeatedly denounced it.
Lavrov gave numerous speeches about the evil anglo-Saxon world and the awful liberal western countries who want to destroy Russia and Ukraine. So why on Earth does his step-daughter live in the centre of London? Why not in Crimea or Donbass, why doesn't she move there? pic.twitter.com/YPuCAB5hhV

— Maria Pevchikh (@pevchikh) March 10, 2022
Jelizaveta Peskova, daughter of Dmitri Peskov, spokesperson for Vladimir Putin
Peskova walks toward a giant chandelier in a short dress with an expensive handbag under her arm. Her Instagram account depicts an extravagant lifestyle.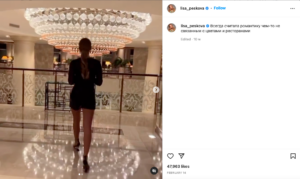 While Jelizaveta enjoys a life of luxury, her father has spouted the Kremlin's anti-Western message. But his daughter leads a life that her father officially opposes.
As a young girl, Peskova attended the elite French school Ecole des Roches, just outside of Paris. The registration fee is €35,000 a year and flying lessons are part of extra-curricular activities. After being educated at a boarding school, Peskova did an internship at Louis Vuitton and got a marketing diploma at a French business school. Then, she completed an internship at the European Parliament.
She hasn't hidden her preference for the West. She told the Russian news site Gazeta.ru in 2017 that the education system in Russia is "a real hell" and that she just "feels better in a European environment".
Who could blame her when Alexei Navalny's anti-corruption team uncovered that Peskova and her mother bought a 180-square meter apartment worth nearly €2 million on Avenue Victor Hugo in Paris in 2016.
Peskova's life is at odds with her father's messages as he depicts the West as morally bankrupt. Yet he and his family have benefitted from this decadence because Navalny's organisation showed that the Peskovs own multiple homes in the West and that Dmitry Peskov wears a watch worth $600,000.
It was reason enough for the US to sanction Peskov and his family, as this lifestyle wasn't deemed compatible with what a civil servant makes.
The decision wasn't well received. Jelizaveta told Business Insider that the sanctions were "completely unfair and unfounded" and that she is "disturbed" due to the travel restrictions against her.
Sofia Abramovicha, daughter of oligarch Roman Abramovich
Sofia is the daughter of Russian oligarch Roman Abramovich, known outside Russia as the owner of Chelsea, a Premier League football club in London.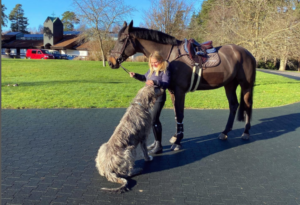 She spends her time riding horses, going on yachts and surfing holidays. Her father is part of Putin's inner circle and has never questioned any of Putin's decisions as a price for enjoying his wealth.
Putin's daughters
All of the Kremlin's descendants live in opposition to what their fathers promote, causing Putin to lash out. "Of course, they (the West) will try to bet on the so-called fifth column, on traitors. To those who earn their money here, but live there," he said in a speech to the Russian Security Council in March.
The traitors are the Russian elite who have villas on the French Riviera or are living the dream in London or Paris. Yet what is striking about Putin's comments is that it is generally thought that his own daughter, Maria, is married to the Dutch businessman Jorrit Faassen, according to De Morgen.
In 2017, the couple are reported to have purchased a penthouse of more than 700 square meters in Voorschoten, between The Hague and Leiden, for almost €3 million, according to business magazine Quote.
Putin's youngest daughter, Katerina, reputedly owns a villa in Biarritz France, which has recently been occupied by activists to make room for Ukrainian refugees. Putin's daughters have been on the sanctions list in the UK and the US since the start of April, De Morgen wrote.
Hit them where it hurts
The EU also is targeting sanctions against the Russian elites. The sanctions should hit oligarchs where it hurts by a "rapid freezing and confiscation of the assets owned by individuals and entities targeted by the sanctions," said EU Justice Commissioner Didier Reynders.
EU Foreign Affairs chief, Josep Borrell, said in a deleted Tweet: "No longer: shopping in Milan, partying in Saint-Tropez, buying diamonds in Antwerp. This is a first step," concerning the Russian elite in Europe.
Maybe some of the Kremlin's children fear that their luxurious lives in the West are in danger and that they have to move to Moscow. Sofia Abramovich wrote on Instagram that "the biggest and most successful lie of Kremlin propaganda is that most Russians are on Putin's side." Jelizaveta Peskova wrote ' ВОЙНЕ ', 'no to the war' on her Instagram, but she deleted the post, De Morgen reported.
It is clear that through their fathers' ties with Putin, they benefit from a system that has caused a war in Ukraine, outsourced the wealth of a country into the hands of a few and have turned Russia into an authoritarian state.
Whether they should have access to the property and high society life across Europe with their unexplained sources of wealth will be up to lawmakers.