Electricity production in Belgium increased by around 13.5% last year, compared to 2020, according to an annual report by CREG, the federal energy regulator.
To meet demand from Belgian and European consumers, electricity producers worked at levels unseen in recent years. In 2021, Belgian power stations produced 93.3 terawatt-hours of power.
As noted by the Federal regulator, electricity prices exploded last year on the back of rapidly rising natural gas and CO2 prices. In order to stabilise prices, Belgium increased production.
Nuclear still leading power source
Despite the Belgian government's complicated relationship with nuclear, the amount of power produced with it increased significantly in 2021.
In March, the Belgian government decided to extend the lifespan of Belgium's remaining nuclear reactors until 2035, citing "years of uncertainty" in European energy production. In 2020, 32.9 TWh of power was produced by nuclear power plants in Belgium. Last year, this rose significantly to 48 TWh.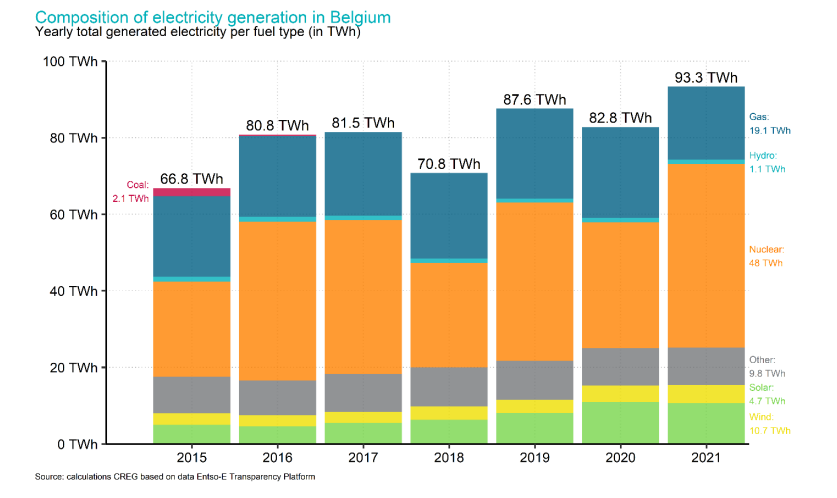 Gas-fired power stations, once billed as a transitional alternative to nuclear power in Belgium, produced less electricity than in previous years. Gas-fired plants produced 4.7 TWh less than in 2020, down to 19.1TWh.
Renewables
Data shows that Belgian renewable energy production has remained stable since 2020. In 2020-2021, Belgian wind farms produced 10.7TWh, solar farms 4.7TWh, and 1.1 TWh from hydropower.
In total, under 20% of electricity produced in Belgium came from renewable sources, the data suggests.
At peak load last year, Belgian consumers consumed an average of 13.562 MW, slightly higher than in previous years.
Cross-border sales
Creg's report also reveals an increasing trend in electricity exports to neighbouring countries. Belgium is connected to the larger European integrated electricity market and sells excess power primarily to France and the United Kingdom.
In 2021, exports rose sharply to 20.1 TWh. Belgium exported more energy that it imported, with a net export balance of 7.6 TWh, up from 1.1 TWh the year before.
Russia's invasion of Ukraine forced the price of energy skywards all across Europe, forcing electricity traders to purchase increased amounts of power across borders.
Related News
Last year, the average household electricity bill increased 27%, from an average of €1002.69 to €1386.05 between July and December, according to data from Energyprice.be.
Dirty fuels plug the gap
The need for power across Europe has led to a series of troubling trends across Europe. Coal-fired electricity generation, once shunned across much of Europe, witnessed increases last year.
According to research by Rystad Energy, electricity from polluting coal in Europe increased 18% in 2021, up from 579 TWh in 2020. Due to the shortages of gas as a result of Russian aggression since last year, experts warn that trend is likely to repeat in 2022.
If the war in Ukraine continues, European coal generation could leap by 11% to 641 TWh in 2022.