In March 2022, the value of the export of goods from Belgium increased by 33.5% and import by 40%, according to statistics published by the National Bank of Belgium on 16 May.
In the first quarter of 2022, imports and exports equally increased by 38.5% and 42.2% respectively. The National Bank states that this sharp increase in value is a result of rising commodity prices, exacerbated by the war in Ukraine.
"The war in Ukraine has exacerbated existing tensions in energy markets and the rise in energy prices continues to affect the economy," the National Bank notes. This, the economists say, explains much of the increase in the value of imports into Belgium.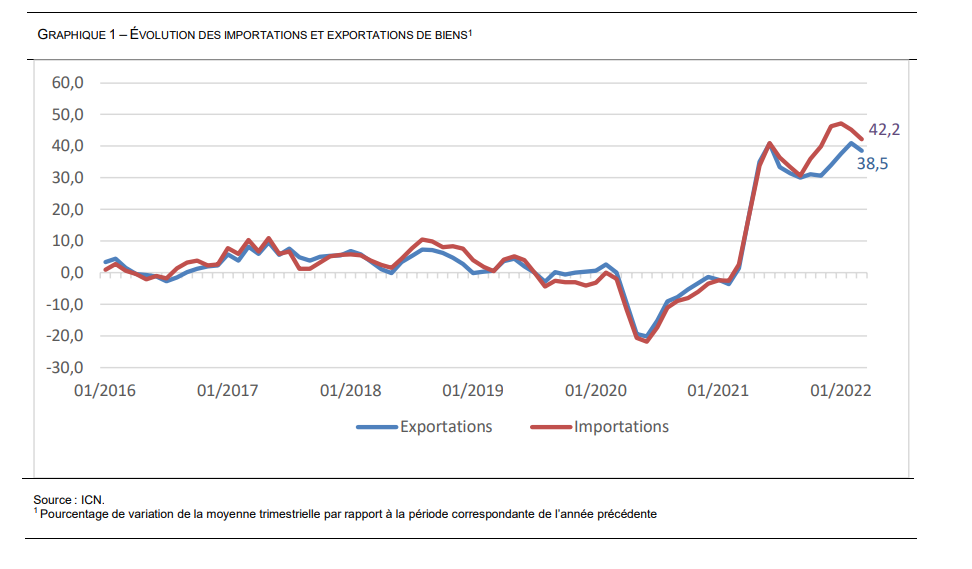 Translation: Evolution of imports and exports of goods (in % compared to the trimester of the year prior)
Raw materials, such as food and metals, are subject to strong price increases. The price of wheat alone rose from around $8 to over $12 a bushel in 2022. This means that imports and more costly, adding to the total value of trade in Belgium.
Imports and exports worth more
According to the data, the strongest growth in the value of imports was with Norway, which witnessed a 278.1% increase compared to the year before. For exports, Belgium exported 186.9% higher value in goods than last year.
Belgium is increasingly trading in mineral products, which are needed in many industries such as the technology sector, construction, and chemical industry. Compared to last year, there was a 144% increase in the value of their import and a 160.7% increase in export.
Trade to EU member states still accounts for a 21.2% increase in the value of imports and a 27.2% increase in exports.
Related News
In 2021, Belgium maintained the 18th most positive trade balance in the world of $34 billion, meaning that the nation exports much more than it imports.
A spotlight on the war in Ukraine
The value of exports to both Ukraine and Russia has fallen significantly since the start of the war. Belgium now exports 75% fewer goods and 25% fewer goods to Russia than in March 2021.
This includes reductions in the export of goods such as beverages, organic chemicals, pharmaceuticals, and plastics. In Ukraine, there were significant drops in the sale of plastics, in Russia, of machinery and cars.