Out of Belgium's three regions, Brussels has been hit the hardest by the Covid-19 pandemic, as the socioeconomic standing of the capital has worsened far more than in Flanders and Wallonia.
Brussels saw growing poverty, receding social life, and an increasingly large group of people struggling to make ends meet, according to a study by the General Labour Federation of Belgium (FGBT).
The study was presented on Wednesday at a statutory congress devoted to social emergencies. "The precariousness and inequalities of 2019 have worsened," general secretary Estelle Ceulemans tells Le Soir.
The capital's inequalities have greatly increased since the pandemic, with the shift to teleworking and rampant unemployment now being considered by experts as the main contributing factors.
In 2020, the proportion of teleworkers was 25% in Wallonia, 29% in Flanders and 42% in Brussels.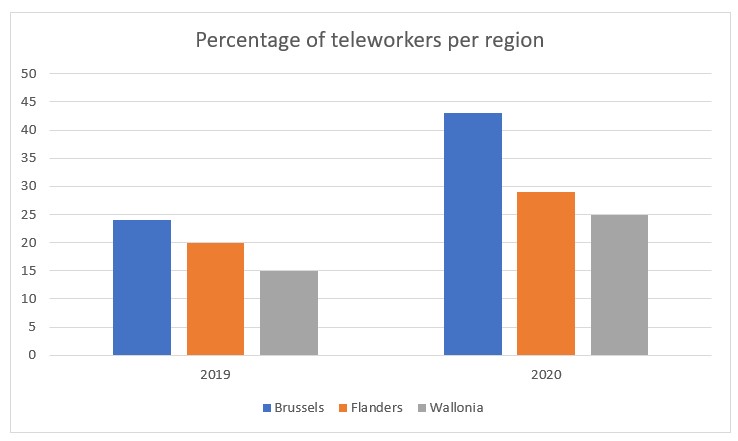 That can be explained by the fact that Brussels hosts many head offices, as its economy is largely dependent on service activities such as finance and public administration.
Related News
No more commuting
In addition, many Wallonia and Flanders residents have stopped commuting to the capital.
That means Brussels will likely experience a 22% reduction in office space, according to the study. In Flanders, that is just 6%, while Wallonia is expected to only have a 4% decrease in office space.
"The public authorities will have to quickly think about the conversion of these empty spaces and above all consider a greater mix of neighbourhoods," Ceulemans says.
Because a reduction in commuting to the city affects the local economy, as fewer people frequent shops, cafes and restaurants in the capital, which are already noticing a significant impact.
Growing inequality
"Some restaurants have given up the midday service. The phenomenon also concerns, even if less visibly, the staff of cleaning, maintenance, and guarding staff who will be affected by the announced contraction of office spaces," the study reads.
"Given the characteristics of these less qualified jobs, it is indeed to be feared that this will specifically affect residential workers in Brussels."
Finally, employees who no longer commute to the office tend to have a higher standard of living, according to the FGBT. Half of the employees with a high level of education teleworked in 2020, while that is only 4% and 13% for those with a 'low' and 'medium' level education.