In March alone, 25,930 Ukrainian received temporary protection in Belgium, allowing them to stay for a period of one year, access to health care, labour market, and benefits, according to Eurostat, the European Union's statistics agency.
By far the largest issuer of temporary protection was neighbouring country Poland, which issued 675,085 statuses to Ukrainians fleeing Russia's invasion. Czechia issued 244,650 statuses, and Slovakia 58,750.
The overwhelming majority of persons receiving temporary protection in Europe were Ukrainians, but applications were also accepted for citizens of Russia (575) and Belarus (325) in Poland.
March saw the largest influx of migrants out of Ukraine, but data for April suggest that new registrations are down. Poland witnessed 249,465 fewer applications compared to the month before. Similarly, there were reductions in Slovakia (-45,310) and Portugal (-15,635).
Related News
In relation to national population, the highest ratio of Ukrainian citizens granted temporary protection in March was Czechia, with 22.9 protections per thousand inhabitants. In Poland, this figure was 17.8, Slovakia 10.8, and Estonia 10.5.
Young people made up the majority of Ukrainians seeking protection in Poland. Ukrainian children under the age of 18 accounted for 54% of applications, or 361,565 people in March.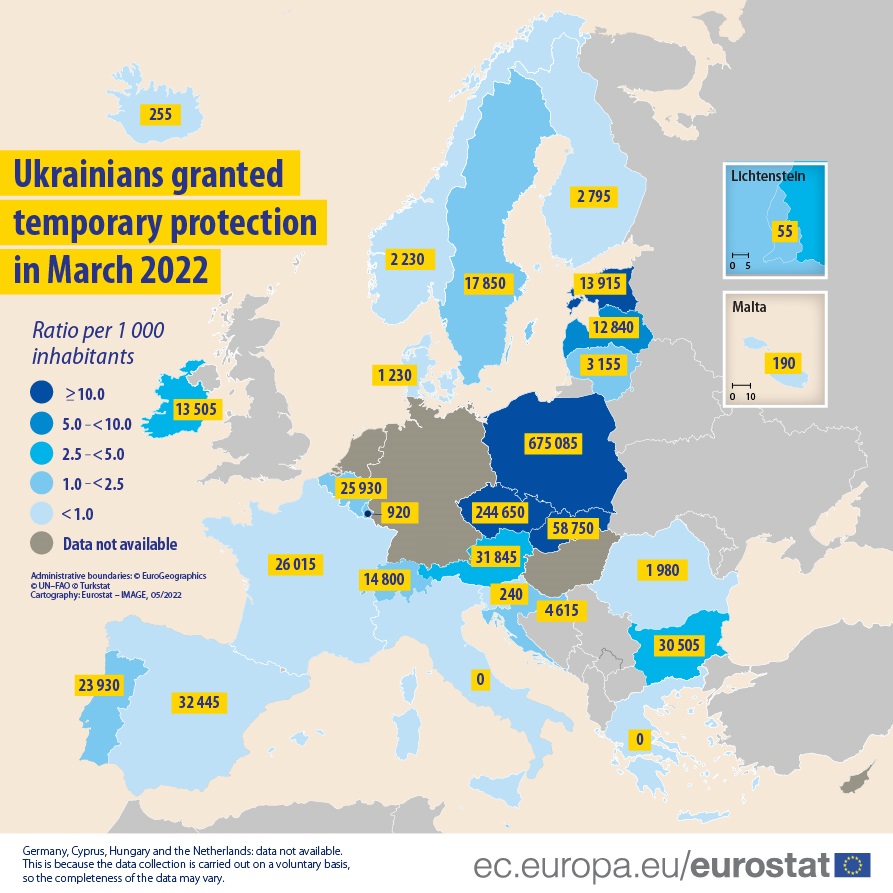 Of adults seeking protection in Europe, two-thirds were women and girls. The largest share of women receiving temporary protection were in Poland (66%), Czechia (68%), and Slovakia 70%. Of men seeking protection, the vast majority were under military age.
To date, there are around 45,000 Ukrainians with temporary protection residing in Belgium. Belgium's Asylum and Migration Minister, Sammy Mahdi, is seeking to make it possible for Ukrainian refugees to continue to work after their status of temporary protection expires.
In Flanders, some 1,700 Ukrainians are currently looking for a job, around 5,000 vacancies have been registered for Ukrainians, and 17% of Ukrainians have already found a job.