The school closures and long periods of distance learning that were caused by the Covid-19 pandemic have resulted in learning delays of up to 21 weeks among Belgian pupils, according to an analysis by the Federal Planning Bureau.
While the level of education in Belgium had already been falling before the pandemic, the results of several studies now show that Covid-19 has led to a further decline in the level of education and an increase in inequality between students.
"Based on figures at the end of the 2020-2021 school year, we conclude that pupils in their last year of secondary school are six months behind schedule," said Arnaud Joskin, an expert at the Federal Planning Bureau and author of the analysis. "They have not covered half of the subject matter that they should have mastered in a normal school year."
During the pandemic, Flemish Education Minister Ben Weyts has "always opposed collective school closures," and invariably warned of the "great damage" this would cause, his spokesperson Michaël Devoldere told The Brussels Times.
Major long-term consequences
Since the crisis, a learning loss of 60% compared to a regular school year was registered for Dutch and French, 63% for science courses and 28% for mathematics. Additionally, the delay in Belgium is stronger than in the Netherlands, which recorded an average learning loss of 12 weeks.
"This confrontational data from the Planning Bureau should be a lesson for everyone: we must be much more careful with the weapon of collective school closure," he added. "This has major consequences, also in the very long term."
Devoldere also stressed that schools have been "working hard for many months to mitigate learning delays as much as possible". This includes measures such as the 'Bijsprong' scheme, which provides schools with additional, specifically to help children who are falling behind, but also to summer schools.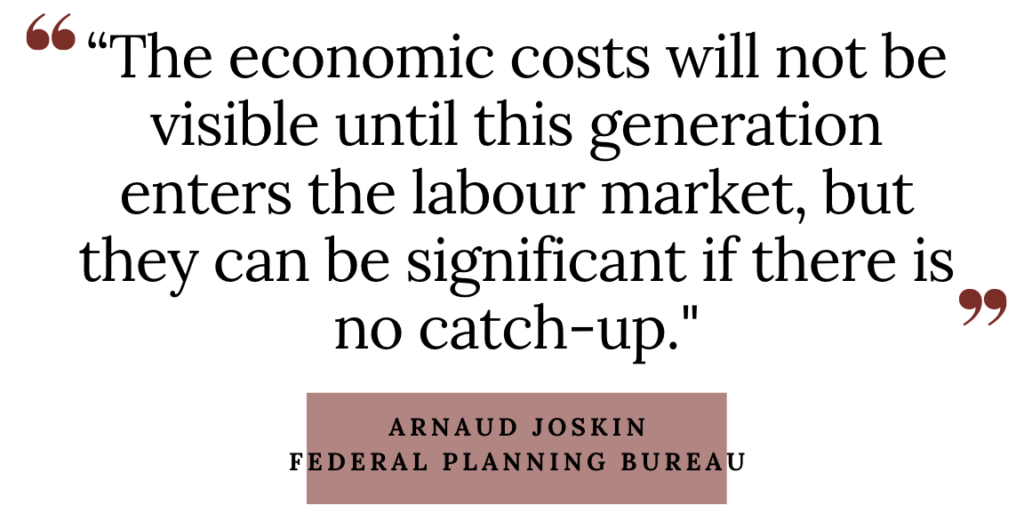 While data on learning delays in the Francophone community is limited, there are indications that the decline in the level of education would be even greater, according to the Planning Bureau. "On average, the level of education level tends to be lower there, making it likely that the Covid-19 crisis had a greater impact on students with lower school results."
Unlike in Flanders, no new topics were discussed through distance learning in Wallonia and French-speaking Brussels during the first lockdown. There were also no large-scale catch-up lessons for students with difficulties in the summer of 2020.
The Federal Planning Bureau stressed the knock-on effects of falling behind in education, such as a decline in well-being and personal income in later life. This, in turn, will reduce gross domestic product (GDP). "The economic costs will not be visible until this generation enters the labour market, but they can be significant if there is no catch-up."
'Work is far from finished'
To meet the specific support needs of schools in tackling learning delay, Katholiek Onderwijs Vlaanderen last year set up a learning support team last: a team of about 20 people is tasked with supporting the specific approach to the consequences of the Covid-19 crisis in schools.
They focus on providing targeted support to teachers in, among other things, digital didactics, tutoring, remediation and differentiation, organising webinars and developing pedagogical material.
"The reading comprehension results continue to worry us," Pieter-Jan Crombez, spokesperson for Katholiek Onderwijs Vlaanderen, told The Brussels Times. "With the pedagogical guidance and teacher teams, we have been making extra efforts for this for about five years through in-service training and guidance, but the work is far from finished."
When it comes to eliminating the learning delay in the future, the teacher shortage cannot be ignored, Crombez said. "The teacher shortage is the greatest threat to the quality of education. Some pupils missed certain classes for weeks due to a lack of teachers."