More than 8 out of 10 Flemish hospitals have already reduced their care services or plan to do so in the future because of continuous staffing shortages. A new study by Zorgnet-Icuro found that most often this results in hospitals having to close beds.
Departments that will experience bed closures will be primarily geriatrics, rehabilitation, intensive care, surgery and the services for diagnosis of a medical condition and medical treatment.
To account for the shortages of nurses and care providers, more than half of hospitals have to rely on expensive interim staff.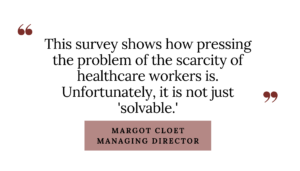 Medical technology services, usually involving medical imaging, are also being downsized in 1 in 5 hospitals, while 28% of hospitals surveyed reported the need to reduce operating theatre capacity.
"Every sector in Flanders is crying out for more hands. Only working on the image and attractiveness of the profession will be insufficient," Margot Cloet, Managing Director of Zorgnet-Icuro, said. "We must therefore take broader and structural measures, together with many partners, to meet this greatest challenge of the future and to ensure that the problem does not get even bigger."
Related News
When it comes to residential care centres, the picture is still quite grim, though slightly more hopeful. 13 centres reported that they have had to call a temporary stop to admissions already while a quarter of facilities will have to do so in the upcoming months. This will only exacerbate the fact that more than 7 in 10 facilities already have a waiting list for admissions.
Due to the added strain on employees from the pandemic, half of the residential care centres indicate that they do not succeed in meeting their personnel standards, while 15% no longer even manage to meet the legal standard with salaried staff.
According to Zorgnet-Icuro, staffing shortages are more prevalent in urban and peripheral rural areas.