No other European airport faces more delays during the first nine days of this month than Belgium's main airport, Brussels International Airport in Zaventem.
After a tumultuous June ridden by strikes, the start of the summer did not run as smoothly as hoped at Brussels Airport, according to a new analysis by the specialised data company Official Aviation Guide (OAG). The airport experienced the most flight delays in Europe during the first few days of July.
Although queues, as seen at Schiphol near Amsterdam and London airports due to staff shortages at security checks, were not experienced in Zaventem, it still saw 72% of flights delayed, according to the data published by Hopper.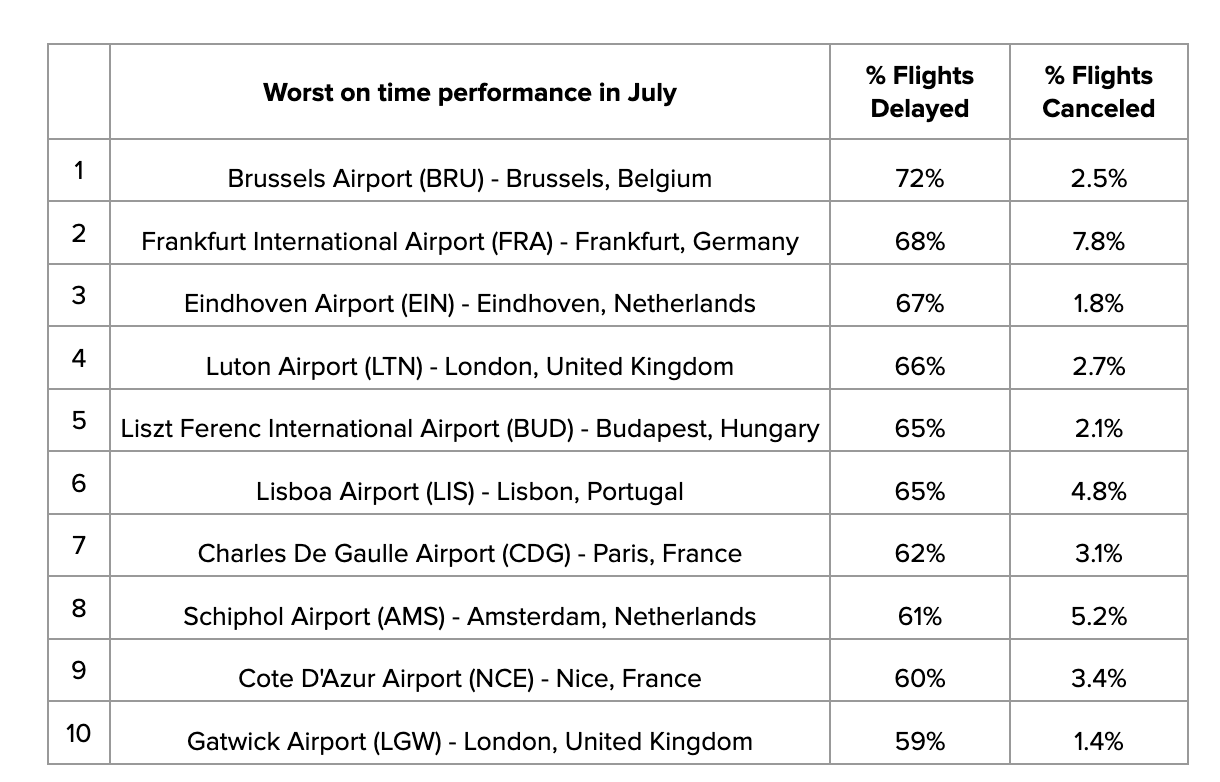 With this score, Brussels Airport performs worse than Frankfurt (68% of flight delayed) followed by Eindhoven (67%).
Not all airports disrupted the same
Earlier this year, it was already announced by ACI Europe, the European trade association for airports. that the combination of more people going on holiday following the relaxation of Covid-19 restrictions alongside increasing staff shortages would cause disruption and delays in two-thirds of airports across Europe.
It is clear Brussels is not the only one struggling. London Heathrow (LHR) earlier this week announced that it would be limiting the number of passengers who can depart from the airport from now through to mid-September. It is usually among the top three worst-performing airports when it comes to flights being delayed.
Other airports have also been requesting airlines to schedule adjustments as a result of widespread delays, cancellations and hours-long lines at security checkpoints.
Related News
Just yesterday, the German-based airline Lufthansa that 2,000 flights to and from Frankfurt and Munich airports will be cancelled until the end of August, largely due to staff shortages, both for in-flight services and airport staff as a result of them being laid off during the pandemic.
However, not all airports are experiencing such significant disruption this month, as Italy's Bergamo (BGY), airport, Dublin (DUB) and Madrid (MAD) airports reporting less than 20% of flights delayed and less than 2% of flights being cancelled on departure.
In response to the data, Brussels Airport itself said that in the investigated period, 63.2% of the flights were at least 16 minutes late, while only 8.6% departed with a delay of fewer than four minutes.
"There are various reasons for this, including a shortage of personnel at border controls. As a result, travellers arrive late at the gate and flights have to wait," the airport's spokesperson Nathalie Pierard said.