Seven out of ten self-employed starters are happier today than they were when they were still in paid employment, despite the Covid-19 pandemic and the economic difficulties it brought with it, according to the biennial Starters Barometer of Acerta, the HR services company.
The Barometer occurs every two years, with the surveyance of more than 1,000 self-employed people who started eighteen months ago. This year, Acerta surveyed 1,100 self-employed who started their business as of 1 January 2021, Belga News Agency reported.
"Many working Belgians thought about a career switch during the corona crisis, but certainly in times of economic uncertainty, the switch to self-employed status was not easy for many employees," Acerta noted in a press release. "Those who did make the leap, however, are not complaining."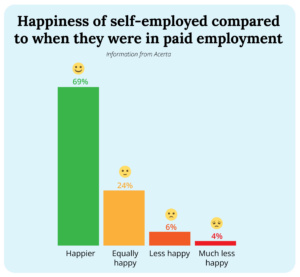 In addition to the 69% who said they were happier than before leaving for self-employment, 24% said they were equally happy, 6% were less happy and 2% were much less happy.
However, this happiness does not come without its stressors. According to the survey, 58% of the self-employed said they experience stress because of their work. However, this is considerably lower than in 2020, when 72% said they experienced stress.
Related News
The current economic and political climate is also a point of stress for those starting in a new business. While 32% said that the scarcity of materials in the world is a challenge for their work, 19.3% said the war in Ukraine has created uncertainty.